Music & Mingle: New Asia + SF
VIEW EVENT DETAILS
Join us for live music from young Asian American artists, Asian street food, and free-flow drinks
Join Asia Society's Young Professionals Group (YPG), our co-sponsors and the Bay Area's globally minded creative and professional communities for a fun-filled evening at the Runway, one of SoMa's dynamic incubators located in Twitter's mid-Market headquarter building. We'll be bringing you live music from some of the Bay Area's rising young Asian American artists, along with Cali-Asia style street food, and free-flow wine and beer.
New Artists Announced!
Ukulenny: Lenny San Jose, aka Ukulenny, picked up his first ukulele in 2008, and began playing it to eliminate boredom during BART commutes. In the span of five years, he has found himself performing to worldwide audiences on YouTube, fans across California, and fellow ukulele players in Manila. Find out more about Lenny on his website. 
Ron Quesada: Ron is a multi-instrumentalist specializing in Filipino music from North to South, including gongs, bamboo, and stringed instruments. His current project, "Kulintronica," features the traditional gong instrument of Mindanao with contemporary electronic dance music. Find out more about Ron on his website. 
Aimee Amparo: Aimee's unique music is influenced by Mexican folk, country, blues, jazz, hip hop, and R&B. Find out more about Aimee on her website.
 
Food Vendors Confirmed!
The Chairman: Food inspired by the original street food of Asia-it's bold, spicy, unique, fast and delicious.
KASA: Honoring simple, homestyle Indian food using natural and local ingredients.
Get your tickets early; this will sell out quickly. If you have any questions, please email Kate Ryge.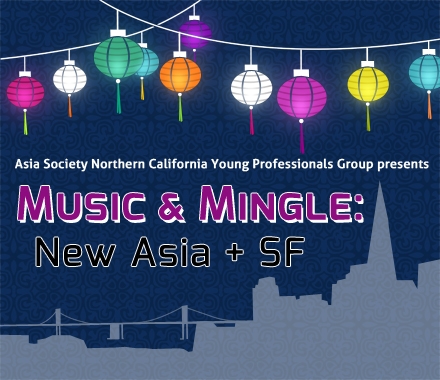 Thanks to our partners:
Event Details
6 - 9 p.m.
Runway
1355 Market St., 4th Fl.
San Francisco
Buy Tickets
ASNC and partner members $20; non-members $30; one-year YPG membership plus event admission $55
20130828T180000 20130828T210000 America/Los_Angeles Asia Society: Music & Mingle: New Asia + SF Aug. 28: Connecting a globally minded community over music, drinks and more!

For event details visit https://asiasociety.org/northern-california/events/music-mingle-new-asia-sf Runway1355 Market St., 4th Fl.San Francisco
---
If you bought tickets or plan to watch the webcast tell your friends on Facebook!
Join the Facebook Event »