Takahiro Iwasaki: In Focus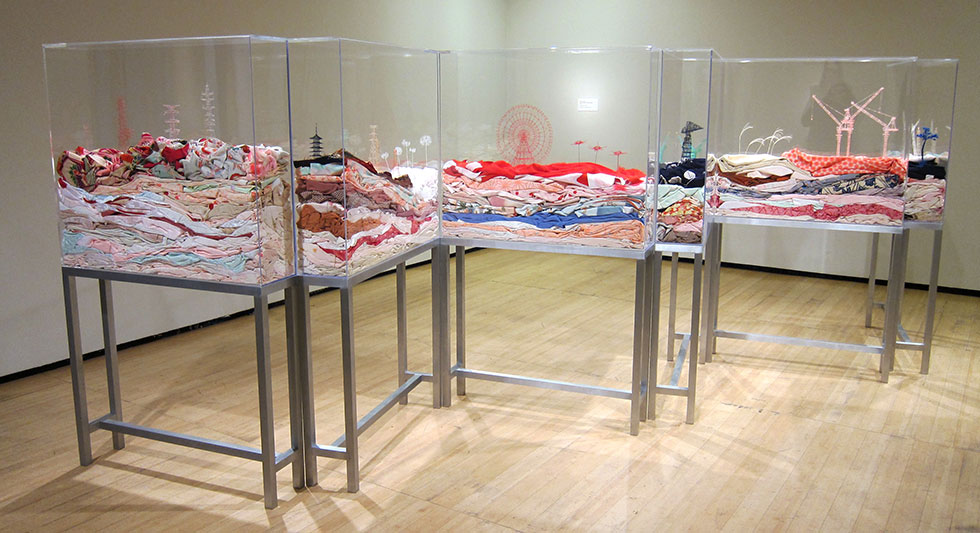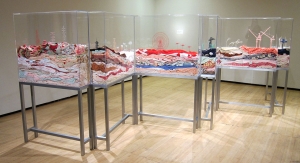 Out of Disorder (Folding Scenery)
Out of Disorder (Folding Scenery)
Out of Disorder (Folding Scenery)
Out of Disorder (Folding Scenery)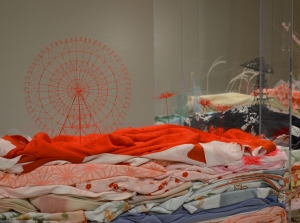 Out of Disorder (Folding Scenery)
Takahiro Iwasaki creates detailed miniature landscapes using towels, toothbrushes, used clothing, and other found and recycled materials. This exhibition is a part of Asia Society Museum's ongoing In Focus series, which invites contemporary artists to create new works, often in conversation with the Asia Society Museum's permanent collection of traditional Asian art.
Michelle Yun
Senior Curator of Modern and Contemporary Art
 
Creative Process
Michelle Yun, Senior Curator of Modern and Contemporary Art, interviewed Takahiro Iwasaki by email in the fall of 2014 about his process and inspiration.
MICHELLE YUN: Why do you focus on traditional Japanese architecture in your work?
TAKAHIRO IWASAKI: I began my focus on architecture in art school. Many of my classmates were strongly influenced by conceptualism or minimalism, but I thought it would be more interesting to create detailed, highly crafted objects that were not considered fine art. Much in the same way the American artist Jasper Johns created paintings using the American flag, I wanted to create work that showcased a contemporary interpretation of my country's longstanding motifs, traditions, and aesthetics.
MY: Your sculptures seem to have two distinct formal identities. Do you distinguish between the Reflection Model series, and the Out of Disorder series?
TI: The Reflection Model series, based on important cultural monuments in Japan, is made from Japanese cypress. The Out of Disorder series features landscapes made from everyday items or found objects. These two bodies of work represent the way that my hometown, Hiroshima, has influenced me. Hiroshima has two World Heritage sites: the Itsukushima Shrine, a monument of beauty, and the Atomic Bomb Dome, which commemorates the destruction caused by the atomic bomb. I was born and raised in this city of contrasts, and through these two bodies of work I attempt to conjure up the duality of the city and of life.
Takahiro Iwasaki. Reflection Model (Perfect Bliss), 2010–2012. Japanese cypress, wire. H. 59 x W. 110 1/4 x D. 76 3/8 in. (150 x 280 x 194 cm). © Takahiro Iwasaki, Courtesy of ARATANIURANO
MY: The work you have created for this exhibition is part of the Out of Disorder series. How do you select your materials for this series?
TI: Most of my materials are sourced from my personal belongings, flea markets, 100-yen stores [equivalent to a dollar store], free items I find around town, or things I pick up off the street. I prefer to buy used things—not only is it more economical to do so, but I can also feel a spirit residing within used objects.
MY: There is an interesting dichotomy in your work between tradition and modernity, the past and the present. Would you please elaborate on this relationship?
TI: I don't think I see "tradition and modernity, past and the present" as opposites. I am fascinated by the way we Japanese have traditionally focused on creative expressions that suggest the presence of a larger world; for example, bonsai, haiku, and tea rooms. On the other hand, I've also been informed by such contemporary expressions as plastic figures and molecular models.
MY: For our In Focus exhibition you selected a pair of Japanese screens as inspiration. What motivated your selection and how do the screens relate to your installation?
TI: The screens feature nameless field grasses depicted with such grace, elegance, and care that it makes one honor even these most mundane of plants. Just as the artist of the screens did, I would like to revisit a commonplace everyday scene from today's Japan, and just as the screens embody a smooth flow from one season to the next, I hope to capture, in my work, the graceful transition of a Japanese landscape from the past to the present.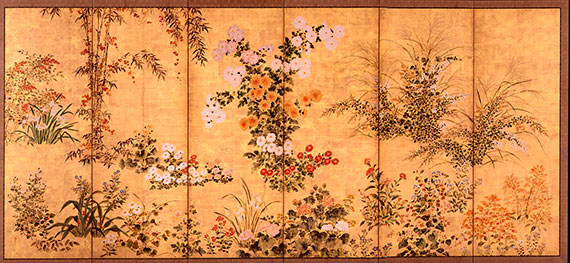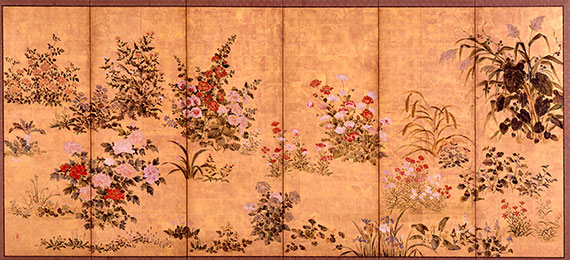 Flowers and Grasses of the Four Seasons. Japan; Edo period, ca. 1620-1650. Pair of six-panel folding screens; color and ink on gold leaf on paper. Each 63 x 143 in. (160.0 x 363.2 cm). Asia Society, New York: Mr. and Mrs. John D. Rockefeller 3rd Acquisitions Fund, 1985.1.1-2. Photo: Lynton Gardiner, Asia Society
Symbolism & Structures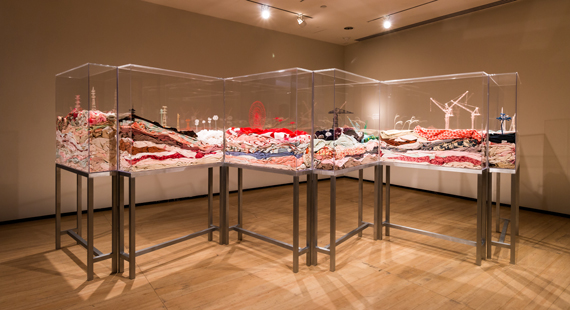 Takahiro Iwasaki, Out of Disorder (Folding Scenery), 2015. Photo: Corrado Serra
The sculptural elements found in Takahiro Iwasaki's installation Out of Disorder (Folding Scenery) comprise a rich symbology for Japan's economic rise and fall and its resilience in the face of the 2011 Tohoku earthquake and tsunami and the subsequent Fukushima Daiichi nuclear power plant disaster.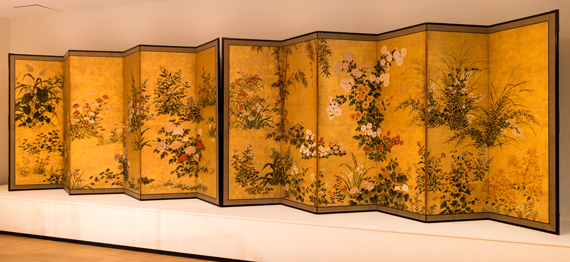 Flowers and Grasses of the Four Seasons from the Asia Society Museum Collection, 1985.1.1-2. Photo: Corrado Serra
The landscapes in the six cases reflect the order of the four seasons, beginning with spring, that is depicted in Flowers and Grasses of the Four Seasons, also on view in the gallery. 120 vintage kimonos have been layered within the cases to mimic the striations of the earth's crust and allude to Japan's increased attention to geological concerns following the 2011 disasters.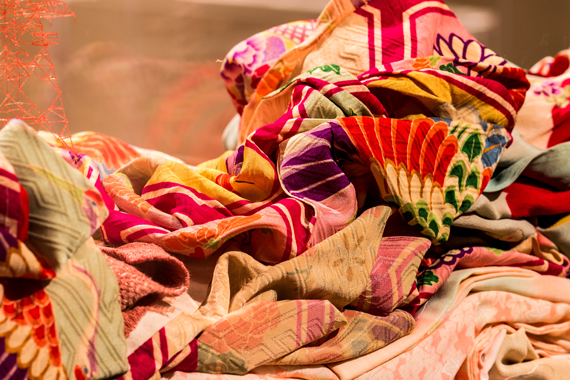 Takahiro Iwasaki, Detail of Out of Disorder (Folding Scenery), 2015. Photo: Corrado Serra
Iwasaki uses kimonos as the raw material for his work and as a signifier of seasonal change. Traditionally, kimonos are made of cloth printed with specific floral and foliage motifs to dictate what time of year the kimono was to be worn. Each sculptural element corresponds to a specific architectural structure found in Japan's landscape and has been crafted using individual threads from the specific kimono it sits upon.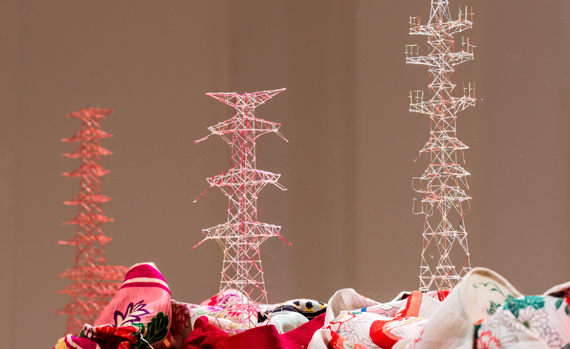 Takahiro Iwasaki, Detail of Out of Disorder (Folding Scenery), 2015. Photo: Corrado Serra
The cellphone and electric towers found in the first two cases refer to Japan's present, and their placement near a replica of the fifteenth-century Ruriko-ji Pagoda in the second case creates a continuum with the country's past.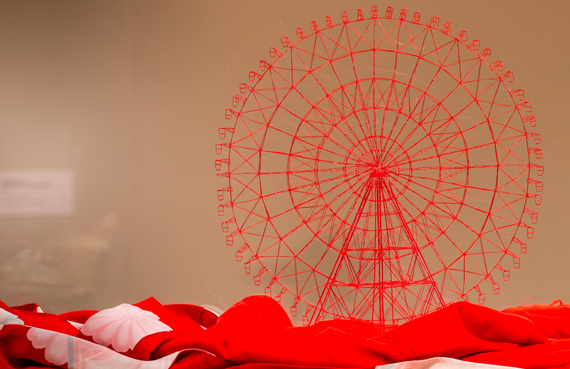 Takahiro Iwasaki, Detail of Out of Disorder (Folding Scenery), 2015. Photo: Corrado Serra
The Ferris wheel and the construction cranes in the third and fourth cases allude to Japan's former economic glory and current economic recession. The Ferris wheel was a highlight of an amusement park on the shores of Lake Biwa, Japan's largest freshwater lake located near Kyoto. At the time it was created, it was the tallest Ferris wheel in the world but in recent years it fell into disrepair and was ultimately abandoned.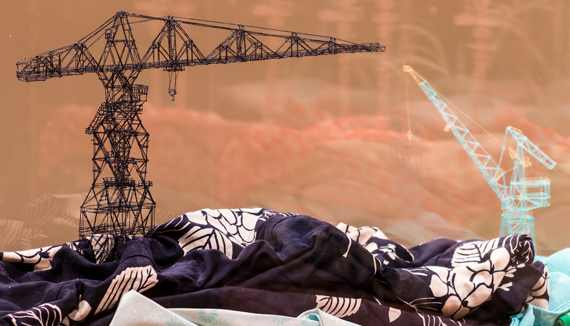 Takahiro Iwasaki, Detail of Out of Disorder (Folding Scenery), 2015. Photo: Corrado Serra
Likewise the cranes, modeled on ones found in Japan's port cities, symbolize Japan's rise through sea trade after World War II and its decline since the 1990s as Taiwan and Korea emerged as economic competitors. The last case, representing winter, refers to the recent natural and man-made disasters that befell Japan in 2011. Iwasaki has created a replica of the lone pine tree that survived the tsunami. It stands defiantly alongside miniature construction cranes based on those that were used to rehabilitate Fukushima. Together they are optimistic indications of renewal, recovery, and the cyclical promise of spring.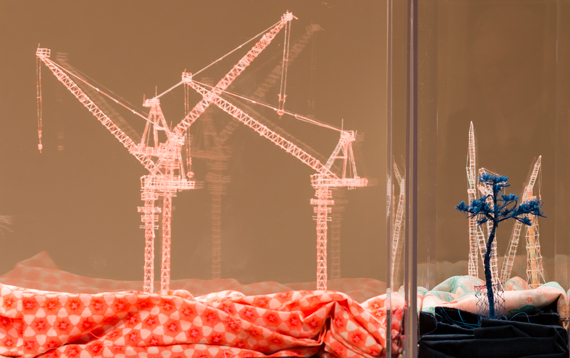 Takahiro Iwasaki, Detail of Out of Disorder (Folding Scenery), 2015. Photo: Corrado Serra
Audio Guide
Enjoy Asia Society's free audio guide for Takahiro Iwasaki: In Focus, just look for the audio icon next to select artworks in the exhibition.

For easier mobile access, listen at Soundcloud.
Plan Your Visit