Princes and Painters in Mughal Delhi 1707-1857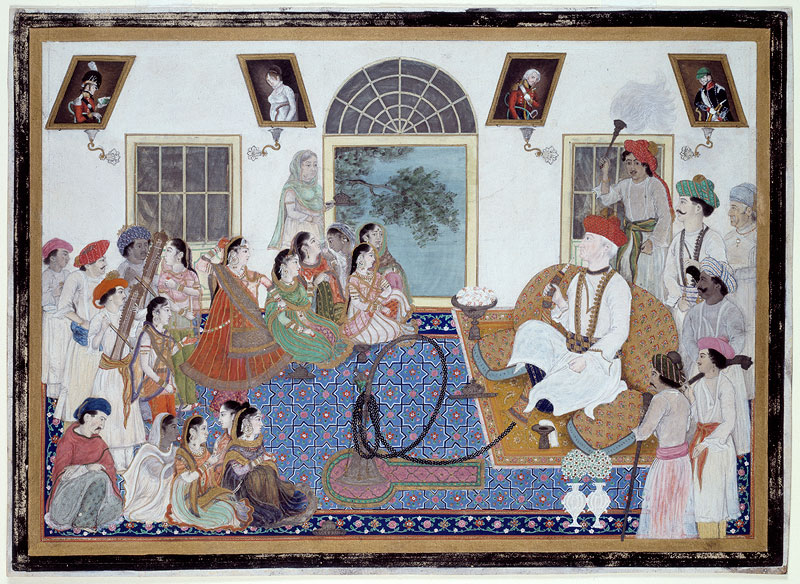 Sir David Ochterlony in Indian dress, smoking a huqqa and watching a nautch in his house in Delhi c. 1820. Watercolor and body color. H. 8 3/4 x W. 12 1/2 in. (22.2 x 31.8 cm). Add.Or.2. The British Library.
Delhi has served as a cultural center of North India for more than a millennium in different incarnations. This exhibition focuses on the 18th century to the mid-19th century, the crucial period when Delhi moved from being the heart of the late Mughal Empire to becoming the jewel in the crown of the British Raj.
The exhibition examines Mughal artistic culture in the 18th and 19th centuries to highlight the interwoven nature of Mughal, European and regional patronage networks within which Delhi artists operated. Approximately 100 objects include works by Delhi-based court artists Nidha Mal and Chitarman, and less familiar works by artists such as Ghulam Murtaza Khan, Ghulam Ali Khan and Mazhar Ali Khan.
In addition to Mughal miniatures produced under later emperors — Muhammad Shah (reigned 1719–1748) up to Bahadur Shah "Zafar" (reigned 1837–1858) — this exhibition highlights a selection of Company School paintings produced for Delhi-based personalities such as William Fraser, James Skinner and Thomas Metcalfe. Select photography, drawings and decorative arts are also included.
Critical support for Princes and Painters in Mughal Delhi, 1707–1857 comes from The Partridge Foundation, A John and Polly Guth Charitable Fund.
Support for Asia Society Museum provided by the Asia Society Friends of Asian Art, Asia Society Contemporary Art Council, Arthur Ross Foundation, Sheryl and Charles R. Kaye Endowment for Contemporary Art Exhibitions, Blanchette Hooker Rockefeller Fund, National Endowment for the Humanities, Hazen Polsky Foundation, New York State Council on the Arts and New York City Department of Cultural Affairs.
Plan Your Visit