Meiji Modern: Fifty Years of New Japan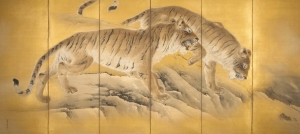 Tigers by Mountain Streams
Kimono with Peacock and Tree Design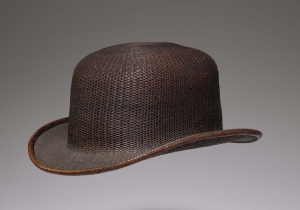 Bowler Hat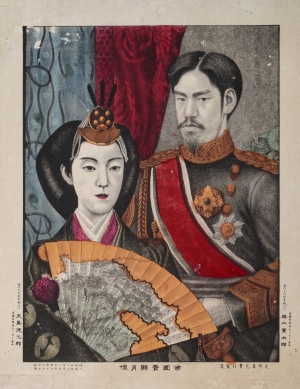 Portrait of Imperial Couple (Portrait of the Noble Visages of the Empire)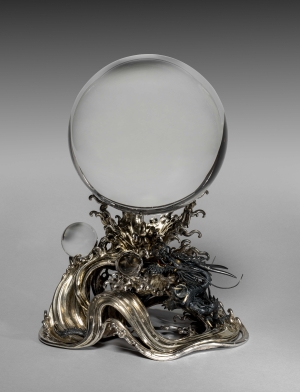 Tide-Changing Jewel with Dragon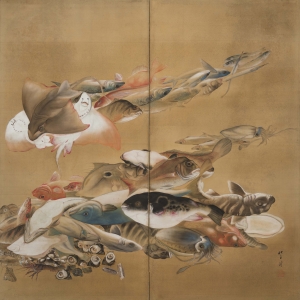 Catch of the Day
Asia Society is proud to present Meiji Modern: Fifty Years of New Japan. This exhibition reevaluates a seminal era of turmoil, creativity, and transformation in Japan spanning the mid-nineteenth to early-twentieth centuries. 
Comprising over 80 works—including paintings, prints, photographs, sculptural works, and objects in various media, such as enamel, lacquer, embroidery, and textiles—this exhibition presents some of the finest examples of Meiji-period artworks in American collections, both public and private. Arranged around traditional Japanese motifs, such as the sea and nature, Buddhist deities, beauties, and mythical animals, Meiji Modern highlights these themes as they are transformed by the introduction of newly imported techniques, materials, and objects, surprising the viewer with works of technical virtuosity, unexpected scale, and sheer beauty. 
Meiji Modern: Fifty Years of New Japan is co-curated by Bradley Bailey, Ting Tsung and Wei Fong Chao Curator of Asian Art, The Museum of Fine Arts, Houston, and Chelsea Foxwell, Associate Professor of Art History, University of Chicago.
This exhibition is organized by the Japanese Art Society of America in celebration of its 50th Anniversary, with funds generously provided by The E. Rhodes and Leona B. Carpenter Foundation; The Mary Griggs Burke Center for Japanese Art, Columbia University; The Japan Foundation; Shiseido Americas Corporation; Bonhams, Japanese Art, New York; and Japanese Art Society of America (JASA) members.
About Meiji Modern
Urban transformation, boundless enthusiasm for new technologies, and rising geopolitical tensions: these circumstances defined Japan's Meiji era (1868–1912) as much as they describe our own. While the changes wrought upheaval and uncertainty, many people, including artists, saw the Meiji period as a time teeming with possibility. Against this backdrop, art emerged as one of Japan's most profitable industries and a singular means of representing the modern nation-state. Artists manipulated traditional mediums and materials to achieve dazzling effects unseen—and unimaginable—in previous epochs.
In Japan and abroad, Meiji art filled international expositions, domestic halls of industry, and private residences. While until recently Meiji art has been neglected or considered derivative, the global vogue for Japanese art during the late nineteenth century reminds us that modern art does not look the same in all places. Meiji art evolved in its own way and according to its own prerogatives in direct conversation with Euro-American trends, including Art Deco.
Meiji Modern presents a new and holistic vision of people and places in nineteenth- and twentieth-century Japan, including works collected during the period that reflected taste and aesthetic discourses in the country, as well as export wares. When Americans first began collecting Meiji art, it was considered contemporary art. Many artists were still active and entered into dialogue with collectors, traveling to the United States to share their work, or welcoming foreign visitors to their studios in Japan. Additionally, just as aspects of modernity can be violent and ambivalent, the arts of Meiji Japan are both brilliant and dark. Japan's victory in the First Sino-Japanese War (1894–5) initiated a doctrine of imperial expansion, and objects that buttressed the aggressive ideology of empire can be seen throughout the exhibition. Thus, far from limited to surface expression, the arts of Meiji are replete with the complexities and struggles of the age.
Purchase your tickets here.
Exhibition Themes
CRAFTING A MODERN STATE 
When the fourteen-year-old Emperor Meiji was "restored" as the leader of Japan in 1868, the country lacked most of the features of a modern nation-state, such as an organized military, a national anthem, or a national flag. How was this boy, raised in courtly seclusion, to become not only a leader but the embodiment of the modern nation of Japan? 
Oligarchs and foreign advisors shaped important aspects of modern governance, including the 1889 constitution. Even in the early years of Meiji, government officials moved quickly to establish imperial symbols such as the kikumon (chrysanthemum crest) and the flag of the Rising Sun. The literal image of the emperor was also of great importance. In 1873 he famously severed his topknot and grew his now-iconic mustache, donning a Western-style military uniform, and in 1889 an idealized goshin-ei (exalted or honorable image) was disseminated widely. The public image of the imperial family became equally important. With the lifting of strict prohibitions on depictions of the imperial family, the necessity of and desire for their likenesses spurred artistic production. Similarly, the many public celebrations and official commemorations required art and decorative arts, including official uniforms and diplomatic gifts. 
As important as art and craft were for establishing the image of the emperor and the nation, they were equally important to its functioning and funding, attracting foreign interest and investment as part of the official policy of encouraging new industries and manufactures. 
NAVIGATING CHANGING SEAS 
The people of Japan long valued the sea as a source of protection, sustenance, and artistic inspiration. Under the shoguns' isolationist foreign policy, only limited international trade at the port of Nagasaki was possible. All this changed in 1853, when American Commodore Matthew Perry used the threat of military force to formalize diplomatic relations with Japan. 
From 1853 until 1867, the government and economy were thrown into turmoil as foreigners continued to arrive. As they established trading settlements in ports such as Yokohama, curiosity grew about these so-called barbarians from across the seas. Artists incorporated aspects of these exotic imports into their work. With the collapse of the shogunate in 1868, the new Meiji government actively encouraged travel in pursuit of technologies to transform and modernize Japan. 
Perhaps the greatest shift in Japan's relationship with the sea came with the establishment of the Imperial Navy in 1869. Over the course of the Meiji period, the government grew rapidly in size and strength. During the first Sino-Japanese War (1894–5) and Russo-Japanese War (1904–5), warships, often known by name, were celebrated in woodblock prints, photographs, and lithographs. The seas, it would seem, were once again a symbol of protection—and colonial ambition. 
Meiji art also abounds in nostalgic imagery of fish and fishermen, and representations of water-related myths, such as the magic, tide-controlling jewels described in legends. Artists used these ocean motifs from Japan's historical past to simultaneously reference Japan's ancient history (with reputedly unbroken sovereignty) and highlight its glorious present and future.
MAKING HISTORY, ENSHRINING MYTH 
Meiji art abounds with historical, mythological, and religious (Buddhist and Shintō) subject matter. Such themes were already a central part of Japanese art and culture in the preceding Edo period, yet the Meiji approach to history and myth was new in several ways. First, Japanese artists, patrons, and government officials understood the high Euro-American regard for these themes and agreed that they played important social and political roles edifying the public and fostering a sense of shared national belonging. 
Images of the distant past also provided artists with opportunities to surpass the ancients by rendering familiar narratives with greater realism or immediacy. Subjects such as dragons or demons appear to have been especially popular in Europe and America, and Japanese artists capitalized on foreigners' exotic visions of their country. Domestic Meiji audiences, too, were fascinated by supernatural themes. Artists, performers, and writers updated the occult, drawing on changing circumstances in the everyday world. 
In these ways, Japanese artists and patrons expressed their modernity even—and especially— while depicting the past.
FASHIONING THE SELF 
During the Meiji period the concept of the self was widely regarded as twofold, consisting of a public, outwardly facing half—one's public appearance and behavior—and a private, predominantly concealed half—one's personal feelings and emotions. Self-presentation was further complicated by the government's self-conscious efforts, through legislation, decree, or imperial example, to present a modern and civilized society. 
New Meiji laws and policies did offer, at least to some, greater freedom and social mobility when compared with the rigid status system and sumptuary laws of the Edo period. Against this backdrop of social change (and increased imports from abroad), fashion began to evolve. In the 1870s and 1880s official uniforms were established; it was declared that the new, Western-style formal wear of suits and trousers was actually similar to the styles of the Emperor Jimmu, the legendary first emperor of Japan. For women, courtly formal wear was also based on European models. After 1886, the Empress, along with her entourage, was seen in public only in Western dress. Other forms of coded dress for women also emerged, such as hakama pants, which indicated employment in a factory or silk mill or, when worn over a kimono, that the wearer was a student or a teacher. 
With increased silk production, the rise of department stores, and increased imports, even ordinary people were able to express a modern sense of cosmopolitanism. Accessories such as rings, Western-style umbrellas, bowler and top hats, and Victorian shawls and scarves were often worn with traditional haori jackets and kimono. 
CULTIVATING A MODERN AESTHETIC 
The notion of Japanese artists' affinity with nature developed as early as the 1860s and was especially prominent in Europe in the 1880s and 1890s. Scholars have pointed to the racial prejudice that underlied this narrative, as it presented the artists as simple and childlike, bearing a carefree, unmediated relationship with the natural world. Natural motifs supported Euro-American impressions of Japanese art as decorative, suited more to adorning surfaces than to expressing lofty concepts. Progressive artists who sought freedom from the grand narratives of Salon paintings embraced Japanese artists' attention to small creatures, such as birds, insects, and marine life. 
Japanese makers noted the success of natural subjects among foreign buyers of Japanese art, and indeed such subjects had long been popular within Japan, where they bore poetic resonances and reflected the passing of the seasons. In the Meiji period, a further layer was added to these works as the Japanese were quick to accept Darwin's theories of evolution and related notions of social Darwinism. Equipped with tools of observation-based realism from both East Asian and European artistic traditions, artists revisited and expanded on the traditional theme of animal predation paintings. 
Numerous painters worked as textile designers in the Meiji period, ushering in an era of experimentation with color, form, and style. The Art Nouveau movement borrowed motifs and design principles from art around the world and bore a particularly close relationship to Japanese art. Japanese makers' confident application of the Art Nouveau visual language meant that the globalization of Japanese art had come full circle. 
Featured Techniques in Exhibition
JAPANESE CLOISONNÉ ENAMELS
Imported from China, the art of cloisonné enameling flourished during the Meiji period. The pursuit of new colors, techniques, and materials brought an already complicated process to new creative heights.
Japanese enamellers produce their designs by bending thin wires and adhering them to a vase or other form, typically made of metal to form cloisons. Once fired, each cloison can be filled with a paste of vitreous colored enamels. To fill all the cloisons entirely requires several firings. Once full, the object's rough surface is polished with a series of increasingly fine stones. During the Meiji period, artists also experimented with musen (wireless) designs in which cloisons were removed, allowing colors to mix and blend.
MEIJI METALWORK
Meiji artists adopted the European technique of soft modeling in wax before casting their sculptures, which resulted in strikingly realistic and daring designs. They also created studies in clay, wax, or plaster of Paris, which allowed them greater range of experimentation than workshop methods transmitted from the past.
Meiji artists also made masterful use of irogane (colored metal) patination. On the Tide-Changing Jewel with Dragon nearby, the rich dark tones of the dragon were created through shakudō (patination resembling black lacquer), striking a brilliant contrast with the gleaming silver of the waves. These colors were achieved through the use of different metal alloys and a complicated process involving an acidic solution in which the metalworks were submerged and boiled, creating a chemical reaction that gives the work its rich colors and seductive luster.
YŪZEN DYEING PROCESS 
The technique of yūzen was developed during the early Edo period in Kyoto, and it involves the application of a rice paste extruded from a tube onto textiles. During the Meiji period, the complexity of this process was taken to new heights, often to replicate the effects of painting. To create colorfast areas, the dyes in the rice paste were mixed with newly imported dyes, which were more easily controlled and could be applied directly to fabric without causing the colors to run. With numerous applications of paste and repeated dye baths, designs of great complexity could be made on a single uncut textile. Once complete, the design was steamed, setting the color and melting off the excess resist and thickening pastes. Meiji innovations simplified the process and allowed for painterly effects that more closely mimicked the soft gradations of color seen in contemporaneous nihonga painting.
Related Programs
Click on the links below to purchase tickets.
Friday, October 13 • 5:30 pm
Season of Japan Leo Bar
LATE NIGHT AT ASIA SOCIETY
Join us for an evening of specialty cocktails, music with DJ Kai, and a tour of Meiji Modern: Fifty Years of New Japan.
Friday, October 20 • 8:30–9:30 am
U.S.-Japan Relations in the Biden Era
PANEL DISCUSSION
Join ASPI for a conversation with Ambassador Emanuel about the roles and goals for the U.S.-Japan relationship.
Friday, November 3 • 6:30 pm
Saturday, November 4 • 1:00 pm
New York Japan Cinefest
FILM
This festival features fictional, documentary, anime, and short films from around the world portraying Japanese culture and society throughout the ages.

Saturday, November 18 • 6:30 pm
An Artist of Rebellion and Rejection: Otake Chikuha
CONVERSATION
Renowned dancer Eiko Otake discusses the influence of her grandfather, Meiji artist Otake Chikuha (1878-1936), in conversation with William Johnston, photographer and professor of Japanese history at Wesleyan University. Click here to view the program.
Thursday, November 30 • 6:30 pm
Hiroshi Sugimoto: Photography and Japanese Art
CONVERSATION
Hiroshi Sugimoto, one of Japan's most important contemporary artists, will join Asia Society Museum Director Yasufumi Nakamori for a conversation exploring Sugimoto's photography, his current exhibition at the Hayward Gallery in London, and the impact of historical Japanese arts, such as tea culture and calligraphy, on his current artistic practice. Click here to view the program.
Saturday, December 9 • 3:00 pm
No Rule is Our Rule: Screening and Discussion with Eiko Otake and Wen Hui
FILM AND DISCUSSION
Join us for a screening of this documentary film about the friendship between two fiercely independent, interdisciplinary female dance artists Eiko Otake and Wen Hui. The screening will be followed by a discussion with the artists themselves.

Wednesday, January 17 • 6:30 pm
From Meiji to Now: The Making of Modern Japan
PANEL DISCUSSION
This program will focus on the transformations in politics, society, and culture Japan experienced during the Meiji era and their relevance to the contemporary era. Panelists include Dr. Carol Gluck, George Sansom Professor Emerita of History. She specializes in modern Japan; Dr. Takako Hikotani, Senior Fellow with the Asia Society Policy Institute in Tokyo; Dr. Yasufumi Nakamori , Director of Asia Society Museum and Vice President of Arts and Culture; and Dr. Paul Sheard is an economist and author of the Wall Street Journal bestseller The Power of Money. 
Credits
Meiji Modern: Fifty Years of New Japan is organized by the Japanese Art Society of America in celebration of its 50th Anniversary, with funds generously provided by The E. Rhodes and Leona B. Carpenter Foundation; The Mary Griggs Burke Center for Japanese Art, Columbia University; The Japan Foundation; Shiseido Americas Corporation; Bonhams, Japanese Art, New York; IFPDA Foundation; and Japanese Art Society of America (JASA) members.
The Asia Society's presentation of the exhibition is funded through the generous support of Asia Society Japan, The E. Rhodes and Leona B. Carpenter Foundation, Cartier, and Mary Dee and George Hicks.

Support for Asia Society Museum is provided by Asia Society Global Council on Asian Arts and Culture; Asia Society Friends of Asian Arts; Arthur Ross Foundation; Sheryl and Charles R. Kaye Endowment for Contemporary Art Exhibitions; The Hazen Polsky Foundation; The Mary Griggs Burke Fund, and Mary Livingston Griggs and Mary Griggs Burke Foundation; the New York State Council on the Arts with the support of the Office of the Governor and the New York State Legislature; and the New York City Department of Cultural Affairs in partnership with the City Council.
Plan Your Visit