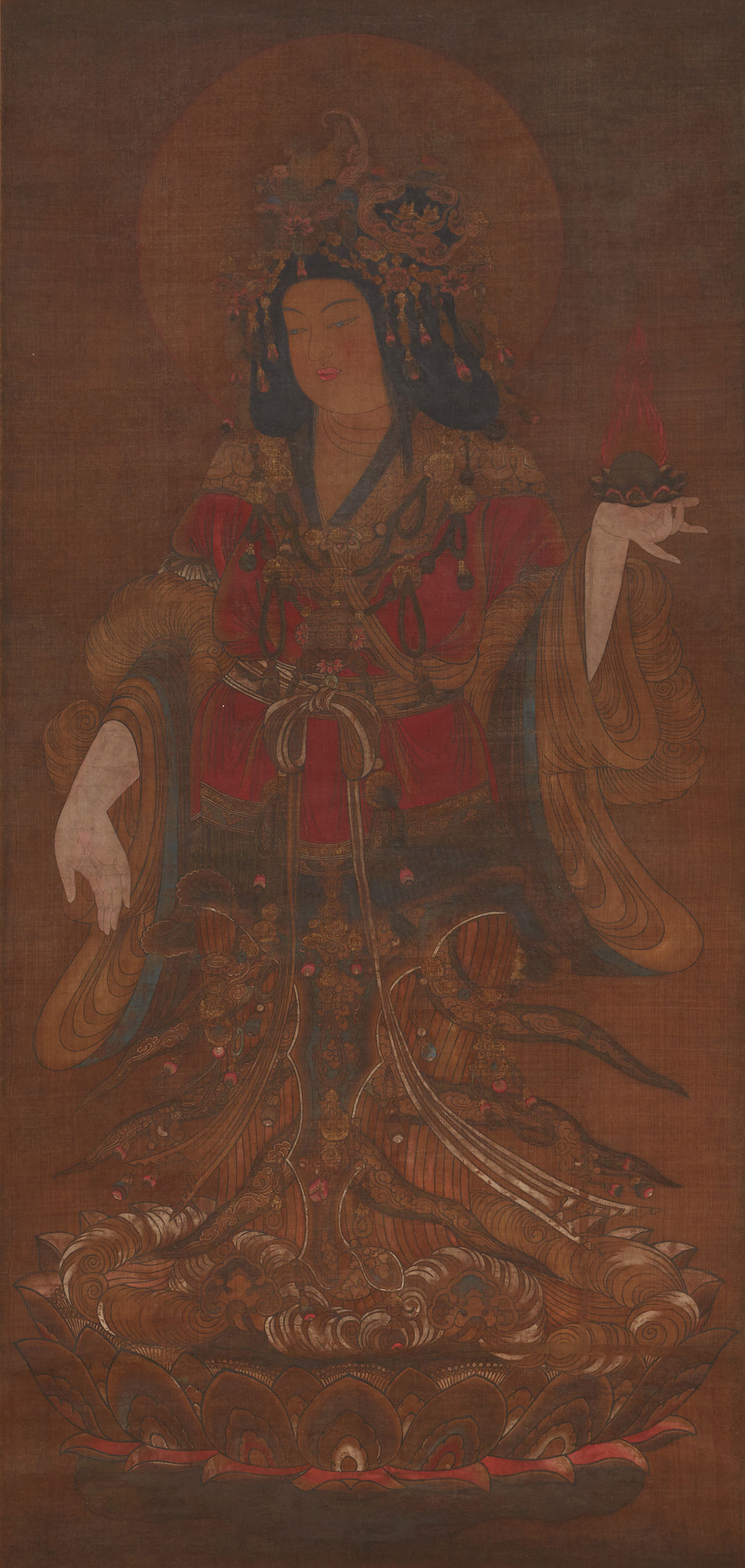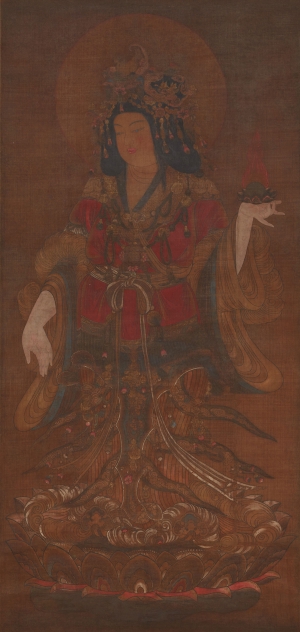 Lakshmi (Kichijoten). Japan. Possibly Meiji Period (1868–1912).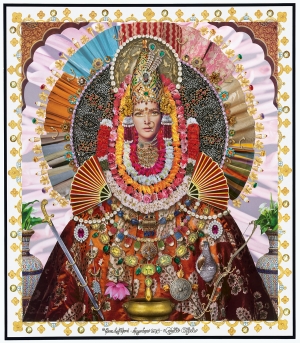 Roberto Custodio. Veera Lakshmi, 2015.
Roberto Custodio. Adhi Lakshmi, 2014.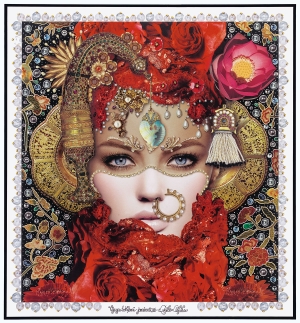 Roberto Custodio. Vijaya Lakshmi, 2014.
Krishna Dancing on Kaliya (Kaliyamarddaka Krishna). India, Tamil Nadu. Chola period, late 10th–early 11th century.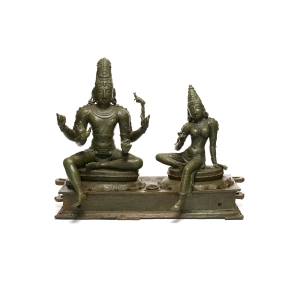 Shiva and Parvati (Somaskanda). India, Tamil Nadu. Chola period, 12th century.
This exhibition explores the importance and worship of Lakshmi, a beloved goddess and consort of the god Vishnu, who is part of the complex Hindu belief that originated in India. As images of Lakshmi circulated through other cultures, she began to take on new meanings. Historical and contemporary artworks on display share broader context and transformations of the goddess's image abroad.
This exhibition is part of Asia Society Museum's ongoing In Focus series, which invites viewers to take an in-depth look at a single, significant work of art.
Overview
The veneration of Lakshmi and imagery associated with the goddess have traveled across the world over many centuries together with the South Asian diaspora. Originally a personification of the earth and a fertility goddess within Hindu culture, Lakshmi came to be associated with the god Vishnu and developed into the beloved goddess of good fortune, wealth, bounty, and beauty. Vishnu, the savior or preserver, is compassionate, moderate, and peaceful, but can also be frenetic and violent. As Vishnu's consort, Lakshmi embodies his power. Lakshmi appears in numerous forms, as do the Hindu deities like Shiva, Parvati, and Krishna represented by the Chola-period sculptures on view outside this gallery. One form Lakshmi takes is Sita, the wife of Lord Rama (a manifestation of Vishnu) in The Ramayana, a foundational literary work of ancient India. This epic Sanskrit tale recounts Sita's abduction by the demon Ravana and her rescue by Rama and his brother Lakshman. Their journey was aided by sympathizers who lit candles so they could find their way home through the darkness. Inspired by this tale, Lakshmi is celebrated on the main day of Diwali, the Festival of Lights, when people light candles to guide her to their homes and bestow good fortune for the coming year.
The transformation of Lakshmi extends beyond the Hindu context. Prior to the twelfth century, Lakshmi became an important deity in Buddhism when it was still a major religion in India. Her imagery and worship within a Buddhist context was transmitted to other parts of Asia and beyond. For instance, Kichijōten, the Japanese Buddhist version of Lakshmi depicted in a painting in this exhibition, became a goddess of wealth, beauty, and happiness. On view alongside this painting are contemporary collages by Roberto Custodio, who found inspiration in images of this Hindu deity. Together, these images represent a selection of distinctive interpretations of the goddess's image, beauty, and power as she has been venerated across time and space.
This exhibition is part of Asia Society Museum's ongoing In Focus series, which invites viewers to take an in-depth look at a single, significant work of art.
Kichijōten
This Japanese painting from the Mr. and Mrs. John D. Rockefeller 3rd Collection at Asia Society depicts Lakshmi as she appears in the Japanese Buddhist tradition, where she is known as Kichijōten and venerated as the most popular Buddhist deity. She holds her right hand in the gesture of reassurance and a wish-granting jewel appears on her left palm. Lakshmi was introduced to Japan via China sometime between the mid-sixth to seventh century, where, as in South Asia, she is most generally recognized as a bestower of wealth, beauty, and happiness. By the end of the seventh century, Lakshmi was among the Buddhist deities in Japan venerated by state-level rulers who would repent and atone in prayer to her in hopes of political success. To Buddhists in eleventh-century Japan, Kichijōten had become the wife of Bishamonten, the Buddhist guardian of the north. Kichijōten's role in Japanese Buddhism continued to change and she took on associations as protector of childbirth, good harvests, and sea voyages.
Periods of formal public worship of Kichijōten could last two weeks or longer, during which paintings frequently suffered wear due to exposure. Often, the damaged paintings were destroyed and replaced with sculptures, meaning that few paintings dating to the Kamakura period (1185–1333) or earlier have survived. By the nineteenth century, educated Japanese painters had begun to stress the practice of studying historical styles and sought out early paintings in temples and other collections to copy, thereby preserving these images. For instance, several of this figure's characteristics, such as the headdress and elaborate costume, suggest that the artist likely created this work after a Kamakura-period painting.
Roberto Custodio
Roberto Custodio (Born 1967 in São Paolo, Brazil. Lives and works in São Paolo, Brazil.) is a self-taught artist who formerly worked as a fashion photographer and illustrator. As a teenager in the early 2000s, Custodio developed a fascination with Indian imagery after viewing a postcard of Krishna. This experience initiated his series of intricate collages featuring Hindu gods and goddesses.
Custodio found inspiration in many Hindu deities and was particularly interested in depicting Lakshmi's various manifestations in collage and India ink on board. He researched in depth the forms and the ability of each to confer a specific worldly desire before creating his renderings. Each of his works examines one of eight particular manifestations of the goddess known as the Ashta Lakshmi (the eight Lakshmis), a group that gained a popular following among Hindus in the 1970s. Custodio's sumptuous, jewel-like works evoke contemporary commercial conceptions of beauty as well as elements of today's world of high fashion and consumerism.
In addition to the three forms represented in Custodio's works on display in this exhibition, the Ashta Lakshmi include Dhana Lakshmi, the goddess of wealth; Dhanya Lakshmi, the goddess of agricultural wealth; Gaja Lakshmi, the giver of wealth in the form of animals or the giver of royal power; Santana Lakshmi, the goddess of bestowing offspring; and Vidya Lakshmi, the goddess and bestower of knowledge of arts and sciences.
Audio Guide
To enjoy Asia Society's free audio guide for "In Focus: Lakshmi" just look for the audio icon next to select artworks in the exhibition.
For easier mobile access, listen at Soundcloud.
Installation Views
Installation views of "In Focus: Lakshmi" at Asia Society Museum, 2019. Photograph © Bruce M. White, 2019
Credits
Asia Society appreciates the cooperation of RL Fine Arts.
Support for Asia Society Museum is provided by Asia Society Global Council on Asian Arts and Culture, Asia Society Friends of Asian Arts, Arthur Ross Foundation, Sheryl and Charles R. Kaye Endowment for Contemporary Art Exhibitions, Hazen Polsky Foundation, Mary Griggs Burke Fund, Mary Livingston Griggs and Mary Griggs Burke Foundation, New York City Department of Cultural Affairs, and New York State Council on the Arts.
Plan Your Visit