Comparative Hell: Arts of Asian Underworlds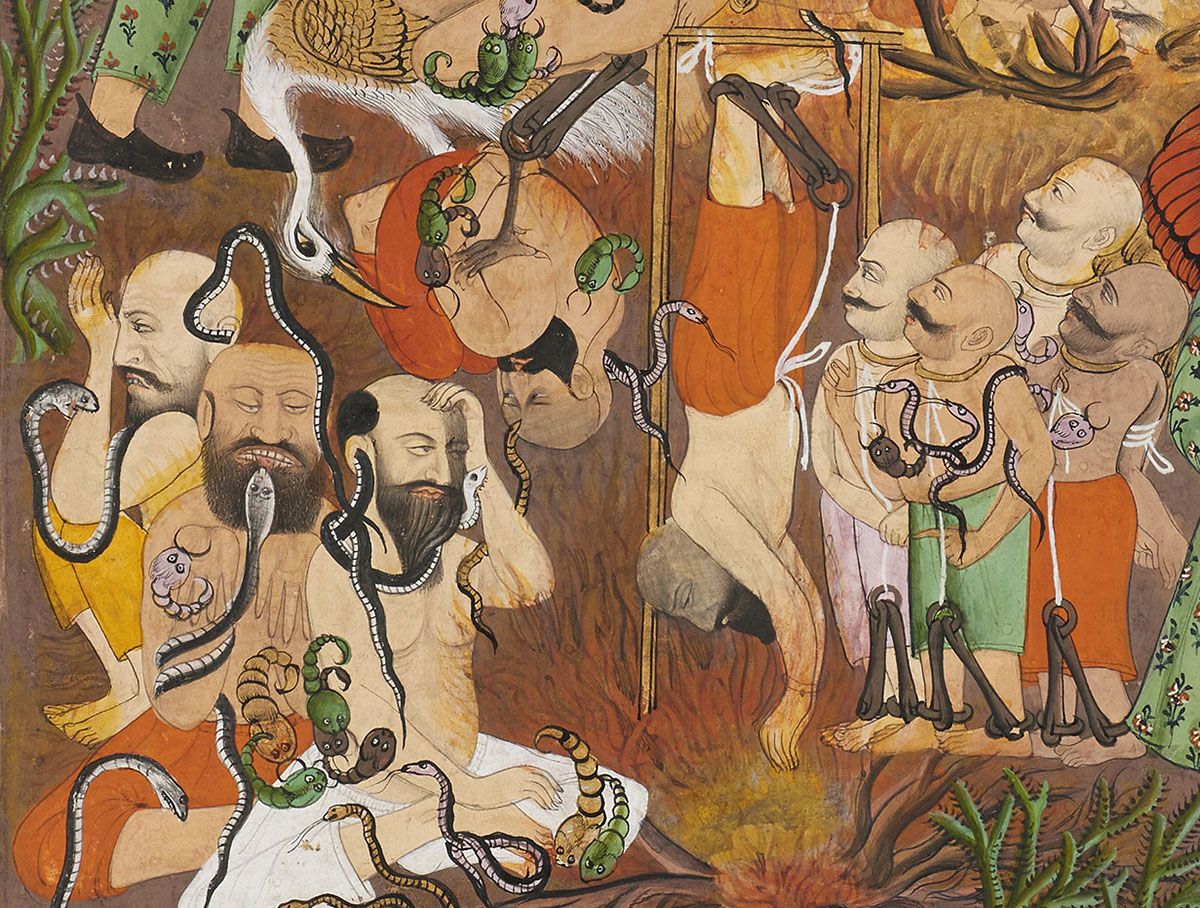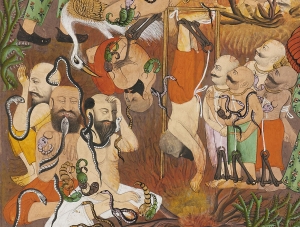 Detail, The Fathers of the People of Error Are Punished in Hell, miniature from a copy of Hamla-i Haydari ('Ali's Exploits)
The Fathers of the People of Error Are Punished in Hell, miniature from a copy of Hamla-i Haydari ('Ali's Exploits)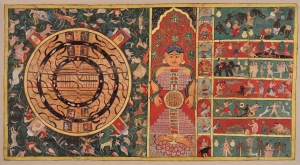 Adhai-dvipa: The Two and a Half Continents, the Universe in the Shape of a Person (Cosmic Man, Lokapurusha), and the Seven Levels of Hell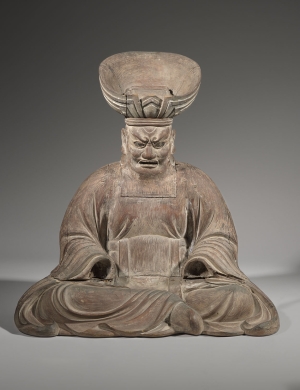 Enma-ō, King and Judge of Hell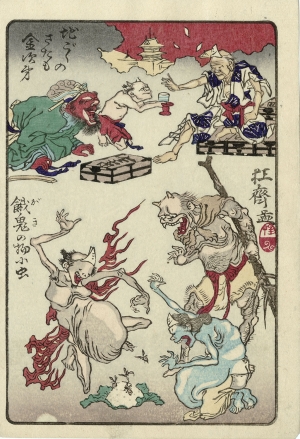 Kawanabe Kyōsai, Even in Hell Money Counts (Jigoku no sata mo kane shidai), Bugs in the Food of the Hungry Ghost (Gaki no mono ni mushi), from the series One Hundred Pictures by Kyōsai (Kyōsai hyakuzu)
Kayu kepuh (Gateway to the Underworld) Shadow Puppet (Wayang kulit), from Wayang Cupak Tabanan Set
"A dazzling exhibition... 'Comparative Hell' immerses viewers in a realm aesthetically transcendent."

—The Wall Street Journal
The first comprehensive exhibition in the United States to explore portrayals of hell across the Asian religious traditions of Buddhism, Hinduism, Jainism, and Islam, Comparative Hell: Arts of Asian Underworlds, examines how systems of belief and the underworlds within them are manifest in the rich artistic creations of Asia.
Exceptional and visually stunning artworks explore the impact of conceptions of hell on Asian visual culture over time. Didactic paintings, sculptures, and sacred objects introduce the notions of Buddhist, Hindu, Jain, and Islamic cosmology, as well as ideas about judgment, punishment, and salvation after death—many of which are shared by these traditions. Exhibition artworks portray religious threats of fiery torture as a means to shape values and beliefs, to instill virtuous behavior, and to encourage atonement for sins—reflecting a universal human desire for spiritual transformation.
The exhibition is accompanied by an illustrated catalogue with contributions by curator and editor, Adriana Proser, and esteemed scholars Geok Yian Goh, Phyllis Granoff, Christiane Gruber, Michelle Yun Mapplethorpe, and D. Max Moerman. Copublished by Asia Society Museum and Officina Libraria, it is available for purchase at AsiaStore.
Purchase Tickets
Tour the Afterlife
Divided into five sections, Comparative Hell takes you on a journey through the underworld.
Situating Hell
The works in this gallery provide just a few perspectives of the position that hell holds in Buddhist, Jain, and Islamic thought. These religious systems, as well as Hinduism, place human existence in the world within a larger framework that includes both heavens and hells. The cosmologies of these religions encompass multiple layers or stages of hells, and sometimes subdivisions of each of these, every one distinct from the others. Buddhists believe in the existence of eight major hells, but in some Buddhist traditions, as many as 272 subdivisions are noted. Hindu texts vary, with some mentioning five or seven major divisions and as many as 84 or more subdivisions. Both Jain and Islamic texts discuss seven hells or layers of hell. The multi-layered structures depicted here attest to varied punishments for different transgressions. While Muslims do not believe in reincarnation, Islam teaches there are also multiple heavens, as seen in the Islamic schematic rendering in the Ma'rifatnama (Book of Gnosis) on view in this gallery. In the manuscript, seven layers of heaven are situated above seven layers of hell.
Spiritual growth for Buddhists, Jains, and Hindus is a slow process that occurs over many lifetimes. A depiction of the Bhavachakra (Wheel of Life) captures the Buddhist conception of the various realms along the path that can lead to punishment in hell at one extreme or to the bliss of enlightenment at the other. In another painting, Kshitigarbha (known as Chichang Bosal in Korean), a Buddhist being with the capacity to save people from hell, is featured with a large assembly of attendants. This portrayal of the Buddha emerged within the context of East Asia, where the Chinese governmental bureaucracy had a palpable impact on how Buddhists there came to understand the administrative structure that helped determine their fates after death.
For believers, the contrast between heavens and hells articulated in religious texts and illustrated in related artworks emphasizes the consequences of good and evil behaviors and deeds. These stark juxtapositions make it possible for each religion to demonstrate clearly what the results of different types of conduct will be.
Judgment
The works in this exhibition section, from temple sculptures and banners to coffee house paintings, demonstrate the common notion in Islam, Buddhism, Hinduism, and Jainism that people are judged in death based on their behavior in life. Just as the threat of punishment on earth for criminal behavior is a means to control the basest human behaviors, the threat of punishment in hell serves as a further incentive for people to conform to societal norms and fend off human desires and actions that can damage social structures.
Even prior to death Hindus, Buddhists, and Jains take the notion of karma (the force of cause and effect) to heart. Karma applies to all types of intentional mental, verbal, and physical deeds. The grand effect of a lifetime of deeds occurs after death, at which time in Hinduism and Buddhism, male, all-seeing judges determine the fate of the deceased.
The faithful of all four religions are confronted by images of judgment when they enter their places of worship and elsewhere as they conduct their daily lives. Artworks showing the meting out of justice in the afterlife often parallel judicial procedures on earth. The weighing of good and bad behavior is an important feature in each of the four traditions. As seen in this gallery, it is commonly represented by a scale that emphasizes the process of adjudication. For Hindus, Yama is the god of death and lord of justice. He is also part of the Buddhist tradition. Variant imagery of Yama, other judges, and judgment has emerged over time in Asia, often depending on the influence of regional faiths and the development of syncretic religious beliefs.
Distinctively, Muslims believe there is a Day of Reckoning when all people will be resurrected from the dead and judged on their deeds in life. This day will follow the destruction of the universe and its recreation by God. All gather before God to be judged one by one.
Punishment
The consequences of bad behavior resulting from unbridled desires have captured the imaginations of artists from across cultures and religions in myriad ways. The gruesome scenes presented in this gallery were informed by descriptions in religious and pseudo-religious texts, local performance practices, and poetry and prose, as well as culturally and time-specific forms of worldly punishment.
Whether the torture carried out is flogging the damned or boiling them in a cauldron, artists use their skills to magnify the horror of the agony of those suffering and the callousness of those who subject them to their punishments.
The geographical and religious distinctions among Asia's hells may differ, but no matter the tradition from which the imagery derives, artists depict hell as places where punishment is carried out graphically by torturers in human or demonic form or, in the case of Islam, by angels of hell. Whether depicted in the form of a painting, print, or as a buffalo hide puppet, there is much overlap in the identification of negative behavior and associated punishment, as well as a shared vocabulary of demons across cultures. These different hells are all nightmarish places where people are attacked continuously by packs of dogs or serpents; forced to endlessly climb spikey, cold peaks in the nude; or burnt alive over and over again.
Salvation
Compelling tales of the damned who plead to be saved, family members who attempt to intervene on their behalf, and the intercessors who help to make escape from hell possible are an important component of Asia's Buddhist and Hindu religious traditions. These intercessors and the stories connected with them may draw too from co-existing local systems of belief and the stories connected with them.
In East Asia, for instance, the bodhisattva Kshitigarbha is one of a few popular savior deities capable of guiding the condemned out of hell. Known as Jizō Bosatsu in Japan, he is a figure of hope. Holding a metal staff, he leads the suffering out of hell. In Southeast Asia, it is Phra Malai who most commonly takes on this role for Buddhists. His legends are featured perhaps most notably in Thai art and rituals associated with the afterlife. His efforts to save the damned who beg to be rescued from hell are frequently depicted in manuscripts and sculptures like those also on view in this gallery.
In both South and Southeast Asia the Mahabharata, the Indian epic poem, is the Hindu source for two well-known characters who seek out their relatives in hell in order to rescue them. King Yudhishthira, the eldest of five Pandava brothers mentioned in the Mahabharata, finds his brothers suffering in hell and, when he refuses to leave without them, they are set free. In the Indonesian version of the story, the second born of the Pandava brothers, known as Bima, is the famed figure who travels to hell to rescue his relatives. Depictions of the Bima Swarga (Bima's visit to the realms where the gods reside) is the foundation for major Balinese theatrical performances and a popular subject of paintings and other forms of art. In the Bima Swarga, Bima goes to hell on a mission to rescue his father and second mother. His story continues to be a popular theme for Indonesian artists to this day.
The Art of Hell in Our Times
As religious authority has given way to secular authority in our contemporary times, many artists have replaced conventional religious notions of hell as a source of inspiration, with concepts of hell and the afterlife that are more easily reconcilable with modern science, technology, and popular culture. Rather than depicting recognizable environments where one is tortured according to adherence to religious codes of morality, the contemporary artists' works shown here combine conventional symbolism derived from religion with new media to convey today's values and ills. Here, hell becomes a metaphor for the sociopolitical, economic, and environmental troubles of contemporary society.
Although each of these works is a personalized metaphor inspired by the distinct heritage and life experience of each artist, all grapple with the same issues—good and evil, morality and immorality—that have concerned humanity across time and religious traditions. The visual arts remain an important way for cultures to express their beliefs and anxieties about human behavior and the afterlife.
Symposium
To Hell and Back: An Art and Religious Studies Symposium
This interdisciplinary symposium on hell(s) with scholars of religion, theology, art history, and anthropology will explore the artistic expressions of the afterlife across religious traditions in Asia.
April 14, Friday 6:30pm—9pm: Keynote address and cocktail reception
Speaker: Francisca Cho (Professor of Buddhist Studies, East Asian Languages and Cultures, Georgetown University). Keynote address begins at 8 p.m.
April 15, Saturday: Panel Discussions, Exhibition Viewing, and Performance
9:15 a.m.
Welcome
9:30—11:30 a.m.
Panel 1: "Hell and the Desire for Spiritual Transformation"
Moderator: Ben Bogin, Asian Studies, Skidmore College
Ismail Fajrie Alatas, Middle Eastern Studies, New York University
Sonam Kachru, Religious Studies, Yale University
Subhashini Kaligotla, Department of Art History and Archaeology, Columbia University
11:30 a.m.—12:30 p.m.
Lunch Break and Exhibition Viewing
12:30—2:30 p.m.
Panel 2: "Describing Hell in Text & Image"
Moderator: Max Moerman, Asian and Middle Eastern Cultures, Columbia University
Daud Ali, South Asia Studies, University of Pennsylvania
Nerina Rustomji, History, St. John's University
Rachel Saunders, Curator of Asian Art, Harvard University
2:30—2:45 p.m.
Coffee Break

2:45—3:00 p.m.
Intersession Performance
3:00—5:00 p.m.
Panel 3: "Performing Hell"
Moderator: Rachel Cooper, Asia Society
Matthew Isaac Cohen, Dramatic Arts, University of Connecticut  
Laurel Kendall, Curator of Asian Ethnology, American Museum of Natural History 
Hank Glassman, Asian Studies, Haverford College
Concurrent Programming
Arts and Culture Programs
To Hell and Back: An Art and Religious Studies Symposium
Friday-Saturday, April 14—15

Within the Metamorphosis with Afruz Amighi
Friday, April 21, 7:30—9:00 p.m.
Singing the Underworld
Saturday, April 29, 7:30—9:00 p.m.
Lahore Literary Festival
Saturday, May 20, 12:00—6:00 p.m.
Panel Discussions
Trapped and Silenced: The Women and Girls of Afghanistan 
Tuesday, March 14, 6:30—8:00 p.m.
Hell in China
Wednesday, March 15, 6:30—8 p.m.
Family Activities
Explore the Jain Teachings of Lord Mahavira
Saturday, March 25, 2:00—4:00 p.m.
Celebrate Puthandu, the Tamil New Year
Saturday, April 22, 2:00—4:00 p.m.
Commemorate the Birth of Gautama Buddha
Saturday, May 6, 2:00—4:00 p.m.
Credits
The "Comparative Hell: Arts of Asian Underworlds" exhibition and catalogue have been made possible in part by a major grant from the National Endowment for the Humanities and additional support from the E. Rhodes and Leona B. Carpenter Foundation, the National Endowment for the Arts, The Jacques and Natasha Gelman Foundation, William Talbott Hillman Foundation, and Furthermore: a program of the J. M. Kaplan Fund.
Support for Asia Society Museum is provided by Asia Society Global Council on Asian Arts and Culture; Asia Society Friends of Asian Arts; Arthur Ross Foundation; Sheryl and Charles R. Kaye Endowment for Contemporary Art Exhibitions; The Hazen Polsky Foundation; The Mary Griggs Burke Fund, and Mary Livingston Griggs and Mary Griggs Burke Foundation; the New York State Council on the Arts with the support of the Office of the Governor and the New York State Legislature; and the New York City Department of Cultural Affairs in partnership with the City Council.
Any views, findings, conclusions, or recommendations expressed in this catalogue do not necessarily represent those of the National Endowment for the Humanities.
Plan Your Visit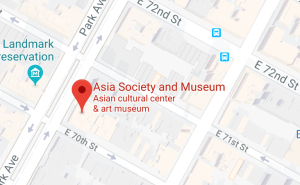 Purchase Tickets