Chinese Ceramics for Iran and Indo-Persia
Platter. China, Zhejiang Province, Ming period (1368–1655); 14th–15th century.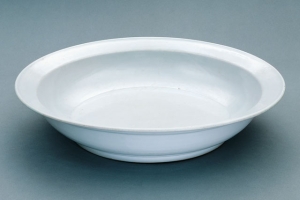 Platter. Jiangxi Province. Ming period (1368–1644), late 14th–early 15th century.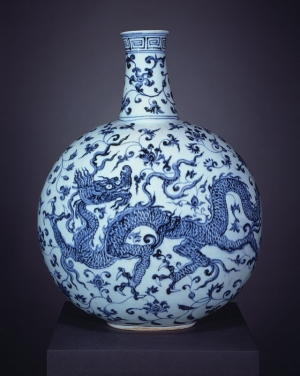 Flask. Jiangxi Province. Ming period (1368–1644), early 15th century (probably Yongle era, 1403–1424).
Platter. Jiangxi Province. Yuan period (1279–1368), mid-14th century.
The installation "Chinese Ceramics for Iran and Indo-Persia" is a selection of four objects from the Mr. and Mrs. John D. Rockefeller 3rd Collection, which forms the foundation of Asia Society Museum's collection of Asian art. During the Yuan period (1279–1368) the high-fired, glazed ceramics of China were among the most prized luxuries of the pre-industrial world. The Chinese kilns at Jingdezhen in Jiangxi province and the Longquan kilns of Zhejiang province produced ceramics for markets in Europe, Southeast Asia, and the Middle East, and beyond, and catered to specific needs of a variety of markets. They produced large, shallow platters like the three examples on view here, which were highly desired in the Middle East where communal eating style was the norm. Particularly fine examples were used as court tablewares and even gifts to royal shrines.
The Mughal rulers of India, who descended from rulers of Persia, inherited a taste for Chinese ceramics from their royal predecessors. Both Persian and Mughal painting frequently include images of Chinese ceramics, attesting to their popularity. Two of the Chinese porcelain platters here have incised inscriptions by the 17th-century Mughal ruler Shah Jahan, famed for his patronage of the Taj Mahal. Chinese Ming dynasty (1368–1644) texts also tell us that Chinese delegations often presented porcelain as official gifts to other countries. The large 15th-century blue-and-white vase with a three clawed dragon design is of a type known to have been gifted in this manner to Persia.
This small installation in the first floor Visitor Center coincides with the exhibition Iran Modern, on view in the second and third floor galleries from September 6, 2013, through January 26, 2014.