What to Expect in China Policy During the First 100 Days of Donald Trump's Presidency - [SOLD OUT]
VIEW EVENT DETAILS
Young China Watchers and the Center on U.S.-China Relations present Daniel Rosen and Orville Schell
NEW YORK, January 18, 2017 — Daniel Rosen, co-founder of the Rhodium Group, and Orville Schell, Arthur Ross director of the Center on U.S.-China Relations at Asia Society in New York, discuss what Trump's presidency could mean for the future of U.S.-China relations. (1 hr., 12 min.))
---
With the inauguration of the 45th President of the United States fast approaching, nominations for most of the highest cabinet appointments and many senior staff positions announced, and months of frenetic media coverage of President-Elect Donald Trump's transition team behind us, it is worth assessing how Trump's world view and that of his advisors is likely to shape American policy toward China. By establishing contact with the Taiwanese leader and openly questioning the "One China" policy, Trump has already signaled that he is willing to turn the U.S.-China relationship as we know it on its head. Daniel Rosen, co-founder of the Rhodium Group, and Arthur Ross Director of the Center on U.S.-China Relations Orville Schell will discuss what it all means for the future of U.S.-China relations.
SPEAKERS:
Daniel H. Rosen is a co-founding Partner of the Rhodium Group (RHG), and leads the firm's work on China and the world economy. His is currently focused on China's reform challenges, patterns in Chinese direct investment, and the impact of nationalistic technology policies on Chinese welfare. Mr. Rosen has been an Adjunct Associate Professor at Columbia University since 2001, and he is affiliated with a number of preeminent American think tanks. Since 1992, he has authored more than a dozen books and reports on aspects of China's economic and commercial development. He served on the White House National Economic and Security Councils in 2000-01.
Orville Schell is the Arthur Ross Director of the Center on U.S.-China Relations at Asia Society in New York. He is a former professor and Dean at the University of California, Berkeley Graduate School of Journalism. He is the author of numerous books on China, most recently Wealth and Power: China's Long March to the Twenty-first Century. Schell was born in New York City, graduated Magna Cum Laude from Harvard University in Far Eastern History, was an exchange student at National Taiwan University in the 1960s, and earned a Ph.D. (Abd) at the University of California, Berkeley in Chinese History.
Co-organized by Young China Watchers and the Center on U.S.-China Relations.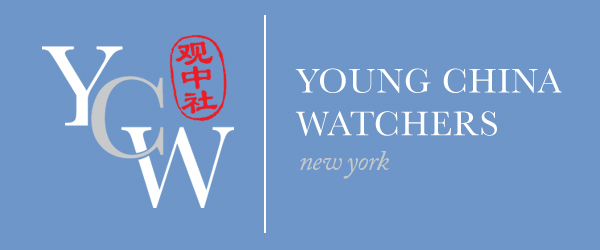 Event Details
6:30 - 8 p.m.
Asia Society 725 Park Ave., New York, NY, 10021
If you bought tickets or plan to watch the webcast tell your friends on Facebook!
Join the Facebook Event »