Soul Journey: Traditional Nanyin Music Reimagined (Performance 2)
VIEW EVENT DETAILS
NEW YORK, April 28, 2017 — Singapore's Siong Leng Musical Association performs the North American premiere of Soul Journey: Traditional Nanyin Music Reimagined at Asia Society. The video features a post-performance Q&A with Rachel Cooper, the director of global performing arts and special cultural initiatives at Asia Society, and several members of the performance company. (1 hr., 41 min.)
---
This performance will also take place on Wednesday, April 26.
---
Download the program notes here
Singapore's Siong Leng Musical Association was founded in 1941 to promote and preserve traditional Nanyin music and Liyuan Opera. Nanyin is a traditional musical performance genre of the Minnan people in southern Fujian Province along China's southeastern coast. With slow, elegant melodies, nanyin is performed on a combination of distinctive instruments such as a bamboo flute (dongxiao) and crooked-neck lute (pipa) as well as more common wind, string and percussion instruments. The rich repertoire of songs and scores preserve ancient folk music and poems and has influenced opera, puppet theatre, and other performing art traditions.
Siong Leng Musical Association is committed to keeping the ancient art form of Nanyin music alive in today's multicultural, technologically progressive Singapore. In this performance, traditional Nanyin is merged with its Zen influences and with other elements such as vocals, Indian tabla and keyboard instrumentation, Liyuan dance, and more, to bring new life to this ancient art form. The performers in this group are among the most renowned Nanyin performers in the world.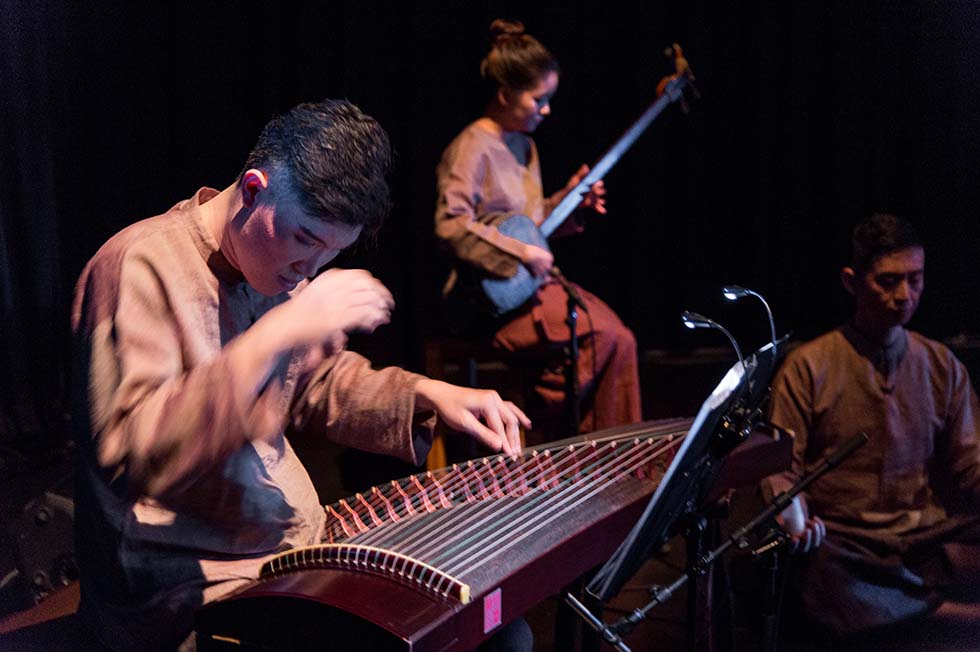 About Nanyin:
Nanyin is a style of Chinese classical music originating in the southern Chinese province of Fujian and is now popular in Taiwan, Hong Kong, Malaysia, the Philippines, and Singapore, as well as among overseas Chinese in Southeast Asia. Fujian is a mountainous coastal province of China. The city of Quanzhou, located in Fujian, was a major port in the 7th century CE, the period between the Sui and Tang eras. Situated along an important maritime trade route, it was a conduit for elements of distant cultures. The result was what is now known as Nanyin music.
Nanyin is typified by slow, gentle, delicate melodies which employ four basic scales and is performed on five instruments: pie (wood clapper), gibei (four-stringed lute or pipa), samhen (three-stringed lute or sanxian), xiao (vertical flute or dongxiao), and lihen (two-stringed fiddle or erxian). Each individual instrument has a fixed role within the instrumental grouping. The pie is usually performed by the vocalist and therefore not considered a main instrument, while the dinxiguan usually takes the central role. The gibei provides a simple but stable tempo and correct rhythm; the samhen lends a longer vibration of solid lower octave notes to the skeletal melody; and xiao, meanwhile, supplements the lutes by adding lightness and spirit.
Nanyin repertory falls into three overlapping styles, called zhi, pu and qu. The zhi is considered the most "serious" repertoire: it is a purely instrumental suite normally more than 30 minutes in length. Each is associated with a lyric that alludes to a story but, although this may denote origins in song or opera, today zhi is an important and respected instrumental repertory. Pu literally means "notation," and these are pieces that have no associated texts. It is an instrumental style that uses a wider range than zhi, emphasizes technical display. Qu is a vocal repertory which is lighter and less conservative in repertory and performance than zhi.
Traditionally, performances were not simply entertainment, but also carried strong associations with various broader social practices, such as ritual ceremonies to the music god Minhu Longgun each spring and autumn, or as a part of funeral processions. The rich repertoire of songs and scores of Nanyin preserve ancient folk music and poems and has influenced opera, puppet theatre, and other performing art traditions. In 2009, Nanyin was included in the Representative List of the Intangible Cultural Heritage of Humanity by UNESCO.
This program is part of Asia Society's Citi Series on Arts and Culture. With major support from the National Arts Council (Singapore).

Major support for performances at the Asia Society is provided by the Doris Duke Charitable Foundation, Helen and Will Little, the Fan Fox and Leslie R. Samuels Foundation, Inc and the New York State Council on the Arts.

Event Details
8 - 9:30 p.m.

725 Park Avenue, New York, NY
Buy Tickets
FREE for members; $25 students/seniors; $30 nonmembers
If you bought tickets, tell your friends on Facebook!
Join the Facebook Event »