Shaping Policy in the Era of Alternative Facts, Fake News, and Digital Disruption
VIEW EVENT DETAILS
NEW YORK, January 30, 2018 — Experts discuss how think tanks can shape policy at this uncertain juncture in global politics. Speakers include James McGann, director of the Think Tanks and Civil Societies Program at the Fels Institute of Government at the University of Pennsylvania; Caroline Atkinson, chief policy adviser at Google; Stephen Heintz, president of the Rockefeller Brothers Fund; and Kevin Rudd, president of the Asia Society Policy Institute. The conversation was moderated by New York Times senior correspondent and editor on gender issues Susan Chira. (1 hr., 19 min.)
---
The world is witnessing a rise in populism, nationalism, and protectionism that signals a challenge to the post-WWII global order. At the same time, growing transnational challenges such as climate change, mass migration and refugee crises, as well as traditional and non-traditional security threats demand that countries and institutions around the world cooperate more regularly and effectively.
Think tanks work to play a critical role in analyzing, developing, and promoting policy solutions, particularly in these times of disruption and change. While the importance of think tanks and policy institutes is increasing, these organizations now operate in information-rich societies where facts, evidence, and credible research are often ignored—and where "alternative facts" and "fake news" proliferate. To remain relevant and impactful, think tanks and policy institutes have to simultaneously pursue relevance, rigor, innovation, accessibility, and accountability.
The Asia Society Policy Institute (ASPI) and the University of Pennsylvania's Think Tanks and Civil Societies Program are pleased to present a panel discussion on this era of digital and political disruption — of "alternative facts" and "fake news" — and the role of think tanks and policy developers during this uncertain juncture. This event also serves as the New York launch of the University of Pennsylvania's 2017 Global Go To Think Tank Index report.
Panelists:
Caroline Atkinson is Chief Policy Adviser at Google, where she leads Google's work with policymakers, government officials, and key political stakeholders. Prior to joining Google, she served as U.S. President Barack Obama's Deputy National Security Advisor for International Economics. In that role, she supported President Obama at major international economic summits and coordinated the policymaking process for international economic affairs. Previously, she held senior roles at the International Monetary Fund, the U.S. Treasury Department, and the Bank of England, and worked as a journalist for The Washington Post, The Economist, and The Times of London. 
---
Susan Chira (Moderator) is a Senior Correspondent and Editor on gender issues at The New York Times and advises the Executive Editor on personnel matters. Previously, she served as Deputy Executive Editor and Assistant Managing Editor for News. She was one of The Times's longest-serving Foreign Editors and also served as Deputy Foreign Editor. Chira is the author of "A Mother's Place: Rewriting the Rules of Motherhood," and was part of a team that won the 2009 Pulitzer Prize for International Reporting for coverage of America's deepening military and political challenges in Afghanistan and Pakistan. 
---
Stephen Heintz has been President of the Rockefeller Brothers Fund (RBF) since 2001. Before joining the RBF, he was the Founding President of Dēmos, a public policy research and advocacy organization working to enhance the vitality of American democracy and promote more broadly shared prosperity. Prior to founding Dēmos, he served as Executive Vice President and Chief Operating Officer of the EastWest Institute, where he worked on issues of economic reform, civil society development, and international security. He devoted the first 15 years of his career to politics and government service in the State of Connecticut, where he served as Commissioner of Economic Development and Commissioner of Social Welfare. 
---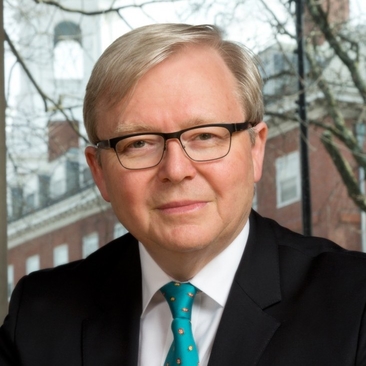 Kevin Rudd is President of the Asia Society Policy Institute. He served as Australia's 26th Prime Minister (2007-2010, 2013) and as Foreign Minister (2010-2012). In 2016, he led a review of the entire UN system as Chair of the Independent Commission on Multilateralism. He is the Chair of Sanitation and Water for All, a member of the Comprehensive Test Ban Organization's Group of Eminent Persons, a Distinguished Fellow at Chatham House in London, a Distinguished Statesman with the Center for Strategic and International Studies in Washington D.C., and a Distinguished Fellow at the Paulson Institute in Chicago. He is proficient in Mandarin Chinese and serves as a Visiting Professor at Tsinghua University in Beijing, and co-chairs the World Economic Forum's China Global Affairs Council.
---
Additional Speakers: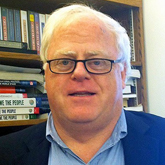 James McGann is a Senior Lecturer of International Studies at the Lauder Institute, Director of the Think Tanks and Civil Societies Program and Senior Fellow at the Fels Institute of Government at the University of Pennsylvania. Prior to assuming his current post, James was Assistant Director of the International Relations Program at the University of Pennsylvania. He has also served as the Senior Vice President for the Executive Council on Foreign Diplomats, the Assistant Director of the Institute of Politics, Kennedy School of Government, and the Public Policy Program Officer for The Pew Charitable Trusts. He earned his M.A. and Ph.D. from the University of Pennsylvania. His latest book is entitled: The Fifth Estate: Think Tanks, Public Policy, and Governance (Brooking 2016).
This program is presented by:
Event Details
6:30 - 8 p.m.
Asia Society and Museum
725 Park Avenue
New York, NY 10021
Buy Tickets
Members: Free; Students/Seniors $30; Nonmembers $40
20180130T183000 20180130T200000 America/New_York Asia Society: Shaping Policy in the Era of Alternative Facts, Fake News, and Digital Disruption

For event details visit https://asiasociety.org/new-york/events/shaping-policy-era-alternative-facts-fake-news-and-digital-disruption Asia Society and Museum 725 Park Avenue New York, NY 10021