The Rt. Hon. John Key MP: Prime Minister of New Zealand
VIEW EVENT DETAILS
Breakfast will be available for guests.
The Asia Society is pleased to host the Rt. Hon. John Key MP, Prime Minister of New Zealand. Drawing on New Zealand's experience of having secured free trade agreements with China, South Korea, and ASEAN, Prime Minister Key will provide important insights into the growing commercial and economic opportunities in Asia. As one of the original four signatories to the Trans-Pacific Strategic Economic Partnership Agreement, otherwise known as the "P4"—the predecessor to the Trans-Pacific Partnership (TPP) negotiations—New Zealand has first-hand experience of how the TPP will facilitate greater access to markets in Asia.
Prime Minister Key will speak on the importance of the TPP trade negotiations, and draw from New Zealand's experience to outline the benefits of reaching a high-quality and comprehensive agreement for all negotiating parties. He will also discuss the strategic implications of the TPP, and the role it plays in the U.S. rebalance towards Asia, as well as the challenges and opportunities presented by the global economy currently.
Please join us for an address by Prime Minister Key, followed by a question and answer session with the audience moderated by President of the Asia Society Policy Institute Kevin Rudd.
Speakers:
Prime Minister John Key is the 38th Prime Minister of New Zealand, and has served since November 2008. He first entered Parliament in 2002 representing the Auckland electorate of Helensville, and he has held the seat since then. In 2006, he was elected leader of the National Party. Prior to his political career, Prime Minister Key had a long career in investment banking. He worked in New Zealand for 10 years, prior to working in Singapore, London, and Sydney for U.S. investment banking firm Merrill Lynch.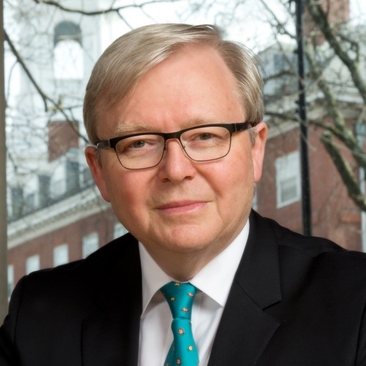 The Hon. Kevin Rudd is President of the Asia Society Policy Institute. He served as Australia's 26th Prime Minister and as Foreign Minister. As Chair of the Independent Commission on Multilateralism, Mr. Rudd is leading a review of the UN system. He is a Distinguished Fellow at Chatham House in London, a Distinguished Statesman with the Center for Strategic and International Studies in Washington, and a Distinguished Fellow at the Paulson Institute in Chicago. He is proficient in Mandarin Chinese, serves as a Visiting Professor at Tsinghua University in Beijing, and co-chairs the China Global Affairs Council of the World Economic Forum.
Can't make it to this program? Tune in to AsiaSociety.org/Live at 8:45am E.T. for a free live video webcast. Viewers are encouraged to submit questions to moderator@asiasociety.org or via Twitter by using the hashtag #AskAsia.
 
Event Details
725 Park Avenue
New York, NY
Buy Tickets
Members $22; Students/Seniors $26; Nonmembers $30

Add to Calendar
20150930T123000
20150930T133000
UTC
Asia Society: The Rt. Hon. John Key MP: Prime Minister of New Zealand
725 Park Avenue New York, NY
---