Japan's Foreign Policy and Abenomics
VIEW EVENT DETAILS
AsiaConnect Briefing with Kevin Rudd, President of the Asia Society Policy Institute
Seeking solutions to two decades of economic stagnation in Japan, Prime Minister Shinzo Abe has dedicated his second term in office to an ambitious economic reform agenda, known as "Abenomics." In the international arena, Prime Minister Abe has also pushed for Japan to assume a stronger leadership role in global affairs and strengthen its commitment as an ally of the United States. However, continued low economic growth, a rising China, and increasing security tensions across the region pose opportunities and challenges for Prime Minister Abe's domestic and foreign policies.
Please join the Asia Society Policy Institute (ASPI) for an AsiaConnect teleconference briefing with the Hon. Kevin Rudd, President of ASPI. Following a visit to Japan, he will share his perspectives on Prime Minister Abe's policy aims and achievements.
To register and obtain call-in information, please email AsiaDC@asiasociety.org.
ASPI's AsiaConnect is a telephone briefing series on pressing issues in Asia and U.S.-Asia relations, made possible through the generous support of Asia Society Trustee Mitch Julis.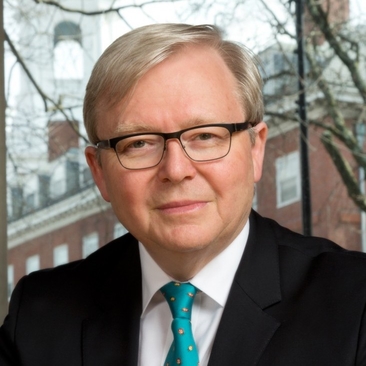 The Hon. Kevin Rudd is President of the Asia Society Policy Institute. He served as Australia's 26th Prime Minister and as Foreign Minister. Mr. Rudd conducted a major research project on the future of U.S.-China relations at Harvard's Kennedy School. As Chair of the Independent Commission on Multilateralism, Mr. Rudd is also leading a review of the seven-decade-old UN system. He is a Distinguished Fellow at Chatham House in London, a Distinguished Statesman with the Center for Strategic and International Studies in Washington, and a Distinguished Fellow at the Paulson Institute in Chicago. He is proficient in Mandarin Chinese, serves as a Visiting Professor at Tsinghua University in Beijing, and co-chairs the China Global Affairs Council of the World Economic Forum.

Event Details
This briefing will be conducted by teleconference. To register, please email AsiaDC@asiasociety.org.

Add to Calendar
20150721T140000
20150721T144500
UTC
Asia Society: Japan's Foreign Policy and Abenomics
---