India 2050: Roadmap for Success
VIEW EVENT DETAILS
Discussion begins at 12:00 PM
Registration begins at 11:30 AM
***Lunch will be available***
India is currently the world's fastest-growing major economy and the sixth-largest economy in the world. However, too often the conversation about Asia's future tends to focus more on China's meteoric rise; and too often the conversation about India is mired in the politics and economic circumstances of the present. Seven decades after independence, what does the roadmap for a prosperous, sustainable, democratic India look like? What needs to be done now, to assure success?
Join Asia Society for a high-level discussion with eminent business and government leaders on India's economic future, and how this juggernaut of Asian growth and innovation stands to meet the challenges and opportunities of the next several decades. Kicking off Asia Society's Season of India, this special discussion imagines what an inclusive, prosperous, and stable India might look like at the midpoint of the 21st Century — and how best to get there.
---
Speakers
Vinita Jain is Founder and Chairman of Biotique, a company that blends Ayuverdic therapies with 21st century biotechnology. She started the company after studying biotechnology in Switzerland and management at the Stanford Graduate Business School.
---
Shri Amitabh Kant is CEO of the National Institution for Transforming India (NITI Aayog), the premier policy 'Think Tank' of the Government of India. He is a member of the Indian Administrative Service, and has been a key driver of the "Make in India", Startup India, "Incredible India" and "God's Own Country" initiatives that positioned India and Kerala State as leading manufacturing and tourism destinations. He is Chairman of the Committee to Implement Digital Payment in India, and Member of the Steering Board of "Shaping the Future of Production Systems" of the World Economic Forum.
---
Charles R. Kaye is Co-Chief Executive Officer of Warburg Pincus, and has been jointly responsible for the management of the firm since 2000. He joined the firm in 1986, and in 1994 he was instrumental in the launch and development of Warburg Pincus' Asia operations. He is a member of the Council on Foreign Relations, and co-chairman of the Partnership Fund for New York City and the International Advisory Board of the Center for the Advanced Study of India (CASI). He currently serves on the Board of the U.S.-India Strategic Partnership Forum and is Chairman Emeritus of Asia Society.
---
Arun M. Kumar is Chairman and CEO of KPMG in India. Most recently, he served as the Assistant Secretary of Commerce for Global Markets and Director General of the U.S. and Foreign Commercial Service in the Obama Administration. Before his tenure in public service, he was a Partner and member of the Board of Directors at KPMG, LLP.
---
Ashwini K. Tewari has been the Country Head of U.S. Operations of State Bank of India (SBI) since April 2017, which includes its offices in New York, Chicago, Los Angeles and Washington D.C. He is a career banker with over 25 years' experience with SBI both in India and overseas.
---
Bobby Ghosh (moderator) is a member of the editorial board, Bloomberg; a member of Asia Society's Global Council, and most recently served as Editor-in-Chief of the Hindustan Times. Previously, he was the Managing Editor for Quartz, having joined the organization after 16 years at TIME magazine. Before TIME, he worked at the Far Eastern Economic Review in Hong Kong, BusinessWorld magazine in Mumbai and New Delhi, the Business Standard in Kolkata, and the Deccan Chronicle in Visakhapatnam, India.
---
This program produced in partnership with the Consulate General of India in New York and the U.S.-India Strategic Partnership Forum,
---
and presented in part by State Bank of India, proud supporter of the Season of India.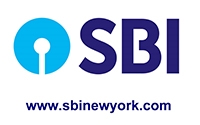 ---
Part of the Season of India, a series of programs held in conjunction with the exhibition, The Progressive Revolution: Modern Art for a New India, on view at Asia Society Museum from September 14, 2018 to January 20, 2019. 
Event Details
12 - 2 p.m.
Asia Society
725 Park Avenue
New York, NY 10021
Buy Tickets
Members $50; Students/Seniors $60; Nonmembers $70
20180914T120000 20180914T140000 America/New_York Asia Society: India 2050: Roadmap for Success Join business and government leaders for a high-level discussion on India's economic future.

For event details visit https://asiasociety.org/new-york/events/india-2050-roadmap-success Asia Society 725 Park Avenue New York, NY 10021
If you plan to attend, tell your friends on Facebook!
Join the Facebook Event »