Gurcharan Das: 'India Grows At Night'
VIEW EVENT DETAILS
Can't make it to this program? Tune in to AsiaSociety.org/Live at 6:30 pm ET for a free live video webcast. Viewers are encouraged to submit questions to moderator@asiasociety.org or via Twitter or Facebook using the hashtag #askasia.
---
**Program to be followed by reception**
When Indians sit down to chat, they quickly agree that their country is rising despite the state, and cynically sum up their country's story of private success and public failure as "India grows at night while the government sleeps." But how could a nation become the world's second fastest growing economy despite a weak, flailing state? And shouldn't India also grow during the day? The recent slowdown is a sign that India may have begun to experience the limits of growing at night.
What India needs, says Gurcharan Das, is a strong liberal state. Such a state would have the authority to take quick, decisive action; it would have a rule of law to ensure those actions are legitimate; and finally, it would be accountable to the people. But achieving this will not be easy because India has historically had a weak state and a strong society. Please join Asia Society for a conversation with Asia Society President Emerita Vishakha N. Desai, Professor Jagdish Bhagwati of Columbia University and Gurcharan Das and about his latest book, India Grows at Night: A Liberal Case For A Strong State.
Jagdish Bhagwati is a University Professor at Columbia University and a Senior Fellow in International Economics at the Council on Foreign Relations. He has been Economic Policy Adviser to Arthur Dunkel, Director General of GATT (1991-93), Special Adviser to the UN on Globalization, and External Adviser to the WTO. The recipient of six festschrifts in his honor, he has also received several prizes and honorary degrees, including awards from the governments of India and Japan.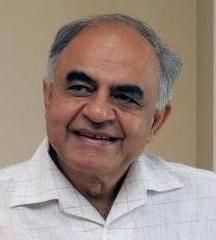 Gurcharan Das is an author, management guru and commentator. He wrote the much-acclaimed The Difficulty of Being Good: On the Subtle Art of Dharma. He was CEO of Procter & Gamble India and later Managing Director, Procter & Gamble Worldwide (Strategic Planning). In 1995, he took early retirement to become a full-time writer. He writes a regular column for five Indian newspapers and periodically for The New York Times, Financial Times, Wall Street Journal and Foreign Affairs.
 
Vishakha N. Desai is President Emerita of Asia Society, having served in that position from 2004—2012. She is currently Senior Advisor for Global Policy and Programs at the Guggenheim Foundation. She also serves as Special Advisor for Global Affairs to the President and Professor of Practice at Columbia University.
 
Outreach partners:

Event Details
6:30 - 8 p.m.
725 Park Avenue (at East 70th Street) New York, NY 10021
Buy Tickets
Members: $10; students/seniors: $12; nonmembers: $15
20131205T183000 20131205T200000 America/New_York Asia Society: Gurcharan Das: 'India Grows At Night'

For event details visit https://asiasociety.org/new-york/events/gurcharan-das-india-grows-night 725 Park Avenue (at East 70th Street) New York, NY 10021