The Future of Asia-Pacific Economies: Discussion with Wendy Cutler and Kevin Rudd
VIEW EVENT DETAILS
Presented by the Asia Society Policy Institute
The Asia Society Policy Institute proudly presents Wendy Cutler, its recently appointed Vice President and head of its Washington Office, in conversation with ASPI President Kevin Rudd. Prior to joining ASPI, Ms. Cutler served for nearly 30 years as a diplomat and negotiator in the Office of the U.S. Trade Representative (USTR) and was most recently the Acting Deputy U.S. Trade Representative. She was a key driver in the completion of the Trans-Pacific Partnership (TPP) negotiations.
Join us to hear Ms. Cutler's insights on what opportunities and challenges come next for business, trade, and the economies of the Asia-Pacific. A question and answer session with the audience will follow the discussion.
Speakers

Wendy Cutler joined the Asia Society Policy Institute (ASPI) as Vice President and Managing Director of the Washington D.C. office in November 2015. In these roles, she focuses on building ASPI's presence in Washington — strengthening its outreach as a think/do tank — and on leading initiatives that address challenges related to trade and women's empowerment in Asia. She joined ASPI after a nearly 30-year career as a diplomat and negotiator in the Office of the U.S. Trade Representative (USTR). Most recently, she served as Acting Deputy U.S. Trade Representative, with responsibility for the Trans-Pacific Partnership agreement and related bilateral negotiations with Japan. Ms. Cutler's tenure at USTR focused on strengthening trade ties with Asian partners and recognizing that strong economic relations contribute to peace and prosperity in the region. Her other accomplishments include successfully negotiating the U.S.-Korea Free Trade Agreement, updating the U.S.-China Joint Commission on Commerce and Trade (JCCT), and rendering the trade agenda of APEC more relevant and robust.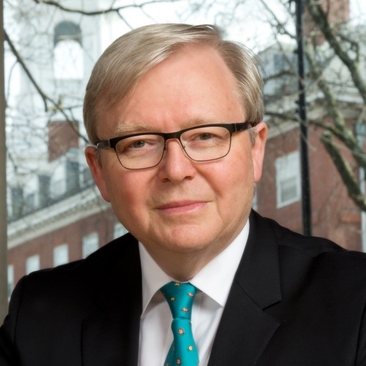 The Hon. Kevin Rudd is President of the Asia Society Policy Institute. He served as Australia's 26th Prime Minister and as Foreign Minister. As Chair of the Independent Commission on Multilateralism, Mr. Rudd is leading a review of the UN system. He is a Distinguished Fellow at Chatham House in London, a Distinguished Statesman with the Center for Strategic and International Studies in Washington, and a Distinguished Fellow at the Paulson Institute in Chicago. In 2014-2015, Mr. Rudd conducted a major research project on the future of U.S.-China relations as a Senior Fellow at Harvard's Kennedy School. He is proficient in Mandarin Chinese, serves as a Visiting Professor at Tsinghua University in Beijing, and co-chairs the China Global Affairs Council of the World Economic Forum.
This event is sponsored by ASPI Founding Member Morgan Stanley.

Presented by:

Outreach Partner:

Can't make it to this program? Tune in to AsiaSociety.org/Live at 6:00pm E.T. for a free live video webcast. Viewers are encouraged to submit questions to moderator@asiasociety.org or via Twitter by using the hashtag #AsiaSocietyLIVE.
Event Details
Asia Society 725 Park Avenue New York, NY 10021
Buy Tickets
Members $20; Students/Seniors $25; Nonmembers $30

Add to Calendar
20151116T230000
20151117T003000
UTC
Asia Society: The Future of Asia-Pacific Economies: Discussion with Wendy Cutler and Kevin Rudd
Asia Society 725 Park Avenue New York, NY 10021
---