Democracy and Political Development in Asia
VIEW EVENT DETAILS
Asia Beyond the Headlines
NEW YORK, January 24, 2017 — Experts from Japan and Indonesia as well as two distinguished American diplomats who have served in Asia and helped craft U.S. policy in the region discuss the challenges of democratization and political development. Panelists include Dewi Fortuna Anwar, Takako Hikotani, and Derek Mitchell. The conversation was moderated by Diplomat in Residence and Senior Fellow at the Asia Society Policy Institute Daniel Russel. (1 hr. 19 min.)
---
Reception from 8:00PM
It's been a fundamental question in Asia for more than a century:  Where does democracy prosper and why?
2018 marks the 150th anniversary of Japan's Meiji Restoration, an important period in Japanese history  credited for ushering in an era of major political and social change. The subsequent transformation during the Meiji period resulted in Japan's modernization and democratic transition.  A century and a half later, democracy has had an uneven history across the nations in Asia - and the struggle between democracy and more rigid forms of government continues to this day.
Join a special Asia Society conversation about the subject featuring  top-flight speakers representing Japan and Indonesia, as well as two distinguished American diplomats who have served in Asia and helped craft U.S. policy in the region.
What are the futures of democracy and authoritarianism on the world's largest continent?  Join us.
Speakers
---

Dewi Fortuna Anwar is a leading analyst on Indonesia's foreign policy and democratization, as well as on ASEAN and regional political and security issues. She currently serves as deputy for government policy support in the Secretariat of the Vice President and research professor at the Centre for Politics, Indonesian Institute of Sciences (P2P-LIPI). She has held numerous senior positions, including assistant minister/state secretary for foreign affairs and deputy secretary for political affairs during President BJ Habibie's administration. Fortuna is a member of the Asia Society Global Council.
---
Takako Hikotani is Gerald L. Curtis Associate Professor of Modern Japanese Politics and Foreign Policy at Columbia University. She previously taught at the National Defense Academy of Japan, where she was Associate Professor, and lectured at the Ground Self Defense Force and Air Self Defense Force Staff Colleges, and the National Institute for Defense Studies. Her research focus on civil-military relations and Japanese domestic politics, Japanese foreign policy, and comparative civil-military relations. Professor Hikotani received her BA from Keio University, MAs from Keio University and Stanford University, and PhD in Political Science from Columbia University, where she was a President's Fellow.
---

Derek Mitchell is senior advisor to the Asia Program at the U.S. Institute of Peace and at Albright Stonebridge Group. In 2012, he was appointed as the first U.S. ambassador to the Republic of the Union of Myanmar (Burma) in 22 years.  Previous positions include, serving as the State Department's first special representative and policy coordinator for Myanmar in 2011, working as principal deputy assistant secretary of defense concerning Northeast, Southeast and Central Asia, from 2009 to 2011. He was also senior fellow and director of the Asia Division of the International Security Program at the Center for Strategic and International Studies. Outside his extensive diplomatic career, Ambassador Mitchell has authored numerous books, articles and policy reports on Asian security affairs. He received a Master of Arts in Law and Diplomacy from the Fletcher School of Law and Diplomacy and a Bachelor's Degree from the University of Virginia.
---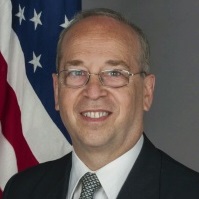 Daniel Russel is diplomat in residence and senior fellow at the Asia Society Policy Institute. A career member of the Senior Foreign Service at the U.S. Department of State, he served until recently as the assistant secretary of state for East Asian and Pacific affairs. Prior to his appointment as assistant secretary, he served at the White House as special assistant to the president and National Security Council's senior director for Asian affairs. During his tenure there, he helped formulate President Obama's strategic rebalance to the Asia-Pacific region.
---
Event Details
6:30 - 8 p.m.
Asia Society
725 Park Avenue
New York, NY  10021
Buy Tickets
Members $20; Students/Seniors $30; Nonmembers $40

Add to Calendar
20180124T233000
20180125T010000
UTC
Asia Society: Democracy and Political Development in Asia
Asia Society 725 Park Avenue New York, NY  10021
---
If you bought tickets or plan to watch the webcast, tell your friends on Facebook!
Join the Facebook Event »