Australia's Role in Asia: China, the Rebalance, and Regional Architecture
VIEW EVENT DETAILS
Keynote Remarks and Discussion with the Hon. Tanya Plibersek MP, Australia's Shadow Minister for Foreign Affairs
This event is by invitation only. For information, please e-mail policyinstitute@asiasociety.org.
Australia is uniquely positioned in the unfolding of the Asia-Pacific's rise, as a Pacific power that straddles both East and West. The attendant risks and opportunities thus play out on Australia's doorstep. As a former colonial settlement at the southern end of Asia, Australia has historically maintained complex economic and diplomatic relations with major Asian powers and, crucially, its Southeast Asian neighbors. In recent decades, successive Australian governments have enshrined a bipartisan commitment to ensuring that Australia becomes an integrated part of Asia, rather than remaining apart from Asia. In recent years, regional issues ranging from maritime security to environmental disasters and people smuggling have revealed the challenges and possibilities facing Australia as it engages with a changing Asian continent.
Join the Asia Society Policy Institute for a special keynote address by Australia's Shadow Minister for Foreign Affairs and International Development, the Hon. Tanya Plibersek MP, on Australia's role in Asia and its relationship with China, followed by a conversation with the Hon. Kevin Rudd, President of ASPI and 26th Prime Minister of Australia.
Speakers:
The Hon. Tanya Plibersek MP is the current Deputy Leader of the Federal Parliamentary Labor Party, Shadow Minister for Foreign Affairs and International Development, and Federal Member for Sydney. She was appointed the Deputy Leader of the Opposition and Shadow Minister for Foreign Affairs and International Development in October 2013. She previously served as Minister for Health (2011 to 2013), the Minister for Human Services and Minister for Social Inclusion (2010 to 2011), and Minister for Housing and Minister for the Status of Women (2007 to 2010). She was first elected to the Australian Parliament as the Federal Member for Sydney at the 1998 federal election.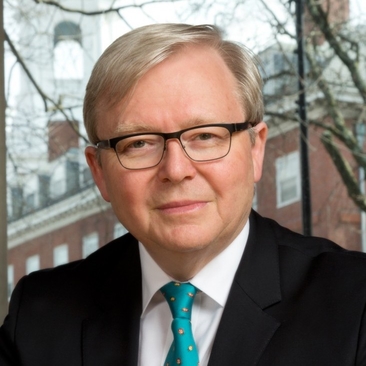 The Hon. Kevin Rudd is President of the Asia Society Policy Institute. He served as Australia's 26th Prime Minister and as Foreign Minister. Mr. Rudd conducted a major research project on the future of U.S.-China relations at Harvard's Kennedy School. As Chair of the Independent Commission on Multilateralism, Mr. Rudd is also leading a review of the seven-decade-old UN system. He is a Distinguished Fellow at Chatham House in London, a Distinguished Statesman with the Center for Strategic and International Studies in Washington, and a Distinguished Fellow at the Paulson Institute in Chicago. He is proficient in Mandarin Chinese, serves as a Visiting Professor at Tsinghua University in Beijing, and co-chairs the China Global Affairs Council of the World Economic Forum.

Event Details
Asia Society 725 Park Avenue New York, NY 10021
This event is by invitation only. For information, please e-mail policyinstitute@asiasociety.org

Add to Calendar
20150925T233000
20150926T010000
UTC
Asia Society: Australia's Role in Asia: China, the Rebalance, and Regional Architecture
Asia Society 725 Park Avenue New York, NY 10021
---