Emerging Talent - Korean Movie Night New York
Co-presented with Korean Cultural Service NY
Co-presented by Korean Cultural Service NY and Asia Society
Korean Movie Night New York series: 
Emerging Talent (Apr. 14 - May 27, 2015)
The popular, ongoing Korean Movie Night New York presents the April-May series Emerging Talent, which celebrates emerging filmmakers and actors in contemporary Korean cinema.
While mainstream, big-budget films have dominated the Korean film market, young directors are finding room to make independent films that prove to be no less creative and inspiring despite fewer resources. Four films in this series, The King of Jokgu (Woo Moon-gi), 10 Minutes (Lee Yong-seung), Fatal (Lee Don-ku), and Alive (Park Jung-bum), are independently financed projects. Director Park Jung-bum doubles as the acting lead in Alive to impressive results. The series also includes Gangnam Blues (Yoo Ha), which features the young and hugely popular actor Lee Min-ho in his feature film debut. Known as a TV drama (City Hunter, The Heirs) heartthrob, Lee transitioned to the big screen with great fanfare in this action thriller by veteran director Yoo Ha.
The films in this series follow a coming-of-age theme. Youthful dreams give way to adult reality in The King of Jokgu and 10 Minutes; life-altering experiences threaten to spin out of control in Fatal and Alive; and a childhood bond is tested as two friends grow apart in Gangnam Blues.
Korean Movie Night New York is an ongoing, approximately twice-a-month film program that introduces the full spectrum of contemporary and classic Korean cinema to New York audiences, from popular blockbusters, independent films, and documentaries to animation and family movies. Click here to learn more. 
Screenings at:
Asia Society
725 Park Avenue (at 70 Street)
New York, NY 10021
Free admission. First-come, first-served.
---
Programs in Emerging Talent series:
North American premiere
The King of Jokgu
(족구왕 Jog-gu-wang)
Directed by Woo Moon-gi
Starring: Ahn Jae-hong, Hwang Seung-un, Jung Woo-sik
2013. South Korea. 104 min. DCP. In Korean with English subtitles.
Tuesday, April 14, 2015, 6:30 pm
In this arguably the funniest and silliest Korean movie in recent memory, man-child Man-seob returns to college after completing compulsory military service. Restless and bored, he campaigns to convert a tennis court into a jokgu (a volleyball/soccer hybrid invented in Korea) court. A tournament is organized, and Man-seob aims to shine on the battlefield and score the heart of a gorgeous girl along the way. Hilarious, satirical, athletic, with a spark of romance, The King of Jokgu reignites all the youthful passion lost in everyday life.
East Coast premiere
10 Minutes
(10분 Sip-bun)
Directed by Lee Yong-seung
Starring: Kim Jong-gu, Baek Jong-hwan, Lee Si-won
2013. South Korea. 93 min. DCP. In Korean with English subtitles.
Tuesday, April 28, 2015, 6:30 pm
Ho-chan (Baek Jong-hwan) is a college student who dreams to become a TV producer, but since his family is struggling with financial difficulties, he has signed up for a six-month paid internship in a government agency office. Despite the mundane clerical work, Ho-chan takes his responsibilities seriously and is beloved by his colleagues. The young man learns office politics and reality the hard way when a permanent position becomes available and he must fight for it to help his family stay afloat. Lee Yong-seung's directorial debut and graduation project at Dankook University, 10 Minutes offers a sharp critique of Korea's highly cut-throat corporate culture.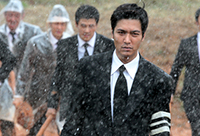 East Coast premiere
Gangnam Blues
(강남1970 Gang-nam-il-gu-chil-gong)
Directed by Yoo Ha
Starring: Lee Min-ho, Kim Rae-won
2015. South Korea. 135 min. DCP. In Korean with English subtitles.
Thursday, May 7, 2015, 6:30 pm
Directed by veteran filmmaker Yoo Ha (A Dirty Carnival, A Frozen Flower), Gangnam Blues is a sleek and stylish action thriller about childhood friendship, brotherhood, and betrayal set in the 1970s, during the height of social-political turmoil. Two friends who grew up in the same orphanage, Jong-dae (TV drama heartthrob Lee Min-ho in his film debut) and Yong-gi (Kim Rae-won), struggle to make ends meet and wind up working for two competing gangs. Politicians, real estate magnates, and gangsters vie with blood for territories south of the Han river, a district that is now the world-famous and hip Gangnam. Released in January in South Korea, Gangnam Blues will stand as one of the biggest box office hits of the year.
East Coast premiere
Fatal
(가시꽃 Gashi-kot)
Directed by Lee Don-ku
Starring: Nam Yeon-woo, Yang Jo-a, Hong Jeong-ho, Kang Ki-doong
2012. South Korea. 103 min. HDCAM. In Korean with English subtitles.
Wednesday, May 13, 2015, 6:30 pm
A young woman, Jang-mi, has been drugged and raped by a gang of high schoolers. 10 years later, one of the assailants, Sung-gong (Nam Yeon-woo), encounters Jang-mi, who doesn't recognize him anymore. It is apparent that the scars and wounds inflicted on Jang-mi have not fully healed. Guilt-stricken, Sung-gong enters Jang-mi's life to seek redemption. As the friendship between the two slowly develops, will Sung-gong reveal his true identity? Will he be able to find forgiveness? Lee Don-ku's impressive directorial debut, made with a shoe-string budget of USD 3,000, Fatal reflects on guilt and the lasting impact of a person's action.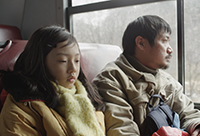 Alive
(산다 San-da)
Directed by Park Jung-bum
Starring: Lee Seung-yeon, Park Jung-bum, Park Myeong-hoon
2014. South Korea. 175 min. DCP. In Korean with English subtitles.
Wednesday, May 27, 2015, 6:30 pm
A follow up to Park Jung-bum's powerful debut neorealist drama The Journals of Musan, Alive is a continuation of the director/writer/actor's exploration of the issues of poverty, inequality, and human suffering in contemporary capitalist societies. In this film, he portrays a construction worker in the Gangwon province who tries to make ends meet and support his mentally unstable sister and young niece. The more effort he puts into improving their living condition, the more odds stack up against him. The film offers a powerful portrait of survival in the worst circumstances and conveys Park's compassion for those struggling on the margins of society.