Asia Week 2015 at Asia Society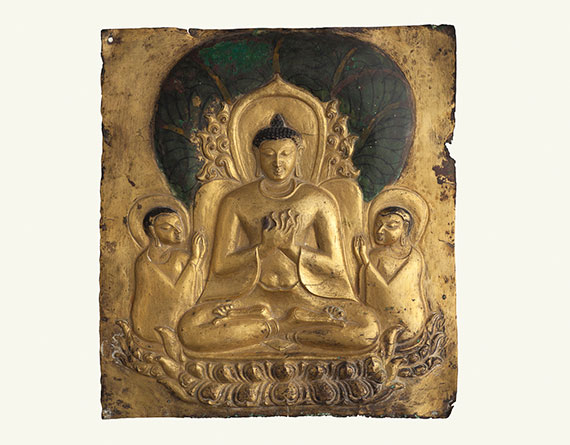 Plaque with image of seated Buddha. Pagan period, 11th–13th century. Gilded metal with polychrome. 7 x 6 1/4 x 1/4 in. (17.8 x 15.9 x 0.6 cm). Bagan Archaeological Museum. (Photo: Sean Dungan)
Asia Week New York, March 13-21, 2015, is a collaboration among museums, galleries, auction houses, Asian art specialists, and enthusiasts hosting exhibitions, previews, and special programs throughout the city, attracting visitors from around the world.
Exhibitions
Join the Fun on Friday, March 13!
On Friday, March 13, celebrate the launch of Asia Week all day at Asia Society New York. AsiaStore sale events and designer appearances begin at noon. In the evening, there's free admission to Asia Society Museum from 6 to 9pm and free docent tours of our two exhibitions — Buddhist Art of Myanmar and Takahiro Iwasaki: In Focus — starting at 6:30pm. A screening of Myanmar filmmaker Midi Z's Poor Folk begins at 6:30pm. From 6 to 7:30 pm, designer Veronica Gritsenko will discuss her Bagan lacquerware collection. And from 5:30 to 9pm, enjoy a wine bar and a pop-up Burmese noodle shop, featuring guest chef Eugene Saw. Bollywood music will fill the lobby from 7:30 to 9pm. Read this page for more details. See you there!
Buddhist Art of Myanmar
Through May 10
Guest curators Sylvia Fraser-Lu and Donald Stadtner with
Adriana Proser, John H. Foster Senior Curator for Traditional Asian Art at Asia Society
This is the first exhibition in the West focused on works of art from collections in Myanmar. The exhibition comprises approximately 70 spectacular works — including stone, bronze and wood sculptures; textiles; paintings; and lacquer ritual implements — from the fifth through the early twentieth century and includes objects created for temples, monasteries, and personal devotion. Many of the works in the exhibition have never been shown outside of Myanmar.
Takahiro Iwasaki: In Focus
Through April 26
Takahiro Iwasaki creates detailed miniature landscapes using towels, toothbrushes, used clothing, and other found and recycled materials. This exhibition is a part of Asia Society Museum's ongoing In Focus series, which invites contemporary artists to create new works, often in conversation with the Asia Society Museum's permanent collection of traditional Asian art.
South and Southeast Asian Sculpture from the Asia Society Museum Collection
Through May 19
The five sculptures on view in the Asia Society Visitor Center are from the Mr. and Mrs. John D. Rockefeller 3rd Collection, which forms the foundation of Asia Society Museum's permanent collection of traditional Asian art.
Shop AsiaStore for exhibition catalogues and other titles on Asian art
Related
Docent Tour
Friday, March 13, 6:30 pm
Join the guest curators of Buddhist Art of Myanmar and Takahiro Iwasaki: In Focus for a special look at the exhibitions.
Wine Bar
Friday, March 13, 5:30-9:00 pm
Wine available for purchase in the Garden Court Cafe.
Burma Noodle Bar
Friday, March 13, 5:30-9:00 pm
Burmese noodle bar featuring guest chef Eugene Saw. Burmese appetizers and noodles will be available for purchase in the visitor's center.  
Lecture
Art and Devotion: Pathways to the Buddha in Myanmar
Sunday, March 15, 10:00 am
Join Sylvia Fraser-Lu, one of the guest curators for Buddhist Art of Myanmar, for an illustrated talk about the relationship between art and religious practice in Myanmar as captured in this groundbreaking exhibition.
Special Event
Asia Society Museum Collectors Dinner Honoring Dr. Pratapaditya Pal
Sunday, March 15
7:00 pm - Galleries Open; 7:30 pm - Reception; 8:30 pm - Dinner and Remarks by Dr. Pal
Asia Society's Collectors Dinner will honor distinguished art historian and curator Dr. Pratapaditya Pal. The author of more than 60 publications and the curator of numerous major exhibitions, Dr. Pal has conducted pioneering research on the arts of Tibet, Nepal, and India.
At this intimate dinner held at Asia Society, Dr. Pal will share his thoughts about his long association with Asia Society and the groundbreaking exhibitions he organized here.
Collectors Dinner Event Overview (PDF)
To purchase tables and tickets: Download the RSVP form (PDF)
For inquiries please email: CollectorsBenefit@AsiaSociety.org
Performance
Wu Tong: Song of the Sheng
Thursday, March 19, 8:00–9:30 pm
Wu Tong, charter member of the Silk Road Ensemble and founding front man for the Beijing-based rock band Lunhui, offers a broad sampling of his music sensibilities, from traditional tunes to new compositions and free improvisation. With Simon C.F. Yu, guitar; Shane Shanahan, percussion; and featuring the U.S. premieres of Clifford Ross's "Harmonium Mountain II" and "Digital Wave" videos.
AsiaStore Events
Sale Event
Scholars' Rocks from the Collection of Kemin Hu
March 13–22
Personal appearances by Kemin Hu:
Friday, March 13–Saturday, March 14; 12:00–4 pm
AsiaStore presents a newly acquired collection from Kemin Hu. Experience the power of scholars' rocks or "spirit stones"—cherished by the Chinese for generations. Autographed copies of Hu's latest book, The Romance of Scholars' Stones: Adventures in Appreciation, are available for purchase.
Discussion
Bagan Lacquerware with Veronica Gritsenko
Friday, March 13; 6:00–7:30 pm
Lacquer master Veronica Gritsenko discusses the ancient art of handmade lacquerware, describing the history and techniques behind this intricate craft.
Sale Event
Bagan Lacquerware
Personal appearances by Veronica Gritsenko:
Friday, March 13–Sunday, March 15; 12:00–3:30 pm
AsiaStore presents an exclusive collection of lacquerware designed by lacquer master Veronica Gritsenko, who has reinterpreted the ancient art of handmade lacquerware using traditional crafting techniques combined with progressive design.
Sale Event
Asian Art Collectors Book Review
Friday March 13–Sunday March 22; 11 am–6 pm, Friday until 9 pm
AsiaStore presents a vetted selection of the most recent and pertinent titles for Asian Art Collectors: Ceramics, sculpture, textiles, painting, furniture, jewelry, and more. AsiaStore recommends the must-read essentials that provide critical insight into the world of Asian collectibles.
For more information about Asia Week New York 2015, and details about other events throughout the city, visit: www.asiaweekny.com
For information about the Japanese Art Dealers Association (JADA) Asia Week 2015, visit: www.jada-ny.org