Asia Week 2013 at Asia Society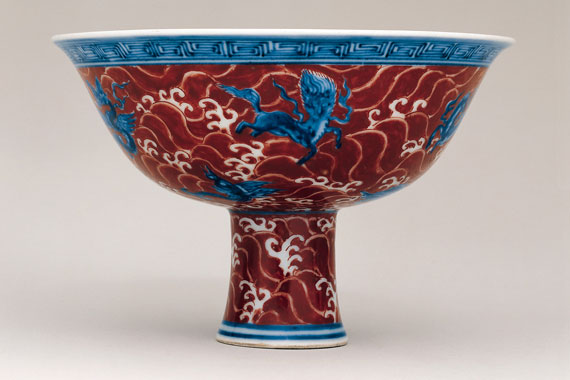 Stem cup, mid-to late-15th century (probably Chenghua era). Porcelain painted with underglaze cobalt blue and overglaze red enamel (Jingdezhen ware). H. 4 in.; Diam. 6-1/8 in. Asia Society, New York: Mr. and Mrs. John D. Rockefeller 3rd Collection, 1979.176.
Asia Week New York, March 15-23, 2013 is a collaboration among museums, galleries, auction houses, Asian art specialists, and enthusiasts hosting exhibitions, previews, and special programs throughout the city, attracting visitors from around the world.
Exhibitions
The Artful Recluse: Painting, Poetry, and Politics in 17th-Century China
March 6-June 2, 2013
This is the first exhibition to explore the theme of reclusion in Chinese painting and calligraphy within the broader context of political and social changes during the seventeenth century, a time of rich cultural expression and dramatic political change. Organized by the Santa Barbara Museum of Art.
Patronage and Power: Selections from the Asia Society Museum Collection
February 26-August 4, 2013
This exhibition explores the role of patrons as influential figures in the production of masterpieces of Asian art. The examples of sculpture and bronzes from India, Cambodia, and China include Hindu, Buddhist, and ceremonial objects, as well as functional objects and prized collectibles that served as a visual presence of the power of patrons.
Tim Lee: In Focus
February 26-May 12, 2013
Asia Society Museum has invited artist Tim Lee to create a new work Blowin' in the Wind, Bob Dylan, 1963, an interactive multimedia installation meant to function as a karaoke pavilion in which the audience is invited to sing along to Lee's guitar cover of Dylan's iconic folk anthem. The participatory exhibition is meant to provoke a thoughtful consideration of how our understanding of a situation is often relative to our own personal experiences.
Vandy Rattana: Bomb Ponds
February 26-June 2, 2013
Bomb Ponds is a poignant series of photographs by the Cambodian-based artist Vandy Rattana that explores the longstanding social and environmental ramifications of the U.S. bombing of Cambodia during the Vietnam War.
Shop AsiaStore for exhibition catalogues and must-read titles on Asian art
---
Gala Benefit Dinner and Dance
Celebration of Asia Week
Monday, March 18
6:30–11:00 pm
Join us for this signature event featuring Honorary Chair Jason Wu and leading figures from the arts, fashion, and cultural worlds, a highlight of Asia Week New York. The evening begins with a lively cocktail reception and Asian-inspired tastings accompanied by the sounds of a jazz trio. Following is the elegant dinner in the historic Grand Ballroom of The Pierre with a unique menu created for this occasion by our Guest Chefs Pichet Ong and Simpson Wong, and dancing to Peter Duchin and his Orchestra. Now in its fifth year, this gala evening presents art, fashion, cuisine, music and design from across Asia in one festive and glamorous setting.
The Pierre, A Taj Hotel
2 East 61st Street, New York
---
Related Programs
Lecture
Four distinguished panelists join moderator Maxwell L. Anderson, the Eugene McDermott Director of the Dallas Museum of Art, to discuss issues related to collaboration between the U.S. and Asia. Panelists include Melissa Chiu, Asia Society Museum Director and Senior Vice-President for Global Arts and Cultural Programs; Julian Raby, Dame Jillian Sackler Director, Arthur M. Sackler Gallery and Freer Gallery of Art; Madhuvanti Ghose, Alsdorf Associate Curator of Indian, Southeast Asian, Himalayan, and Islamic Art at the Art Institute of Chicago; and Jay Xu, Director and Chief Executive Officer, Asian Art Museum of San Francisco Chong-Moon Lee Center for Asian Art and Culture.
Co-sponsored by Asia Society and the Association for Art Museum Directors.
Screening and Discussion
Thursday, March 21
6:30–8:00 pm
In 2001, the Palace Museum and the World Monuments Fund partnered to conserve the magnificent 18th-century Qianlong Garden in the Forbidden City, choosing first to restore Juanquinzhai (the Studio of Exhaustion from Diligent Services), a unique building with some of the palace's finest surviving architectural interiors and décor. This film highlights the search for and use of disappearing traditional craftsmanship during the conservation. Screening introduced by Henry Tzu Ng, World Monuments Fund Executive Vice-President. Followed by a discussion.
---
AsiaStore Special Event
Scholars' Rocks from the Collection of Kemin Hu
Personal appearances by Kemin Hu:
Friday, March 15
12:30–4:00 pm
Saturday, March 16
12:30–4:00 pm
---
For more information about Asia Week New York 2013, and details about other events throughout the city, visit:

www.asiaweekny.com