Plenary Sessions
Learn more about the plenary sessions at the 2017 National Chinese Language Conference!
---
Opening Plenary
A Decade of Progress: How Far We've Come and Where We Can Go
Thursday, April 6, 2017, 4:45–8:30 p.m.
Join us for the opening plenary of the 10th annual National Chinese Language Conference. Hear distinguished leaders from the United States and China share their reflections on the past and their visions for the future on this 10th anniversary of the NCLC. Local students will kick off the evening by showcasing their progress in learning Chinese. Education and government leaders from the host city of Houston will welcome attendees and highlight the city's great progress in education and other fields that have contributed to its growth and established it as an important hub of international activity and commerce. Finally, a talented intercultural music ensemble will bring to life the ways in which music and culture continue to build bridges that connect people from afar.
Speakers
Sylvester Turner
Mayor of Houston
Mayor Sylvester Turner was elected Mayor of Houston on December 12, 2015, to serve a four year term beginning January 4, 2016. Sylvester Turner was born and raised in the Acres Homes community in northwest Houston. His parents moved to Acres Homes in 1954, the year Sylvester was born.
Sylvester's mother worked as a maid in the old Rice Hotel in Houston. His father worked as a painter for Continental Ensco and cut yards with his sons on the weekends to make extra money. The Turners raised nine children in their modest two-bedroom home in Acres Homes. Sylvester lost his father to cancer when he was 13 years old. Afterward, his mother took over the Turner household. Although she never finished high school or learned to drive, she ensured her children got an education and inspired them to achieve.
Sylvester attended neighborhood public schools until forced integration came to Houston and he was bused to Klein High School. After a predictably rocky start, the student body adapted to its new enrollees – and Sylvester was later elected president of the student body and graduated as valedictorian.
Sylvester graduated from the University of Houston and Harvard Law School before joining the law firm of Fulbright & Jaworski. He later founded the Houston law firm of Barnes & Turner in 1983.
In 1988, Sylvester was elected to the Texas House of Representatives to serve the people of House District 139 in Northwest Houston. He served until his election as mayor, working on the House Appropriations Committee for 21 years and serving as Speaker Pro Tem for three terms. He was appointed to several Budget Conference Committees to help balance the state's budget and served on the Legislative Budget Board.
He is very proud of his daughter Ashley, who is continuing the Turner family tradition of public service in the healthcare field.
∨ Show full bio
---

Richard A. Carranza
Superintendent, Houston Independent School District
Richard A. Carranza was named superintendent of the Houston Independent School District on August 18, 2016.
Since 2012, Carranza has served as superintendent of the 58,000-student San Francisco Unified School District. He is a fluent Spanish-speaker and lifelong educator, having served as a bilingual classroom teacher, a campus principal, and a senior-level administrator in Las Vegas and Tucson. Education Week profiled Carranza as a national 2015 Leader to Learn From.
In San Francisco, Carranza championed many equity-focused strategies for driving student academic achievement that also have been a priority in HISD—preparing graduates who are globally aware, culturally competent and multilingual. Further, Carranza worked at San Francisco USD to reduce student disciplinary suspensions while emphasizing practices that help students remain in their classrooms, a practice that HISD is embracing.
Carranza, 49, was San Francisco USD's deputy superintendent of Instruction, Innovation, and Social Justice for three years before being named superintendent. Before moving to San Francisco, Carranza served as Northwest Region superintendent for the Clark County School District in Las Vegas, where he oversaw 66 schools with more than 66,000 students. He was a high school principal in Tucson, Ariz., and Las Vegas. Carranza also has worked as an assistant principal and teacher of bilingual social studies and music.
Carranza chairs the Board of Directors for the Council of the Great City Schools, serving as a national spokesperson on significant issues facing urban school districts. Carranza also has served on the Board of Directors of the Association of Latino Administrators and Superintendents, the National Commission on Teaching and America's Future, the American Association of School Administrators Executive Committee, the San Francisco Symphony Board of Governors, the Fine Arts Museum of San Francisco Board of Trustees, and the K to College Advisory Board.
Carranza earned a bachelor of arts in Secondary Education from the University of Arizona and a master of education with distinction in Educational Leadership from Northern Arizona University. He has completed his doctoral coursework through Northern Arizona University and is currently pursuing a doctorate of education through Nova Southeastern University in Educational Leadership.
∨ Show full bio
---
David W. Leebron
President, Rice University
David W. Leebron has served as Rice University's seventh president since 2004, a period of growth and transformation for the university.
Pursuant to a strategic vision adopted in 2005, the university has significantly increased the size and diversity of its student population, enhanced the research capability and vibrancy of the campus with $900 million in new construction, deepened its relationship with its home city of Houston, increased the commitment to the arts, established new research and education institutes, programs and centers, built strong international relationships and programs and earned greater visibility locally, nationally and across the globe. Supporting all these efforts was the success of the Centennial Campaign, raising $1.1 billion.
A native of Philadelphia, Leebron is a graduate of Harvard College and Harvard Law School, where he was elected president of the Harvard Law Review. Following a judicial clerkship on the United States Court of Appeals for the Ninth Circuit, he taught at the UCLA School of Law in 1980. After two years practicing in an international law firm, he joined the faculty at the NYU School of Law in 1983. In 1989, Leebron joined the faculty of Columbia Law School, where in 1996 he was appointed dean and served in that position until coming to Rice. Leebron has also been a visiting fellow at the Max Planck Institute for Comparative and International Private Law in Hamburg, Germany, and a Jean Monnet Visiting Professor at Bielefeld University. He is a member of the political science faculty at Rice, and has written in the areas of international trade and investment, torts, privacy, corporate law and human rights. He is a member of the Council on Foreign Relations and serves on the boards of Association of American Universities (chair), Internet2 (board chair), the Greater Houston Partnership, BioHouston, COFHE (prior board chair), and the IMAX Corporation. He is the recipient of an honorary degree from Nankai University in Tianjin, China, and is an honorary professor of law at Tianjin University. He has also been awarded Commandeur de l'Ordre National du Mérite by the government of France and the Encomienda de la Orden de Isabel La Católica by the government of Spain.
∨ Show full bio
---

Ronnie C. Chan
Chairman, Hang Lung Group Limited & Hang Lung Properties Limited
Co-Chair, Asia Society
Mr. Chan is the Chairman of Hang Lung Group Limited and its subsidiary, Hang Lung Properties Limited. Both are publicly listed companies in Hong Kong, dealing in real estate investment, development and management.
Founded in 1960, the Hang Lung Group expanded its reach into mainland China in 1992. Following successes in Shanghai, from 2005 to 2009 Hang Lung has been investing US$5 billion and building commercial complexes in several Chinese cities, including Tianjin, Shenyang, Jinan, Wuxi and Dalian. Mr. Chan also co-founded the privately held Morningside group, which, in the past two decades, has owned and managed businesses in manufacturing, public transport operations, outdoor advertising, media, healthcare, online game operators, high-tech and biotech investments, developmental capital investments and other venture capital investments around the world. In addition, Mr. Chan is actively involved with many nonprofits, philanthropic endeavors, and educational organizations.
∨ Show full bio
---

Linda Liu
Vice President, International, The College Board
Linda Liu leads the College Board's work to provide opportunities for students outside the 50 United States to connect with higher education in the US and globally through our English-based programs such as SAT and Advanced Placement.
Since joining the College Board in 2007, Linda has played a key role in a variety of areas including SAT strategy and analysis, SAT Practice, SAT International, and enterprise-level strategy and partnerships. Her responsibilities have included forging key partnerships for the College Board, including with Khan Academy, Code.org, and Project Lead the Way (PLTW), defining strategy through competitive analysis and monitoring key trends, and overseeing/establishing key program policies and initiatives to ensure they are serving the needs of students and educators. Most recently, Linda served as Executive Director of Strategy & Partnerships.
Prior to joining the College Board, Linda was a management consultant with Deloitte Consulting advising clients in the pharmaceutical, financial services and professional services sectors spanning new product development, merger integration, IT strategy, and process improvement.
Linda holds a bachelor's degree in Economics from the University of Chicago and an MBA from the Wharton School of the University of Pennsylvania. 
∨ Show full bio
---

JING Wei
Deputy Director-General, Hanban
Deputy Chief Executive, Confucius Institute Headquarters
Dr. Jing Wei is the Deputy Director-General of Hanban, Deputy Chief Executive of Confucius Institute Headquarters.
She served as the Director and the Deputy Director of Division of American and Oceania Affairs, Department of International Cooperation and Exchanges, Ministry of Education, P. R. CHINA. She holds a BA degree in English from Beijing Foreign Studies University, an MS degree in Management and Information Systems from the University of Manchester, and a PhD degree in Public Administration from Peking University.
∨ Show full bio
---
Performers
New Silk Road Explorers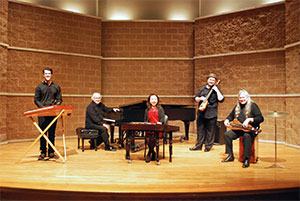 China's leading yangqin virtuoso, Liu Yuening, professor at the Central Conservatory of Music in Beijing and Chinese Fulbright scholar has gathered a powerful new ensemble of master performers from her Sino-American concert collaborations. US National Champion hammer dulcimer sensation David Mahler is featured, along with the gospel soul of Paul Friesen-Carper, world music phenomenon Randy Raine-Reusch, and co-director composer, conductor, and dynamic jazz pianist Dennis Friesen-Carper. The ensemble explores dulcimer traditions from China, Appalachia, and beyond, mixing bluegrass, jazz, and blues with 丝竹—silk and bamboo music sensibility and unparalleled virtuosity. The sound is unique and unforgettable.
Houston Independent School District Students

The Houston Independent School District is the largest school district in Texas and the seventh-largest in the United States. It serves approximately 215,000 students at 283 campuses and is one of the largest employers in Houston.
---
Plenary II
Sports as Ambassador Across Cultures and People
Friday, April 7, 8:30–9:45 a.m.
Sports is among the most appealing topics for students. Not only is it a popular pastime, sports also represents a myriad of economic activities and career opportunities across the globe. This plenary will bring together a group of sports celebrities and experts in the field to discuss the role that sports continues to play as a concrete and organic foundation for a vibrant U.S.–China relationship. Speakers will also share their personal stories and experiences about how learning Mandarin and building partnerships between the two countries have helped them both personally and professionally.
Speakers
Chad Lewis
Former American Football Tight End in the National Football League for the Philadelphia Eagles and the St. Louis Rams
Associate Athletic Director–Development, Brigham Young University
Chad Lewis played in the NFL for nine years. Eight of those years were with the Philadelphia Eagles and one year with the St. Louis Rams. He played his college career at Brigham Young University. Before that, Chad lived for two years in Taiwan while he was serving as a missionary for the Church of Jesus Christ of Latter-day Saints. He said of that experience, "Not only was it the best two years of my life, but it changed my life for the better in every possible way!"
During his career with the Eagles, Chad was selected to the Pro Bowl three times. He helped the Eagles get to Super Bowl 39 with two touchdowns in the NFC Championship Game. Chad was awarded the Ed Block Courage Award in 2005 and the Helping Hands Award in 2001 presented by the NFL Alumni.
Chad was inducted into the Utah Sports Hall of Fame in 2012. He was inducted into the BYU Athletic Hall of Fame in 2007. Chad's wife Michele was an All American volleyball player at BYU and was herself inducted into the Utah Sports Hall of Fame as well as the BYU Athletic Hall of Fame.
Chad has represented the NFL as an ambassador around the world including Mainland China, Taiwan, Thailand, Singapore, Korea, Hawaii and Tanzania.
He wrote the book, Surround Yourself with Greatness, published by Deseret Book in 2009. He summited Mt. Kilimanjaro with four wounded warriors as well as former NFL Head Coach Jeff Fisher (St. Louis/LA Rams, Tennessee Titans) and ESPN analyst and New England Patriot Tedy Bruschi. The video presentation about his climb earned an Emmy and a Silver Telly and can be found on Youtube.
Chad is an Eagle Scout and was also presented the Distinguished Eagle Scout Award in a ceremony in 2014. This award is bestowed by the Boy Scouts of America to men who earned their Eagle Scout Award in their youth and then received extraordinary national-level recognition, fame or eminence in their profession.
Chad is married to Michele Fellows who was a 2-Time All American volleyball player at BYU. They have seven beautiful and very tall children. He is currently employed at BYU as the Associate Athletic Director-Development.
∨ Show full bio
---

Rafael A. Stone
General Counsel, Houston Rockets and Toyota Center
Rafael A. Stone is the General Counsel of the Houston Rockets and Toyota Center. He is responsible for all legal matters concerning business and team operations. His major areas of focus include television and radio agreements, sponsorship agreements, intellectual property matters, human resources matters, risk management, compliance with league rules and player contracts.
Prior to joining the Houston Rockets and Toyota Center, Mr. Stone was an attorney in Dewey Ballantine's mergers and acquisitions and capital markets group from 1997–2005. Mr. Stone represented acquirers, targets, investment banks, investors and issuers in numerous acquisitions and financings.
A native of Seattle, Washington, Mr. Stone received a bachelor of arts degree in History and Political Science from Williams College in 1994 and graduated from Stanford Law School in 1997. He also played varsity basketball at Williams College for four years.
∨ Show full bio
---

Carrie Xu
Senior Manager, International, Pac-12
Carrie  Xu  joined the Pac-12 in 2011 as the league's first Senior Manager, International to help grow the Pac-12's global initiative, an initiative aimed to proactively promote the Pac-12 Conference and its member institutions to new audiences through educational collaboration, cultural exchange and sport.
She is also believed to be  the first US collegiate athletic conference / league official hired to focus on overseas development. Over the past 6 years, she has been instrumental in helping the Pac-12 establish strategic partnership with important partners in China such as Ministry of Education China, Federation of University Sports of China (China's equivalent of NCAA), various Chinese universities, sports celebrities like Yao Ming and professional sports teams, launch the first two regular season US collegiate men's basketball games ever played in China as well as many high-profile US-China friendly games and forums, establish unprecedented coaches training certificate programs at two Pac-12 member institutions for hundreds of Chinese coaches, sell media rights and distribute Pac-12 live and VOD content to top Chinese digital and TV broadcasters and build brand awareness overseas for the Pac-12 by reaching to hundreds of millions of Chinese audience via new and traditional media platforms and integrated grassroots campaigns.
Prior to joining the Pac-12,  Carrie  worked for Nike on its basketball initiatives, product marketing, and merchandising in China.
Carrie  began her career as a management trainee at Unilever China in Shanghai, China.
A Shanghai native,  Carrie  graduated from Fudan University in China with a bachelor's degree in economics. She also holds an MBA degree from the Marshall Business School at University of Southern California (USC) and a Business of Entertainment graduate certificate from School of Cinematic Arts at USC. 
∨ Show full bio
---
Moderator

Dan Washburn
Journalist and Author
Chief Content Officer, Asia Society
Dan Washburn is an award-winning journalist and author of The Forbidden Game: Golf and the Chinese Dream, which The Wall Street Journal called "strikingly original," The Economist called "gripping," and The Financial Times named one of the Best Books of 2014.
Dan's writing has appeared in The New York Times, FT Weekend Magazine, Slate, Foreign Policy, The Atlantic, The Economist, Golf World, Golf Digest,  ESPN.com, and other publications. His work has been featured in the anthologies Unsavory Elements: Stories of Foreigners on the Loose in China and Inside the Ropes: Sportswriters Get Their Game On. Dan is also the founding editor of  Shanghaiist.com, one of the most widely read English-language websites about China. After almost a decade in China, he now works as Chief Content Officer at the Asia Society and lives in Brooklyn, New York, with his wife Bliss, their daughter Isabelle, and the family dogs Ozzie and Tux. Visit Dan online at  http://danwashburn.com.
∨ Show full bio
---
Luncheon Plenary III
Houston: Witnessing and Energizing Comprehensive Sino–American Ties
Friday, April 7, 12:30–2:15 p.m.
Houston occupies many firsts in modern U.S.–China relations: It was one of the cities that hosted Deng Xiaoping's historic visit to the United Stated in February 1979; it was the site of the first Chinese Consulate General in the United States. Since then, thousands of Houstonians and Texans have instituted deep commercial and cultural exchanges between the two countries. This plenary will feature leaders from the realms of business and diplomacy who observe and contribute to the extensive history of Houston's extensive role in improving U.S.–China ties. In that context, they will discuss and highlight the importance of the role of language study and education in enhancing people-to-people connections.
Speakers
Chase Untermeyer
Former United States Ambassador to Qatar
Chase Untermeyer has been an international business consultant since returning in 2007 from Qatar, where he served three years as United States ambassador on appointment of President George W. Bush.
Ambassador Untermeyer has held both elected and appointed office at all four levels of government – local, state, national, and international – over a 40- year period, with work in journalism, academia, and business as well.
He is a 1968 graduate of Harvard College with honors in government. During the Vietnam War he served as an officer in the United States Navy aboard a destroyer in the Western Pacific and as aide to the commander of US naval forces in the Philippines.
Upon his return to Texas, Ambassador Untermeyer was a political reporter for the Houston Chronicle for three years before becoming executive assistant to the county judge (chief administrative official) of Harris County, Texas, the jurisdiction surrounding Houston. In 1976, he was elected to the first of two terms as a member of the Texas House of Representatives.
He left the Legislature in 1981 to go to Washington as executive assistant to then-Vice President Bush. Three years later, President Reagan appointed him Assistant Secretary of the Navy for Manpower & Reserve Affairs. When George Bush became president in 1989, Mr Untermeyer returned to the White House as Director of Presidential Personnel, responsible for advising the President on his appointments to federal office. In 1991, President Bush appointed him Director of the Voice of America, the overseas broadcasting arm of the US government, where he served until the end of the Administration in 1993.
Back in Houston, he was director of public affairs for Compaq Computer Corporation (since merged with Hewlett Packard) and vice president for government affairs and professor of public policy at the University of Texas Health Science Center.
Ambassador Untermeyer is a member of the Council on Foreign Relations, and is currently chairman of the Texas Ethics Commission. He also chairs the advisory board of The Soufan Group, which provides strategic security intelligence services to governments and multinational organizations.
In previous part-time public service, he has been member and chairman of the Board of Visitors of the US Naval Academy, a commissioner of the Port of Houston, president of the Houston READ Commission, a member of the board of National Public Radio, member of the Defense Health Board, a founding member of the board of the Episcopal Health Foundation, and chairman of the Texas State Board of Education, appointed by then-Governor George W. Bush.
He is married to the former Diana Cumming Kendrick of Sheridan, Wyoming, whom he met when they were both on the White House staff. Their daughter, Elly, is a student at Stanford University.
Texas A&M University Press has published three volumes of Ambassador Untermeyer's memoirs of the Reagan and first Bush administrations: When Things Went Right (2013), Inside Reagan's Navy (2015), and Zenith (2016). Bright Sky Press has published his How Important People Act: Behaving Yourself in Public (2015).
∨ Show full bio
---

Neil Bush
Businessman and Investor
Mr. Neil Bush is the third of five children of President and Mrs. George H.W. Bush. He and his wife Maria live in Houston, Texas and have six children.
Mr. Bush has been involved with energy, real estate, and international business development for three decades beginning in 1980 where he worked with Amoco Production Company (now BP) in Denver, Colorado. During the decade of the 1980s Mr. Bush formed two independent oil companies that explored for oil in various states including Wyoming, Colorado, California, and Michigan and in Argentina.
For the past twenty-five years Mr. Bush has engaged in various international business development activities with a focus on China. Mr. Bush first visited China in 1975 when his father was the Chief Liaison Officer representing the United States in Beijing. His business and personal interests have allowed for many return trips over the years. Since 1975 Mr. Bush has traveled to China over 140 times and has visited over forty cities. He has worked with numerous entities on a variety of projects including real estate development, automobile parts, sheet rock manufacturing, iron ore mining, oil acquisition, and paint production. Mr. Bush serves as Chairman of Singhaiyi, a Singapore listed real estate company investing in the United States; he acts as Co-Chairman of CIIC, a Beijing based real estate development company; and he serves on the Board of Directors of Hoifu Energy, a Hong Kong listed company with global oil and gas interests. In 2016, Mr. Bush formed A&A Consultants which is directing investment capital into US projects.
Mr. Bush graduated from Tulane University with a bachelor's degree in International Economics and from the Tulane University Freeman School of Business with a Masters in Business Administration. He serves as the Chairman of the Points of Light Institute, and serves on the boards of the Houston Salvation Army, and the Bush School of Government and Public Service. In addition, Mr. Bush and his wife Maria Chair the Barbara Bush Celebration of Reading and the Barbara Bush Houston Literacy Foundation.
∨ Show full bio
---
Moderator

Charles Foster
Chairman, Foster LLP
Charles C. Foster is Chairman of Foster LLP (formerly Tindall & Foster, P.C.), one of the largest global immigration law firms. He is also the honorary Consul General of the Kingdom of Thailand.
A native of Galveston, Mr. Foster received his Bachelors Degree from the University of Texas and his Juris Doctorate from the University of Texas School of Law. Mr. Foster serves as the founding Chairman of the State Bar of Texas Immigration and Nationality Law Section and a Board member and is past national President of the American Immigration Lawyers Association, Chairman of the American Bar Association Coordinating Committee on Immigration law and Vice Chairman of the Houston Bar Foundation.
During the 2000 Presidential Campaign, Mr. Foster served as the principal advisor to President Bush on U. S. immigration policy and was an advisor on immigration policy issues to President Bush in the 2004 campaign and President Barack Obama in the 2008 campaign. In the 2016 campaign, he served as immigration policy advisor to Jeb Bush. He is Chairman of Americans for Immigration Reform, a 501(c)(3) affiliate of the Greater Houston Partnership and the GHP's Immigration Task Force. He is immediate past Chairman of the Asia Society-Texas Center and Interfaith Ministries of Greater Houston. He is a past Chairman of the Houston International Festival and past President of the Houston Forum and the Houston Club. He is a Board member and serves on the Executive Committee of the Greater Houston Partnership and is a past Chairman of its Economic Development and World Trade Divisions. He serves on the Boards of the Houston Ballet, the Hobby Center for Public Policy, KIND, Barbara Bush's Celebration of Reading and Invest in the USA (IIUSA), is a member of the Council on Foreign Relations in New York and past Board member and officer of the Houston World Affairs Council, the Houston Holocaust Museum, the Greater Houston Preservation Alliance, the Institute of International Education, Mexican Institute of Greater Houston, Neighborhood Centers and the University of Texas Medical Branch. He developed and co-chaired both the George Bush and James A Baker Monuments in Sesquicentennial Park, Houston and the Robert A. Mosbacher Memorial Bridge naming and monument.
He is a recipient of 4 Royal decorations from His Majesty the King of Thailand; he received the 2013 Houston Bar Association Leon Jaworski Award for community service; the 2000 Distinguished Friend of China Award; the 1996 International Service Award of the Houston Junior Chamber of Commerce; was the 1998 Honoree of the American Immigration Law Foundation for Excellence in the Practice of Immigration Law; and the recipient of the 2007 American Jewish Committee Institute of Human Relations Award. He was featured in the film Mao's Last Dancer. He was designated a "Texas Super Lawyer" 2003-2012 by Texas Monthly magazine; the "Top Notch Lawyer in Immigration" in the Texas Lawyer" Go To Lawyers Guide" each year published, as well as Who's Who In American Law and the #1 Ranked Immigration Lawyer in Texas by Chambers USA 2006-2016. Mr. Foster is married to Lily Foster and they have two children. 
∨ Show full bio
---
Performer
International Leadership of Texas Students

The mission of International Leadership of Texas is to prepare students for exceptional leadership roles in the international community by emphasizing servant leadership, mastering the English, Spanish, and Chinese languages, and strengthening the mind, body and character.
---
Plenary IV
A Decade of Progress: Reflections on the Last 10 Years in the Field
Saturday, April 8, 8:30–9:30 a.m.
The past decade has seen the rapid growth of Chinese language education at all levels in the United States. The field has witnessed a wide range of developments, including the launch of new K–12 programs; the rollout of advanced college-level courses; the increase of immersion classes; federal- and state-level initiatives; a significant increase in student travel to China; and more. This plenary will reflect on these developments, consider their effect on students and communities across the country, and discuss the priorities and challenges that lie ahead. An experienced panel of administrators, teachers, and students in the field will share their perspectives and insight.
Speakers

Ryan Wertz
Past President, National Council of State Supervisors for Languages
Senior World Languages Consultant, Ohio Department of Education
Ryan Wertz serves as the lead consultant for world languages and international education at the Ohio Department of Education (ODE). His work supports the efforts of K-12 world language learners and educators throughout his state.
Ryan has served as the treasurer, president-elect, president, and currently as the immediate past president of the National Council of State Supervisors for Languages (NCSSFL). That organization recently recognized him as its 2016 State Supervisor of the Year. In addition to his NCSSFL service, he also serves in an advisory capacity on the executive board of the Ohio Foreign Language Association (OFLA).
Before joining the ODE, Ryan spent the better part of a decade as an elementary, middle and high school language teacher. He attributes his personal love of language and culture to the rich experiences he had while serving as a Peace Corps volunteer in the Philippines and Panamá and working as a Peace Corps trainer in Costa Rica.
Ryan obtained his B.A. from Miami University, where he double-majored in Diplomacy & Foreign Affairs and Political Science and minored in Spanish. He obtained his M.Ed. in Foreign Language Education with a focus on Second Language Acquisition from The Ohio State University.
∨ Show full bio
---
Maquita Alexander
Head of School, Washington Yu Ying Public Charter School
Maquita Alexander is the Head of School of Washington Yu Ying PCS. Prior to becoming Head of School in 2012, she served as the Principal of the school from 2009.
She has led the educational effort of the School to develop a first of its kind Chinese immersion program and the School's International Baccalaureate program. Maquita has honed a Chinese program team with whom she works closely to develop effective classroom management strategies for new immersion teachers.  Maquita has over twenty years of teaching and administrative experience, including fifteen years in the Fairfax County Public School system, seven of which she served as an elementary school teacher.  She has a Master of Arts in Educational Technology Leadership from George Washington University, a Master of Teaching in Elementary Education from Virginia Commonwealth University, and an administrative certification in Curriculum and Administration from George Mason University.  She is a founding advisory board member of Chinese Early Learning Immersion Network. She has presented on Immersion Education at the National Chinese Language Conference and The American Council Teachers of Foreign Language multiple times. 
∨ Show full bio
---

Claudia Ross
Former President, Chinese Language Teachers Association
Professor, College of the Holy Cross
Claudia Ross is Professor of Chinese at the College of the Holy Cross and Chair of the Department of Modern Languages and Linguistics. She holds a Ph.D. in linguistics from the University of Michigan and publishes in the areas of Chinese linguistics and Chinese language pedagogy.
She has authored or co-authored three reference grammars designed for CFL learners and teachers, as well as several textbooks for CFL learners at the beginning and intermediate level. Her current research and teaching focuses on Chinese literacy development. Since 2012 she has served as Director of the "Read-On" Startalk program, a K-college teacher training program on Chinese literacy development. Dr. Ross has been teaching Chinese for almost forty years and has been actively involved in professional organizations devoted to the teaching of Chinese as a foreign language. She served as president of the Chinese Language Teachers Association three times and is currently a member of the Board of the New England Chinese Language Teachers Association.
∨ Show full bio
---

Lucy Lee
Chinese Teacher, Livingston Public Schools
Lucy Chu Lee, also known as 竹露茜, is a veteran Chinese language teacher at Livingston High School and a teacher educator at Rutgers University and William Paterson University in New Jersey.
A 2013 recipient  of  the NJ State County Teacher of the Year and 2012  NECTFL Teacher of the Year, she received  the Educator of the Year  Award  from  the Livingston Chamber of Commerce. Ms. Lee has been a Chinese AP consultant for the College Board since 2007. She worked as an assessment specialist at the Educational Testing Service (ETS) for the development of the SAT II Chinese Test. She co-authored  the  CLASS Professional Standards for K-12 Chinese Language Teachers. Ms. Lee  served two terms as president of the Chinese Language Association of Secondary-Elementary Schools (CLASS) and as a member of the Board of Directors for the Chinese Language Teachers Association (CLTA).  Her professional service includes serving two years  on  the National Commission for the AP World Languages Course and Exam Review Project, two years on the  US Department of Education's Teacher-to-Teacher Training Corps, and  three years on the National Chinese Language Commission for a Luce Foundation Project on the Chinese Language Field Initiative. Ms. Lee  has  served on a variety of professional committees, including the  National Standards for Foreign Language Collaborative Project,  AAPPL Leadership Team and Advisory Committee,  ACTFL Assessment Grant Advisory Committee, SOPA Online Training Panel committee, and the Center for Applied Linguistics (CAL)  WOPA-C Course Project. She served ten years on the board of the Foreign Language Educators in New Jersey (FLENJ). 
∨ Show full bio
---
Kevin Shimota
U.S.-China Strong Student Ambassador
After growing up and working for several years in Seattle, Kevin is now pursuing his interests and career in China. His interests are sociolinguistic studies, global trends, and building a more sustainable tomorrow.
Kevin is doing international marketing and partnerships at Tencent's WeChat. Tech is currently his main interest because he believes that tech will be integral to finding innovative, sustainable solutions to today's greatest challenges.
∨ Show full bio
---
Matt Coss
Former STARTALK student
Matt Coss discovered a passion and talent for foreign language learning early in his life. Thanks to a learning journey that began in preschool, Matt achieved near-native fluency in Spanish early on that later afforded him many opportunities to teach – first as a high school student and then in both the Romance Languages department and the School of Medicine at UNC-Chapel Hill.
Matt began studying Chinese at age 11—thanks to a fateful visit to China to visit his childhood Spanish teacher. After nearly 7 years of private lessons and multiple years as a student at Startalk (Queens University of Charlotte), Matt left Charlotte to pursue a B.A. in Chinese (Asian Studies) and Hispanic Linguistics at UNC-Chapel Hill.
During his time in undergraduate school, he spent 6 months in an intensive Chinese language program in Beijing, was officially certified Superior on the ACFTL scale in an OPI interview, worked as a content editor for a forthcoming business Chinese textbook, and received a Chancellor's Award for the innovation and leadership he demonstrated with the two 'ABCs of Chinese' classes he designed and taught to fellow undergraduates during his last semester of college. Each summer, Matt has returned home to Charlotte to work as a Chinese instructor at the same Startalk program he once attended, and he will work there again this summer.
Currently, Matt is a freelance translator and Spanish instructor in Charlotte, N.C. This summer he will work full time in the National Foreign Language Center's Startalk division in Maryland. In August, he will start a M.A. in Second Language Acquisition at the University of Maryland College Park, where he will also serve as a Graduate Assistant at the National Foreign Language Center. Beyond graduate school, Matt hopes to dedicate his life and career to improving the way that foreign languages are taught and learned in the United States. Second only to language learning itself, teaching has become Matt's greatest passion.
∨ Show full bio
---
Moderator

Marty Abbott
Executive Director, American Council on the Teaching of Foreign Languages
Marty Abbott is currently the Executive Director for the American Council on the Teaching of Foreign Languages (ACTFL). Her career began in Fairfax County Public Schools (VA) where she was a language teacher, foreign language coordinator, and Director of High School Instruction.
She has served on national committees to develop student standards, beginning teacher standards, and performance assessments in world languages. She was President of the American Council on the Teaching of Foreign Languages in 2003 and became its Executive Director in 2011. Under her leadership, ACTFL created the Center for Assessment, Research and Development and launched the public awareness campaign, Lead with Languages. She recently served as a commissioner for the American Academy of Arts and Sciences national report America's Languages: Investing in Language Education in the 21st Century and in 2016 was appointed by President Obama to serve a four-year term on the National Security Education Board. She holds her B.A. degree in Spanish with a minor in Latin from the University of Mary Washington and a Master's Degree in Spanish Linguistics from Georgetown University.
∨ Show full bio
Follow Us
Join the conversation! Tweet with the hashtag #NCLC2018

#NCLC2018
Download the 2017 NCLC App Now
Download from app stores:


Or search "NCLC 2017" in The App Store or Google Play