Opening Plenary
2018 National Chinese Language Conference
Thursday, May 17, 2018, 4:45–8:00 p.m.
Join us for the opening plenary of the 11th annual National Chinese Language Conference. Hear distinguished leaders from the U.S. and China share their visions of language education and global collaboration. Students from Utah will kick-off the evening with a performance featuring the traditional face-change that they mastered from Sichuan. Leaders from education and government from the host state of Utah will welcome attendees and highlight the state's great progress in education and other fields that have fueled its growth and established it as an important hub of international activity and commerce. Finally, a string quartet of musicians from the National Youth Orchestra of China will bring to life the ways in which music and culture have and continue to build bridges that connect people from afar.
Speakers
Performers
Student MCs
---
About the Speakers

Howard A. Stephenson
Utah State Senator
Howard Stephenson was elected to the Utah Senate in 1992 where he has been a leader in education and tax policy.
Senator Stephenson's efforts have resulted in Utah leading the nation in the number and percentage of students involved in Dual Language Immersion including Chinese language and culture, and the percentage of students involved in daily personalized learning through adaptive computer assisted instruction.
Senator Stephenson serves as the National Education Coordinator for the Utah State Senate. He is a member of the Senate Education Committee, the Higher Education and Public Education Appropriations Subcommittees and Chair of the Senate Revenue and Taxation Committee and Administrative Rules Review Committee. Nationally, he has served as the Chair of the National Conference of State Legislatures Education Standing Committee and is currently the Public Sector Chair of the Education Task Force of the American Legislative Exchange Council and has served as a member of the Steering Committee of the Education Commission of the States.
Senator Stephenson is nationally recognized as a legislative expert on digital teaching and learning. He has addressed hundreds of state legislators and thousands of school administrators regarding the power of immediate interactive feedback through digital learning tools and how effective implementation of those tools can double the rate of student learning.
He received his B.S. degree in Psychology and Master of Public Administration degree, both from Brigham Young University and currently serves as president of taxpayer advocacy group, the Utah Taxpayers Association.
Senator Stephenson resides in Draper, Utah with his wife Julie. They have 5 children and 12 grandchildren. Howard and his family love exploring Utah's backcountry on mountain bikes and their four Missouri Foxtrotter horses.
In addition to his duties as a Senator, he co-hosts a radio show in its eleventh year, Red Meat Radio "Inside Utah Politics—Setting the Record Straight" (860 AM), every Saturday morning from 8 to 10.
---

The Honorable Gary Herbert
Governor of Utah
Governor Gary Richard Herbert has led Utah's recovery from the Great Recession to a position of national economic prominence. His unwavering focus on economic development includes attracting businesses and investment to the state while helping homegrown businesses flourish.
The governor is focused on four cornerstones to strengthen Utah's economy: education, jobs, energy, and self-determination. As a result, Utah has become a premier destination for business, jobs, and an unsurpassed quality of life.
As Utah's 17th governor, he took the oath of office on August 11, 2009. Prior to becoming the state's chief executive, Governor Herbert served as lieutenant governor for five years. He is the past chair of the Western Governors Association and National Governors Association.
Governor Herbert and his wife, Jeanette, are the proud parents of six children and 16 grandchildren.
---

Anthony Jackson
Vice President, Education & Director, Center for Global Education, Asia Society
Anthony Jackson leads the Center for Global Education at Asia Society, which strives to enable all students to graduate high school prepared for college, for work in the global economy, and for 21st century global citizenship. The Center is a platform for advancing education for global competence for all youth though empowering professional development for teachers and school heads, systems change and public engagement. The Center takes a multi-faceted approach, which includes the International Studies Schools Network, a network of over 25 schools around the United States that systematically integrate a global focus within the curriculum; the China Learning Initiatives program, which provides national leadership to support learning of Chinese language and culture; and the Global Cities Education Network, a learning community of high-performing Asian and North American urban school districts dedicated to solving common high priority problems of practice and policy.
Trained in both developmental psychology and education, Jackson is one of the nation's leading experts on secondary school education reform and adolescent development. Jackson directed the Carnegie Corporation's Task Force on the Education of Young Adolescents which produced the ground breaking report, Turning Points: Educating Adolescents in the 21st Century, and co-authored the seminal follow-up blueprint Turning Points 2000, considered one of the most influential books on middle-school reform. More recently, he co-authored Educating for Global Competence: Preparing Our Youth to Engage the World. He holds a BA from the University of California at Berkeley, and an MA and PhD in Education and Psychology from the University of Michigan.
---

Linda Liu
Vice President, International, The College Board
Linda Liu leads the College Board's work to provide opportunities for students outside the 50 United States to connect with higher education in the US and globally through our English-based programs such as SAT and Advanced Placement.
Since joining the College Board in 2007, Linda has played a key role in a variety of areas including SAT strategy and analysis, SAT Practice, SAT International, and enterprise-level strategy and partnerships. Her responsibilities have included forging key partnerships for the College Board, including with Khan Academy, Code.org, and Project Lead the Way (PLTW), defining strategy through competitive analysis and monitoring key trends, and overseeing/establishing key program policies and initiatives to ensure they are serving the needs of students and educators. Most recently, Linda served as Executive Director of Strategy & Partnerships.
Prior to joining the College Board, Linda was a management consultant with Deloitte Consulting advising clients in the pharmaceutical, financial services and professional services sectors spanning new product development, merger integration, IT strategy, and process improvement.
Linda holds a bachelor's degree in Economics from the University of Chicago and an MBA from the Wharton School of the University of Pennsylvania.
---

ZHAO Guocheng
Executive Deputy Director-General, Hanban
Deputy Chief Executive, Confucius Institute Headquarters
Mr. Zhao Guocheng is the Deputy Chief Executive of the Confucius Institute Headquarters and the Executive Deputy Director-General of Hanban.
He served as Program Officer, Deputy Director and Director of the Office of Teaching Chinese as a Foreign Language (TCFL) and Foreign Experts of the Department of International Cooperation and Exchanges, Ministry of Education; and Minister Counselor for Education Affairs of the Embassy of the People's Republic of China in Russia. He holds a BA degree and an MA degree in Russian Language and Literature, Peking University.
---

John Holden
CEO, US-China Strong Foundation
John L. Holden is CEO of the US-China Strong Foundation. In this role, he works to expand US-China Strong's presence, programs and mission to create more productive relations between future American leaders and their Chinese peers. Prior to joining US-China Strong, Mr. Holden was Associate Dean at Peking University, where he played a key role in the launch and management of the university's Yenching Academy – a center for select college graduates pursuing Master's degrees in China Studies – and served as Professor of Management Practice at the university's Guanghua School of Management.
A veteran China expert, Mr. Holden was President of the National Committee on US-China Relations from 1998 to 2005, helping to grow the organization's scope and programmatic initiatives, including the US-China Young Leaders Forum and the Foreign Policy Colloquium. He also led Track II dialogues and managed exchange programs on topics ranging from security and the environment to public health and education. In 2017, he received an award from China's State Administration of Foreign Experts Affairs (SAFEA) for his "Outstanding Service and Contribution to Education in China."
Previously, Mr. Holden has served as Chairman of the American Chamber of Commerce in China's Board of Governors and held senior management positions with Cargill, Inc., an agribusiness company; Hill & Knowlton, a strategic communications firm; and BankAmerica World Trade Corporation.
Fluent in Mandarin, Mr. Holden has lived in Beijing, Hong Kong and Taipei for more than 30 years, is a life member of the Council on Foreign Relations, and is Nonresident Senior Associate at the Carnegie Endowment for International Peace. He earned his M.A. in Chinese Language and Literature from Stanford University and his B.A. in the same field from the University of Minnesota.
---
About the Performers
National Youth Orchestra of China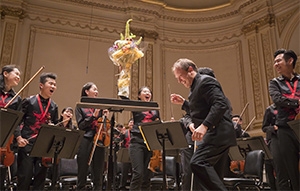 The National Youth Orchestra of China (NYO-China) is a full symphony youth orchestra composed of approximately 100 Chinese musicians aged 14 to 21 years old. Students gather for two and a half weeks in the United States to partake in a training residency before premiering at Carnegie Hall and participating in a concert tour abroad. In doing so, China's most promising young musicians are able to serve as ambassadors for both their country and their generation on a global stage.
NYO-China was established in 2016 with its first residency and concert tour taking place in Summer 2017, beginning with a debut concert officially presented by Carnegie Hall; the sold-out premiere, which featured renowned pianist Yuja Wang, received critical acclaim from numerous publications, including The New York Times. Inspired by Carnegie Hall's National Youth Orchestra of the United States of America (NYO-USA), NYO-China was created in part to complement its American analogue, which was identified as a cultural pillar at the US-China High Level Consultation on People-to-People Exchange (CPE) that was co-chaired by Vice Premier Liu Yandong and Secretary of State John Kerry.
The entire program is provided at no costs to students; all expenses, including tuition, travel, and housing, are covered to ensure that no talented musician is ever turned away for lack of fund.
Skyridge High School Students: Spencer Baird and Emily Jensen
---
Student MCs

Jane Sandberg
Timpview High School, Provo School District
Jane won the 2018 speech contest at the Brigham Young University Language Fair this year, recently demonstrated her skills at a press conference organized by Sen. Howard Stephenson in February 2018, and as a 10-year-old spoke before the Utah State Legislature in Chinese regarding her experiences in the immersion program.

Ammon Oyler
Timpview High School, Provo School District
Ammon has been a dual language immersion student for 9 years. In 2018, he was the 2nd Place Winner in Character Bee at Brigham Young University Language Fair (sponsored by Confucius Institute). He served as a Chinese translator on a trip to the State Capitol. Ammon is also involved in sports and student government.
Join the conversation! Tweet with the hashtag #NCLC2018

#NCLC2018
 
Download the 2018 NCLC App Now
Search "NCLC" in the App Store or Google Play.
Or point your mobile browser to www.tripbuildermedia.com/apps/nclc to be directed to the proper download version for your device.