2016 Conference Highlights
Read highlights from the 2016 National Chinese Language Conference.
Saturday, April 30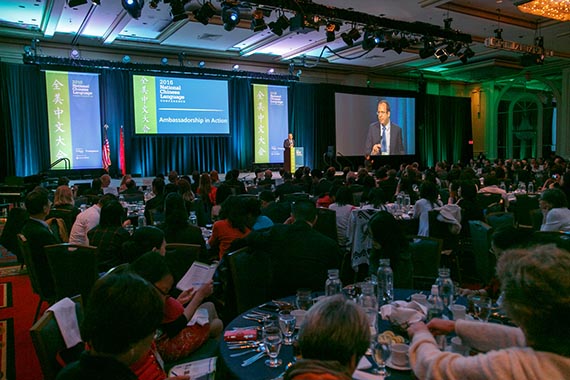 Attendees listen to a speaker at the 2016 National Chinese Language Conference. (David Keith)
On the final day of the 2016 National Chinese Language Conference, students who've overcome the many challenges in learning Mandarin shared their experiences and described how they stayed motivated.
"All of my Chinese teachers have been incredible, wonderful people, and that's partly what's inspired me to keep learning Chinese," said Northwestern University student Agata Nartowska in the final plenary session, titled "From Student of Mandarin to a Lifetime of Ambassadorship."
A common theme throughout the conference was that motivations for learning Mandarin are diverse, and keeping students excited about the often difficult process can't be achieved with a one-size-fits-all approach. "Over the last three days we've witnessed how food, journalism, dance, and music are all lenses through which we can understand culture," said Travis Tanner, senior vice president of the 100,000 Strong Foundation. "Through these various threads, Chinese language can be taught and learned."
Juliet Petrus, a professional soprano vocalist who performs in Mandarin, said that what motivates her is bringing Chinese music to new audiences. "I used music to make my connection, because it is the most international of languages," she said. "It allows us to release politics and other social underpinnings that can get in the way of relationships."
For others, motivations can be more practical. At a breakout session, one university student who is double majoring in engineering and Chinese explained how knowing the language opens a whole new field for his technical work. "This is a thing we're seeing in higher education a lot more now—the double major," observed Bob Davis, executive director of Chinese Language and Culture Initiatives at The College Board. "There are a lot more pragmatic approaches to learning Chinese now—whether it's combined with an MBA, engineering degree, or something else. It really opens opportunities in any field."
"As an engineer who speaks Chinese, you can actually build a bridge," Davis joked to the student.
At the end of the day, many educators reiterated that studying Chinese—or any language—is about much more than being able to communicate with people from other countries. "We've been promised that in the next five to 10 years, artificial intelligence will be so advanced that we'll have personal interpreters in our pocket," said Jeff Wang, director of China Learning Initiatives at Asia Society. "We [teachers] should be nervous only if we've been telling students to learn the language just so they can do business in China. Isn't learning another language like a cook discovering a new spice, a new instrument in an orchestra, or a new lens for a photographer?"
Wang noted that learning a foreign language is a "journey of discovery" of our own language, culture, identity, and potential. Speaking in German, Wang quoted famous writer Johann Wolfgang von Goethe: "Those who know nothing of foreign languages know nothing of their own."
---
Friday, April 29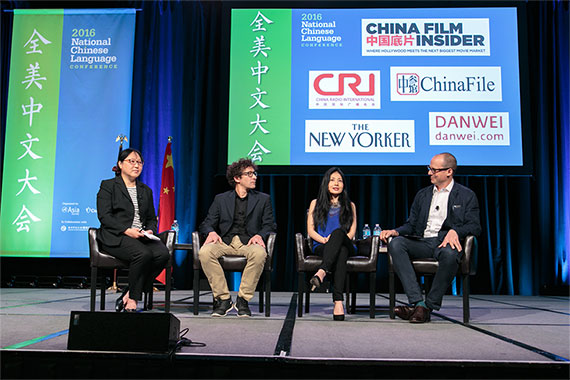 Xiaohong Lv (Washington Bureau Chief, China Radio International), Jeremy Goldkorn (Founder and Director, Danwei), Jiayang Fan (Staff Writer, The New Yorker), and Jonathan Landreth (Managing Editor, ChinaFile, Asia Society) discuss telling each other's story at the 2016 NCLC. (David Keith)
While teaching young people to speak Chinese is important in creating cross-cultural understanding between east and west, it's only part of the battle. At day two of the 2016 National Chinese Language Conference, people working in fields other than language shared how they play their role in bridging the gaps.
At the first plenary session of the day, accomplished journalists discussed how they "tell each other's story." Jiayang Fan, a writer for the New Yorker, said that she often hears complaints from Chinese that the "Western media" just reports negative things about China and not the good that's happening there. "I always take those criticisms to heart, even if I don't always agree," she said. "That's why I think it's important to talk to as wide an array of people as possible, so it's not just a small group of voices."
Jeremy Goldkorn, founder of the online media site Danwei.com, said that there are some things that Chinese teachers could learn from the media, like how to keep students interested. "I think in teaching Chinese culture, more attention should be put on contemporary things, not just what happened a thousand years ago," he said. "It's often difficult to engage young Americans with silk and calligraphy. Chinese contemporary culture is very interesting; there's a lot of interesting stuff on the Chinese internet, TV, film, urban culture, and food."
Food was indeed the subject of the second plenary session of the day, where accomplished culinarians discussed how what we eat can serve as a "cultural ambassador."
"For many people around the world, food is their first window into places they haven't traveled to," said Ian Cheney, director of the documentary The Search for General Tso. "And we know that food adapts as it travels around the world—it kind of meets in the middle with local tastes." Howie Southworth, a cookbook author and host of Sauced in Translation, added that people are starting to better appreciate the diversity and dynamism of China, which is reflected in the food. "It's a mistake to say there's something called 'Chinese food' that's just static," he said. "Chinese food is so dynamic and changeable that it would surprise the average American."
Renowned chef and TV personality Martin Yan agreed, saying that the number of Chinese restaurants and the diversity of dishes served in them has exploded since he first came to America. This is a good sign for "cultural ambassadorship" between the two countries. "Food is in the eye of the beholder," he said. "It doesn't matter where you come from or what ethnic background you are. Food brings all of us together."
---
Thursday, April 28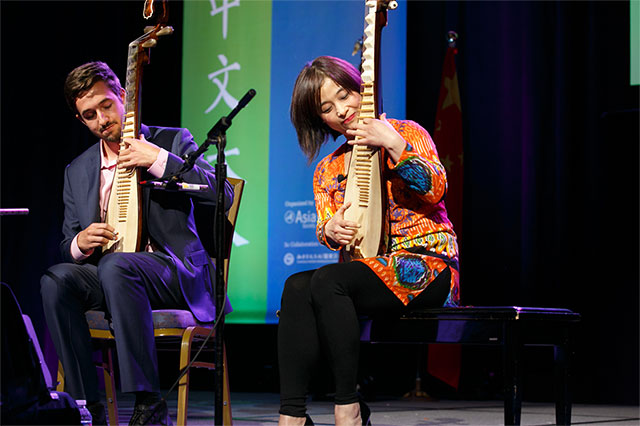 Pipa virtuoso Wu Man performs with Brown University student Henry Knight during the opening plenary of the 2016 NCLC. (David Keith)
The National Chinese Language Conference returned to Chicago on Thursday—this time with twice the number of attendees that it had eight years ago when it was first hosted in the Windy City. The opening festivities kicked off with a tribute to those who serve as ambassadors between Chinese and American culture.
Local elementary school students took stage to sing Mandarin songs in traditional Chinese attire, followed by a high school chorus belting out Mongolian classics. "It's hard not to be moved by what we saw on stage," said College Board President David Coleman. "It seems to me that in this time of political confusion about even the most fundamental of things, it's nice to think about the principles we share."
Coleman said that one of those shared principles is that the place where one is born shouldn't determine where they end up in life, and that good educators can empower people to overcome their background. Asia Society President Josette Sheeran reiterated this point by recalling a conversation with Alibaba founder (and fluent English speaker) Jack Ma before he was awarded Asia Society's Game Changer of the Year award in 2014. When accepting his award, he stressed that he didn't want a celebrity or a high-level diplomat to present it to him, but rather, a teacher. "He said, 'You don't understand who I am,'" Sheeran recalled. "'What transformed my life was my language teacher.'"
A bridge builder of another sort then took stage to serenade the crowd with hauntingly beautiful classical music. World-renowned pipa virtuoso Wu Man played "The Dance of Yi" from Southwest China and described how being influenced by both her native Chinese culture and adopted American culture has allowed her to embrace and build upon the best of both worlds. "I'm so glad to be here to share with you Chinese traditional music—another kind of language," she said. "[Through music], we can communicate with each other."
In a written message to the conference, Illinois Senator Mark Kirk emphasized how those who enable cross-cultural communication are increasingly important in an increasingly globalized world. "The U.S.-China relationship is the most important bilateral relationship of the 21st century," he noted. "Encouraging strong ties among our young generation—through language—will ensure that this relationship grows and flourishes."