Entrepreneurship: Webs of Trust
VIEW EVENT DETAILS
Thursday, 29th November, 7.00 - 8.30 pm
Most general stores or kiranas in India can boast of long-standing relationships and a healthy camaraderie with their loyal customers. This is most often translated into an informal account which is an implicit assurance to pay for the goods at a later date. Such is the comfort and service of these shops, that in the age of ubiquitous digital stores, people still trust the quality and relationships of the kiranas.

As far back as the 18th century, Adam Smith recognized trust as "the hidden engine of economic progress." "Frankness and openness conciliate confidence," Smith wrote. "We trust the man who seems willing to trust us." But what does it take to build this trust, especially in developing economies? What does an entrepreneur need to support his ideas when the laws, regulations, government protection in their country may still be evolving?

In his new book, Trust, Professor Tarun Khanna examines the stories of several businesses and organizations in countries such as China, India, and Bangladesh, demonstrating how their successes were built upon a keen awareness of demographics and cultural dynamics that led them to build trust and respect. Amongst other interesting examples, the book discusses how Amul, a brand associated with longevity, trust and quality in India, built the co-operative by earning trust of poor milkmen in Anand, Gujarat and developed a loyal customer base of people who were accustomed to buying adulterated milk.

Joining him on the panel, are two dynamic entrepreneurs Falguni Nayar, Founder and CEO of Nykaa.com and R. Dinesh, Managing Director, TVS Logistics and they will be in conversation with Dhanpal Jhaveri, Partner, Everstone Capital to share their stories on critical factors of success in India's entrepreneurship ecosystem.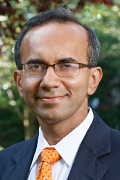 Tarun Khanna is the Jorge Paulo Lemann Professor at the Harvard Business School, where he has sought for two decades to study the drivers of entrepreneurship in emerging markets as a means of economic and social development. At HBS since 1993, after obtaining degrees from Princeton and Harvard, he has taught courses on strategy, corporate governance and international business to MBA and Ph.D. students and senior executives. For many years, he has served as the Faculty Chair for HBS activities in India and South Asia.
Falguni Nayar is the Founder and CEO of Nykaa.com. As the former Managing Director Of Kotak Mahindra Capital Company, India's leading investment bank, Falguni has received many accolades throughout her career. Recognising her contribution to the Indian beauty industry, Falguni was awarded the 'Women Ahead' award at the ET Start Up Awards 2017 and the FICCI Ladies Organization (FLO) award for the top woman achiever in the field of banking. She was also named the 'Beauty Game Changer' at the Vogue India Beauty Awards 2017 and one of the top 25 women in business by Business Today.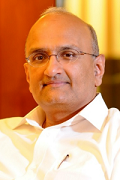 R. Dinesh serves as the Managing Director of TVS Logistics Services Limited, Joint Managing Director of T V Sundram Iyengar & Sons Private Limited and Director for various joint ventures and subsidiaries of these companies. He has been the recipient of the 'Entrepreneur of the Year' award for 'Services' category by Ernst & Young, TiECON's 'Next Gen Entrepreneur of the year 2014' award and the 'Emerging Entrepreneur' award by CII in 2010. He is often referred as a 'game changer' within the fraternity. Under his able leadership the company has grown multifold to become a billion-dollar company in 2017.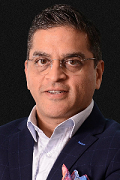 Dhanpal Jhaveri is Managing Partner at the Everstone Group, an India and Southeast Asia focused private equity and real estate investor with assets under management of approximately $5 billion USD. He is also the CEO for EverSource Capital, which is as a joint venture between Lightsource BP and Everstone Capital to make green and sustainable investments in India. Prior to joining Everstone, Dhanpal worked as Director (Corporate Strategy) with Vedanta Resources Plc. His previous assignments include, being the Head of Investment Banking at ICICI Securities, and Partner for Corporate Finance at KPMG.
RSVP: asiasocietyindiacentre@asiasociety.org
Outreach partner:
Event Details
7 - 8:30 p.m.
The Chamber Lawns,
Taj Mahal Palace Hotel,
Colaba,
Mumbai.

Add to Calendar
20181129T133000
20181129T150000
UTC
Asia Society: Entrepreneurship: Webs of Trust
The Chamber Lawns, Taj Mahal Palace Hotel, Colaba, Mumbai.
---
Join the Facebook Event »