Akbar Padamsee: Asia Arts Vanguard - A Special Felicitation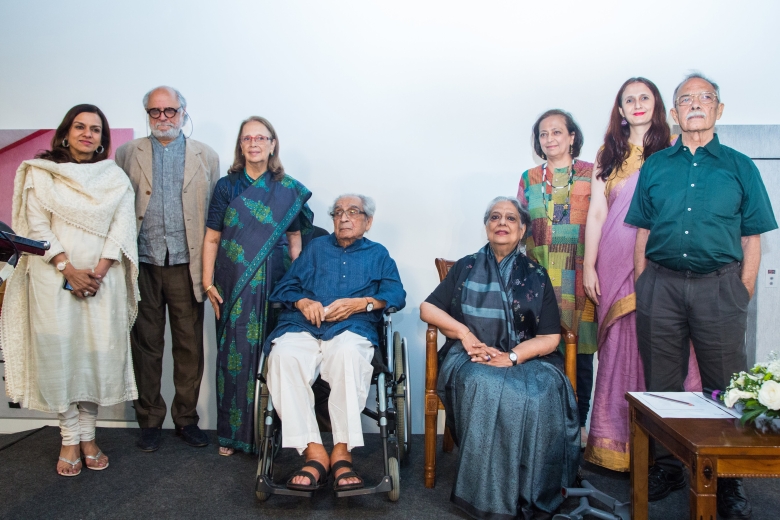 [L-R] Sangita Jindal, Homi K. Bhabha, Pheroza Godrej, Akbar Padamsee, Geeta Kapur, Nancy Adajania and Gieve Patel
MUMBAI, January 18, 2019:  As a part of the larger Asia Arts Game Changer Awards, which celebrate artistic excellence and innovation, Asia Society India Centre hosted a special felicitation to recognise Akbar Padamsee's immense contribution to the Arts, at the historic Pundole's Gallery in Mumbai. 
The intimate afternoon reception was attended by Akbar and Bhanumati Padamsee along with Asia Society India Centre Arts Committee members Dr. Pheroza Godrej and Sangita Jindal; eminent artists including Atul and Anju Dodiya, Navjot Altaf, Sudhir and Shanta Patwardhan, Dia Mehta Bhupal and Ram Rahman; and friends of Asia Society India Centre Dadiba and Khorshed Pundole, Dr. Saryu Doshi, Deepika Sorabjee, Shireen Gandhy, Edgard Kagan, Shalini Sawhney, Ranjana Steinruecke and Usha Mirchandani among others.
Bunty Chand, Pheroza Godrej and Sangita Jindal's opening remarks were followed by a engaging discussion with eminent panelists - Nancy Adajania cultural theorist and curator, Geeta Kapur art historian and critic, Gieve Patel artist and poet and Homi K. Bhabha critical theorist. The panel covered Padamsee's illustrious career, his immense contribution to the arts community, and his pioneering techniques in abstraction. 
As reported by Alekha Ranjitsinh, Programme Assistant, Asia Society India Centre