Tours for the Visually Impaired
Thursday, November 7, 2013
Thursday, December 5, 2013
Monday, January 20, 2014
Other dates available upon request

Tour starts at 2:00PM
Tour ends at 4:00PM
A first for Asia Society Hong Kong Center, we will provide an opportunity for visually impaired visitors to explore our Center and the No Country exhibition. Conducted through audio description tours with emphasis on size, color, shape, texture and especially designed tactile activities, visually impaired visitors will be led by audio description specialists and encourage visitors to experience the site and the exhibition through touch and sound.
Tours are complimentary but booking is required. For bookings, please email tourguidehk@asiasociety.org or call 2103 9511.
*For safety measures, maximum participants for each tour is 50 (volunteers included).
Please click here to view all the programs related to the No Country exhibition.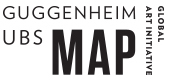 No Country: Contemporary Art for South and Southeast Asia is jointly organized by Asia Society Hong Kong Center and the Solomon R. Guggenheim Foundation, New York, and is a cultural engagement of UBS.