Public Art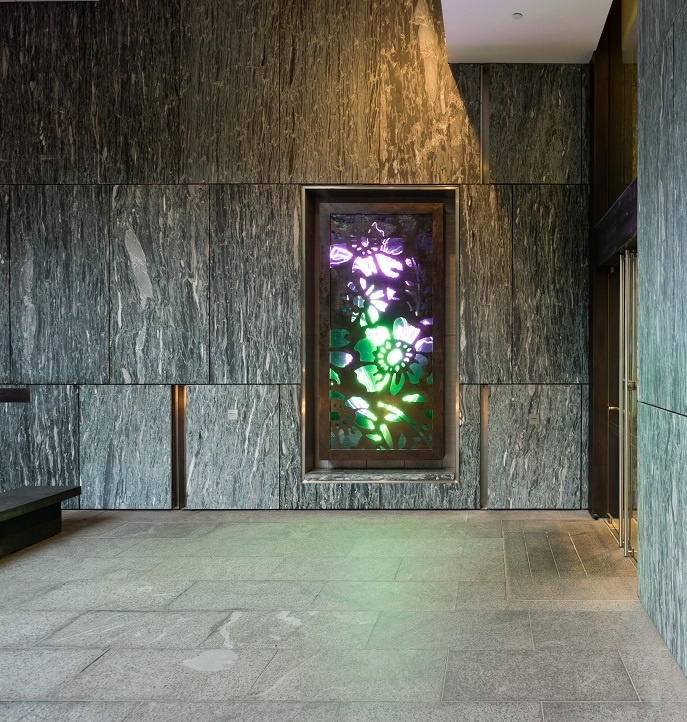 Untitled (Grate XI: Electric Bauhinia), 2017
Adrian Wong
(Location: Noble Group Water Feature)
This site- specific addition to Wong's on-going Untitled Grates series explores the symbol of the Hong Kong Orchid Tree (Bauhinia x blakeana). The grate references various floral motifs commonly used in Hong Kong and the Pearl River Delta around 1960-1975,  a period of broad cultural impact for Hong Kong as its manufacturing industry was at its peak and the economy grew rapidly as result. The work is designed to change over time-building patina and color-shift calling to mind the weathered street signs of Hong Kong that have witnessed the city's social and cultural transformations.
Commissioned by Asia Society Hong Kong Center; Gift of Hallam Chow and H2 Foundation for Arts and Education
---
Another Time XX, 2013
Antony Gormley
(Location: Joseph Lau & Josephine Lau Roof Garden)
---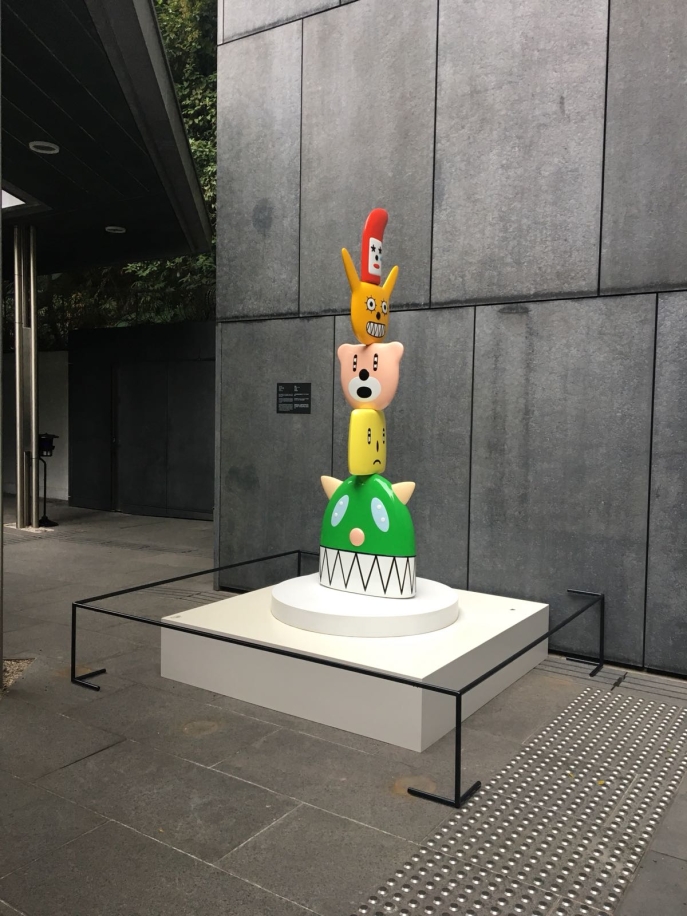 Big City Life, 2017
Eddie Kang 
(Location: Berm B)

Kang uses his fictional characters in the sculpture as a measure against life. The artist, just like other city dwellers, is overwhelmed by the density and tension in the urban environment. He thereby seeks comfort in a cartoonish aesthetic, which reminds us of the joy and simplicity we experienced as a child. 
Donated by the artist. Supported by: Consulate General of the Republic of Korea in Hong Kong; Festive Korea 2017; Christina Hee-Kyung Kang, Paradigm Art Company; Jung-Yong Lee, Gana Art Gallery
---

Retroactive Interference, 2017
Enoch Cheung
(Location: Noble Reception)

Cheung is inspired by the intersection of the heritage site with the contemporary architecture at the Center, and has a particular affinity for the geometry of the space. He meticulously outlines, stroke by stroke, the nightscape of Asia Society using laser pointer and flashlight as light sources, delineating the medial domain of illusion and darkness; clarity and obscurity. For the artist, these fissures encapsulate the redaction of impression, memory, and reality of the appropriated historical site. By reinventing the carefully designed light-scape of the Center, Cheung attempts to interfere with visitor's memory of the existing architecture by punctuating the historic vestiges.
---
Mythos of Lost Dynasties, Series E-6, 1997
Gu Wenda
(Location: Noble Reception)
Gift of Take A Step Back Collection
---
Day and Night I, 2017–2018 (left)
Day and Night II, 2017–2018 (right)
Hao Liang
Private collection of Pia Miller Getty
(Location: ASHK Shop)

The paintings by Hao Liang seamlessly blend classical art with contemporary sentiment. Day and Night is a diptych painting that explores the subject of time and perspective. Hao Liang depicts the same fantastical landscape in two versions: a monumental one of a colorful day, and a smaller one showing the intense dark of night. In both, the artist distorts spatial dimensions and proportions, emphasizing the constant transformation of the sea, land and sky. The diptych was inspired by ink stone tablets of Qing dynasty intellectual Wang Ziruo, who created small replicas of huge, eroding ancient steles engraved with various texts, pictures and historical information. Struck by these tablets and their rubbings, Hao applies the same logic to his landscapes, showing how light, scale, and texture can distort legibility and memory.
---
Lost City No. 52, 2017
Vaan Ip
(Location: Joseph Lau & Josephine Lau Roof Garden)
Against the towering skyscrapers of Hong Kong, Ip's site-specific sculpture is an abstract geometric addition that exposes the city's overbuilt claustrophobia. As the city expands upwards and outwards, it is also ironically creating new structural boundaries for itself. But Ip includes a kite soaring out of the overwhelming complex to symbolize hope against ceaseless transformation.
Gift of Ms. Jean Ho, 2017
---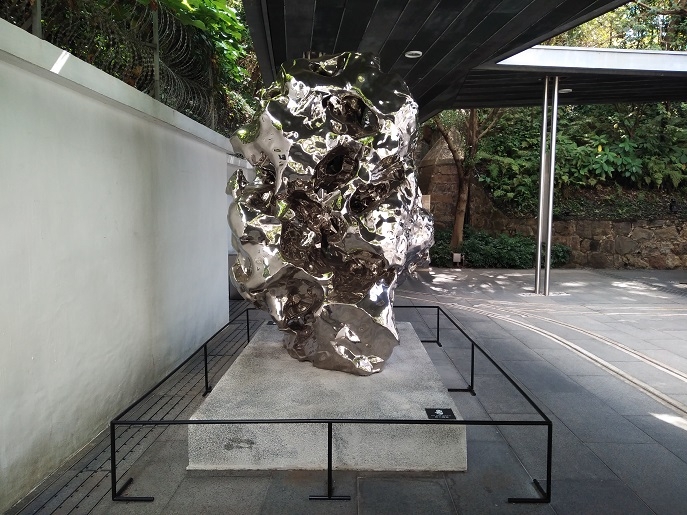 Artificial Rock No. 121, 2007
Zhan Wang
(Location: Outside Starr-Greenberg Building; not on view currently)
Zhan Wang graduated from the Central Academy of Fine Arts with a degree in Sculpture in 1988. In the early 1990s, he began to integrate Western conceptual art methodology with classic literati symbols in his art. By transforming industrial stainless steel into artificial scholar's rocks fashioned after the natural Taihu rocks found in classical Chinese gardens, Wang investigates the dichotomy between natural and artificial. His other works include sculpture, installation, photography and multi-media projects, experiments with different media and challenge traditional art concepts.
Special thanks to the Weisberg Family for the artwork loan to Asia Society Hong Kong Center
---
Long Island Buddha, 2010-2011
Zhang Huan
(Location: Joseph Lau & Josephine Lau Roof Garden)

Zhang Huan graduated from the Central Academy of Fine Arts with a Master's degree in Beijing in 1993.  Zhang draws his inspiration from his visit to Tibet, where he witnessed fragments of destructed Buddhist icons during the Cultural Revolution. Long Island Buddha comments on the establishment of Buddhism as a belief system. The monumental scale of the sculpture illustrates the side of the religion that is often given to excess and extravagance. His other works include painting, sculpture, installation and performance art.
Gift of the JK and Ingrid Lee Foundation
Special thanks to Susy & Jack Wadsworth in recognition of their generous support towards the installation of this artwork.