Bat Cave: Treasures of the Day and Creatures of the Night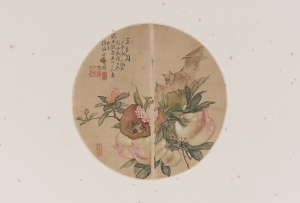 Gao Qianfu, Bat, Pomegranate and Peaches, Dated 1904; Ink and color on silk, round fan; Collection of the Art Museum, CUHK; Gift of Mr. Ho Iu-kwong, Mr. Fok Bo-choi, Mr. Lai Tak and others © Art Museum, ICS, CUHK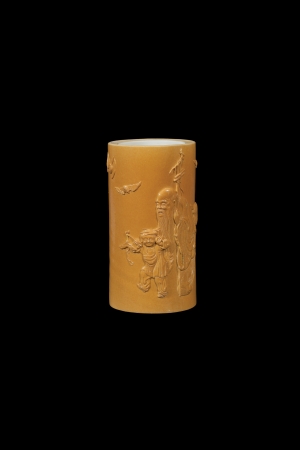 Yellow-glazed brush pot with carved design of blessings, status and longevity; Mark and period of Daoguang (1821-1850), Qing dynasty; Collection of the Art Museum, CUHK, Gift of Huaihaitang © Art Museum, ICS, CUHK
Gourd-shaped jade scent holder with bats and characters "daji (luck)" in openwork; Qing dynasty (1644-1911); Hong Kong Museum of Art collection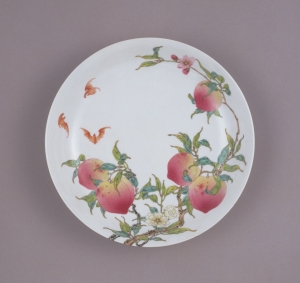 Dish with bat-and-peach design in famille-rose enamels; Mark and period of Yongzheng (1723-1735), Qing dynasty; Hong Kong Museum of Art collection, Donated by B.Y. Lam Foundation
Bats are an auspicious symbol in China as the word for "bats" in Chinese is phonetically similar to the word for "blessings." Bats were especially popular during the Ming and Qing dynasties, and could be found on a wide range of objects from folk art to court commissioned pieces. Despite the frequent appearance of bats in Chinese history, little attention has been paid to them.
Bat Cave: Treasures of the Day and Creatures of the Night on display at the Chantal Miller Gallery memorializes bats, the quintessential night creatures found on site at the Asia Society Hong Kong Center. With over 70 exquisite traditional Chinese objects with bat motifs, including ceramics, jade carvings, paintings and textiles among others, this exhibition offers a rare opportunity for visitors to explore the thematic variations of the bat motif that are seldom displayed together. In addition, the exhibition also presents a response project by the contemporary Chinese artist Sun Xun featuring a wall mural with digital art. By unravelling the hidden meanings and stories behind bats in a modern and fun context, the exhibition aims to alter the stereotypical opinions associated with traditional Chinese art.
Co-organized by Asia Society Hong Kong Center and Art Museum, Institute of Chinese Studies, The Chinese University of Hong Kong, the exhibition will be on view from September 16, 2015 to January 03, 2016. The curator is Dr. Xu Xiaodong, the Associate Director of the Art Museum, and the Associate Professor (by courtesy) of the Fine Arts Department, The Chinese University of Hong Kong. The Assistant Curator is On-tsun Andrew Fung from the Gallery Team of Asia Society Hong Kong Center.
About the Exhibition
Date: September 16, 2015 - January 3, 2016
Opening Hours:
Tuesday - Sunday: 11 am - 6 pm
Sep 24, Oct 29 and Nov 26: 11 am - 8 pm 
Closed on Mondays.
Dec 22 & 31, 2015: Closes at 3pm
Dec 24, 25 & 28, 2015: Closed
Jan 1, 2016: Closed
Last Admission: 30 minutes before closing
As part of "Appreciate Hong Kong" campaign, the exhibition is free of charge from Dec 1, 2015 to Jan 3, 2016.
---
Education Programs
Bat Cave: Treasures of the Day and Creatures of the Night Educational Offerings
16 September, 2015 – 3 January 2016, 6pm (HKT)
To encourage creativity and imagination, and to engage students in understanding the bat motif in Chinese treasures, collaborating with DFA Awards of Hong Kong Design Center, an open design competition is organized by Asia Society Hong Kong Center, targeting design students in Hong Kong. Students are invited to create product designs with a bat motif, or that inspired by the habits and characteristics of bats. The winning work may be produced and sold at the store of Asia Society Hong Kong Center.
---
3 October, 2015
In Soilworm's workshop, "Not Just a Piece of Paper", students are invited to bring a portable daily object to the workshop. Through experiences sharing and discussion, Soilworm will inspire students to design and develop a mockup of commodity from the daily object by the using of paper.
24 October, 2015 
Leather is the skin of animals. Different festivals also create masks as part of the costume. This workshop will guide the participants the techniques of developing a mask that imitate different animals, as if we are attending a carnival.
---
26 September/ 3 October/ 7 November, 2015
ASHK will host an evening ecological walk through our center to search for the elusive resident fruit bat and other night animals in the neighborhood. The ecological walk will be led by professionals from Fauna Conservation Department of Kadoorie Farm and Botanic Garden. During the walk, participants will learn about the mysterious behavior of bats and other wild night animals.
---
10 October, 2015
With the guide of Bess and Tony, participants will create their "Lucky Bat Wings" by transmitting data into visual imagery. Final images will be projected onto a wall and photographed with the participant.
---
14 November, 2015
Auspicious patterns are commonly found in traditional Chinese clothing, often appearing as embroidery buttons and loops. The buttons and loops were and still are commonly used as decoration on Qipao, and other types of Chinese clothing, representing blessings and good fortune. Led by craft masters, participants of the workshop will learn how to create simple embroidery buttons applicable to contemporary use.
---
13 December, 2015
The color red, festivities, auspicious patterns are typical elements found in Chinese traditional paper cutting – a craft that can be easily done with scissors and paper, as long as you can ensure the design is kept intact during the process. Traditionally, subjects are usually related to farming, birds, and plants, contemporary artists have in recent years adapted contemporary topics giving audience a new way to interpret this Chinese folk art. In this workshop, a contemporary paper cutting artist will share her creative process of combining traditional skills with contemporary elements. Participants will learn some traditional paper cutting skills to create their own paper art with contemporary elements.
---
An educational and entertaining theatre performance designed for families with children. Based on selected exhibits and Chinese legends, professional actors will dramatize the gallery tour and liven up young visitors' museum experience through age-appropriate, immersive games.
---

Lecture Series
Bat Cave: Treasures of the Day and Creatures of the Night Lecture Series
22 September, 2015
Curator Dr. Xu Xiaodong will give a curatorial overview, drawing examples from the exhibits, Dr. Xu will delineate the unprecedented popularity of bats in the Ming-Qing period as an auspicious symbol in Chinese culture, which at the same time demonstrated the high level of craftsmanship achieved in the period. Beyond-ism, a short film made using Chinese ink by contemporary Chinese artist Sun Xun complements the 70 plus traditional works of art on display, re-interpreting the fantastical legend that court sorcerer Xu Fu was sent to a mythical land in search of the elixir of life. Sun Xun will converse with Dr. Xu on his choice of animal motifs in the film including bats, as well as his site-specific wall paintings of bats and the role traditional symbolism plays in his creative career.
---
27 October, 2015
To introduce more art with the subject of nature and animals, especially bats, Asia Society Hong Kong Center has invited Dr. Scott Hessels, Associate Professor of School of Creative Media, City University of Hong Kong, to present the lecture on new technologies and media in contemporary art. 
Throughout history, nature has always inspired art. But now with new technologies and media, nature can have a more direct impact on the making of art. With examples from Dr. Hessels' own practice and the world's most innovative new media artists, the talk will demonstrate how creatives today are now partnering with forces in the environment to make artworks that are a hybrid of man and nature.
---
27 November, 2015
Most of the ceramics selected in this exhibition were made in Jingdezhen, the porcelain city of China. To introduce more recent developments of ceramic art in the town, Asia Society Hong Kong Center has invited world renowned ceramic artist, Takeshi Yasuda, who has been living and working in Jingdezhen for more than 11 years, to share his stories, insights and perspective on ceramic art in Jingdezheng.
---
8 December, 2015
In this lecture, Paul Leader, who led the study on the bats natural habitat at the site of the Asia Society Hong Kong Center when the conservation project was underway, will discuss the significance of bats and other urban wildlife in Hong Kong's ecological system. Besides this, he will pinpoint the ecological habitats on site at the center and share stories on how the design of the site evolved to preserve such natural habitats during the redevelopment.
---

Gallery Guided Tours
Bat Cave: Treasures of the Day and Creatures of the Night
Gallery Guided Tours 
---
Saturdays | 2:30pm (In English)
Sundays   | 2:30pm (In English)
Last Thursday of each month | 7:00pm (In English)
Gallery tours are open to public. No registration needed. 
School / NGO Tours
School /NGO Tour Application
---
We welcome all schools and NGOs to apply group visit to our center. Application required.
EXHIBITION PERIOD
September 16, 2015 -January 3, 2016
TOURS
Guided heritage tour at Asia Society Hong Kong Center (Former Explosives Magazine) (approx. 30 minutes)

Docent-led gallery tour (approx. 40 minutes)
PARTICIPANTS
Suitable for Kindergarten students or above

Minimum 15 person per tour (multiple tours can be arranged)
EXHIBITION ADMISSIONS FEE
Waived
*Groups with less than 15 people, admissions fee will be required as follows: HK$30/ Adult (aged 18+); HK$15/ Senior (aged 60+).
Application Forms can be downloaded here: SCHOOL TOUR | GROUP TOUR.
Education Pack
DOWNLOAD EDUCATION PACK
To prepare teachers and students for visits to the exhibition, and enhance their appreciation of Chinese art and culture, a free bilingual Teacher Resource Guide for educators and School Tour Worksheets for students have been developed in association with Bat Cave: Treasures of the Day and Creatures of the Night.
1. Teacher Resource Guide
Teacher Resource Guide is designed for educators of visual arts, Chinese history, and Chinese language and culture. This guide is divided into three chapters, including a general introduction of Chinese artifacts and traditional art, appreciation of treasures with bat imagery, and links with contemporary art in this exhibition. A list of questions and suggested activities are provided for educators to facilitate discussion and organize educational activities suited to the level of their students. The guide has been mailed to all local secondary schools during the exhibition period.
Download: Chinese version | English version

2. School Tour Worksheets
School Tour Worksheets target kindergarten, primary and secondary school students with different age-appropriate activities according to the particular group visiting the exhibition. The worksheets will be given to students during exhibition tours.
Download
For Kindergarten Chinese version only
For Primary school Chinese version | English version
For Secondary school Chinese version | English version