White Gold
VIEW EVENT DETAILS
Film screening and discussion with producer Arne Glimcher and director Simon Trevor
Registration at 3.00 pm
Screening at 3.15 pm
Discussion at 4.00 pm
Q&A at 4.30 pm
Drinks reception at 4.45 pm
Close at 6.00 pm
White Gold is a front-line exposé of the modern-day ivory trade — its effect on African countries and wider regional stability, its potential to fund terrorism, and its global reach. Produced by professionals from the conservation, filmmaking, and security fields, the film illustrates the awe-inspiring complexity, beauty, and emotional intelligence of the elephant, Africa's most majestic and iconic wild animal. It documents how, as the demand for ivory escalates, the stakes rise for elephants, people, and peace. And, amid growing speculation from analysts around the world that ivory is likely to have partially funded the September 2013 terrorist massacre in Nairobi, Kenya, the film poses the question: is this luxury commodity really so desirable, considering the ugly reality of terrorism and looming species extinction?
White Gold is produced by Arne Glimcher, and director by Simon Trevor, an African Environmental Film Foundation (AEFF) production. AEFF is a non-profit charity, working year-round in Africa to produce educational films about environmental issues in local languages. The English version of the film is narrated by former U.S. Secretary of State Hillary Rodham Clinton, and the Chinese version by Jackie Chan.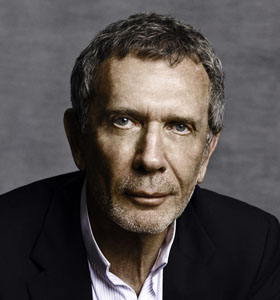 Arne Glimcher founded the Pace Gallery in Boston in 1960. Three years later, the gallery relocated to New York. Over the years, Pace's stable has grown to include many of the most important international artists and estates of the 20th and 21st centuries. In 2010, Pace celebrated its 50th anniversary with a four-venue exhibition devoted to the hundreds of masterpieces that have been exhibited at the gallery over the past five decades. Today, with his son Marc, Mr. Glimcher presides over seven galleries worldwide: four locations in New York; one in Beijing; and two galleries in London.
In addition, Mr. Glimcher is a producer and director of several motion pictures. Prior to White Gold, Mr. Glimcher directed and co-produced with Martin Scorsese Picasso and Braque Go to the Movies, which premiered at The Toronto International Film Festival in 2008 and was released in theaters nationwide in 2010. His other credits include Just Cause (Sean Connery, Laurence Fishburne, 1995); The Mambo Kings (Antonio Banderas, 1992), for which he received an Academy Award nomination as lyricist for "Best Song"; The Good Mother (Diane Keaton, Liam Neeson, 1988); as well as Gorillas in the Mist (Sigourney Weaver) and Legal Eagles (Robert Redford, Debra Winger) in 1986. Mr. Glimcher is Chairman of the Board of Directors for the AEFF, which since its launch in 1998 has produced over 20 educational films about environmental issues in Africa including White Gold.
Simon Trevor, Founder and President of AEFF, at age seven, flew to Africa in a light aircraft with his family in 1946. He was educated in Zimbabwe and South Africa. After leaving school in 1955, he worked on the Kariba Dam project in Zimbabwe as a junior engineer, then for the Rhodesian Government Irrigation Department on the flood warning station on the Sengwa River in the Zambezi Valley. In 1959, he joined the Kenya National Parks as a Game Warden, and was stationed in Amboseli and Tsavo National Parks. In 1963, he moved on to making wildlife films because he felt he could do more for conservation in this field. He returned to Kariba to film the rescue of thousands of animals from the land in the Zambezi Valley, which was being submerged by the rising waters of the dam.
Returning once again to Kenya, Mr. Trevor carried out filming assignments in many countries of Africa for the major TV networks. In 1970, he directed and photographed a full length 35mm Panavision film, The African Elephant (King Elephant) for Cinema Centre Films in Hollywood. The film was nominated for an Academy Award for cinematography. More recently, Mr. Trevor's most important feature film assignments have been the major wildlife and scenic sequences on Out of Africa, The Color Purple, Gorillas in the Mist, White Hunter, Black Heart, and Congo. Mr. Trevor also joined up with Survival Anglia Ltd in England with whom he had a close working relationship for 30 years. His documentaries, made in association with Survival Anglia for their long-running Survival series, have won numerous international awards including the Golden Panda for Best of Festival at Wildscreen, and a nomination for best documentary at BAFTA. Mr. Trevor lives in the Tsavo National Park in Kenya where he has elephants, literally, on his doorstep. He is an Honorary Warden of the Kenya Wildlife Service and for many years has been actively engaged in assisting National Parks. He has raised and donated funds for wildlife conservation.
Event Details
9 Justice Drive, Admiralty, Hong Kong
Buy Tickets
HK$250 Asia Society members/full-time students; HK$350 non-members

Add to Calendar
20140511T071500
20140511T100000
UTC
Asia Society: White Gold
9 Justice Drive, Admiralty, Hong Kong
---