Theater: C sharp C blunt
VIEW EVENT DETAILS
India by the Bay 2016 Program
Registration 7:15pm,
Performance 7:30pm
C sharp C blunt is based on the concept of the loop. An electronic musician, live on stage creates and layers loops from live sound. The loop in its nature reflects the training of the singer through endless repetition and also the process of cultural and social programming. This cultural programming also defines the specific way girls and women are supposed to behave.
The play looks at traditional gender roles as engrained by culture versus the woman as the globalized consumer living in a new market that caters to her wants and needs. We look at the performer as a site of battle between purity and consumption, between servitude and ego, between being-looked-at-ness and self-determination.
C sharp C blunt has performed in India, Berlin and Singapore. In 2014 C sharp C blunt toured Switzerland, Kerala, Kolkata, Chennai, Delhi, Bangalore and Mumbai.
---
February 24 – March 1, 2016
The Festival co-presented by Asia Society Hong Kong Center and Teamwork, is a collaboration and celebration, focusing on India's performing arts, cultural dynamism and contemporary offerings of literature, music and theater. After the success in 2015, the second edition of the Festival will offer a wider range of programming that brings India's cultural dynamism to Hong Kong that reflects India's artistic depth and diversity. The Festival is dedicated to promoting mutual understanding and strengthening partnerships between the two countries.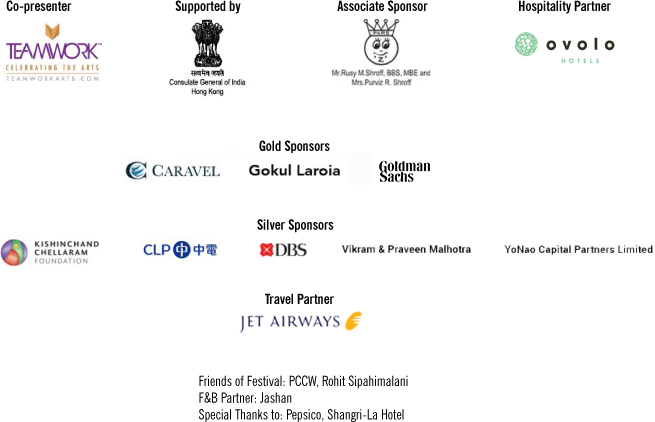 Event Details
7:15 - 9 p.m.

Asia Society Hong Kong Center, 9 Justice Drive, Admiralty
Buy Tickets
Asia Society members HK$150; Non-members HK$200
20160229T191500 20160229T210000 Asia/Hong_Kong Asia Society: Theater: C sharp C blunt

For event details visit https://asiasociety.org/hong-kong/events/theater-c-sharp-c-blunt Asia Society Hong Kong Center, 9 Justice Drive, Admiralty