The Song of Tabla, with Samir Chatterjee
VIEW EVENT DETAILS
Evening presentation and concert by Samir Chatterjee
Presentation: 6:00 pm
Performance: 6:15 pm
Close: 7:45 pm
"The remarkable tabla virtuoso Chatterjee's playing is rather unique among tabla artists as his impeccable mastery of rhythm is expressed with a rather vocal-like quality" — Rhythm Magazine
Tabla is derived from the Arabic word tabi, which means drum. Historical cave carvings show evidence that the traditional Indian percussion instrument could have already been in use as early as in 200 BC, it remains the most important percussion instrument in Hindustani music, and is increasingly seen in the rhythm section of non-classical Indian and Western music genres. Tabla virtuoso Samir Chatterjee will give a presentation on "Tabla in the Context of Indian Music and World Music," followed by a concert of rhythmic Indian and world tunes featuring fellow tabla musicians including his protégé Jorge Ramiro.
Samir Chatterjee is a tabla maestro. He travels widely across the world, performing in festivals as a soloist or with other outstanding musicians from both Indian and Western musical traditions, including at the Nobel Peace Prize ceremony in Oslo, Norway in 2007. His compositions are widely acclaimed as well as his writings. Currently based in New York, Chatterjee has become a catalyst in the fusion of Indian and Western music, collaborating with musicians and groups including Dance Theater of Harlem and Boston Philharmonic. Chatterjee has been teaching for the last 30 years and many of his students are also established performers. He is the Founder-Director of CHHANDAYAN, an organization dedicated to promoting and preserving Indian music and culture. He authored the comprehensive A Study of Tabla and Music of India, a guide book to Indian music. Chatterjee has masters degrees in English and History, and sits on the faculty at Yale University, the Manhattan School of Music, the University of Pittsburgh, the New School for Jazz and Contemporary Music and the University of Bridgeport.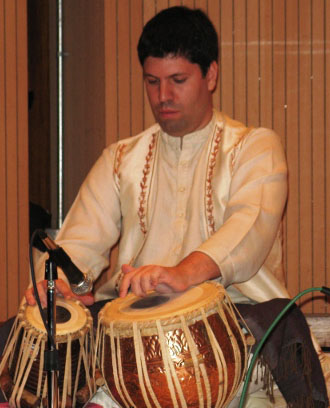 Jorge Ramiro grew up in Mexico and moved to the U.S. at the age of 18. Ramiro holds a Bachelor of Arts in Music from the State University of New York. He has been studying tabla and classical Indian music since the age of 19, when he did a semester abroad at Pune University and began learning tabla under Pandit Ramdas Palsule. Since 1998 he has been a disciple of Pandit Samir Chatterjee, one of India's most influential tabla players from the Farukhabad Gharana. Ramiro performed in classical Indian music concerts in India, the United States, Mexico, France, Australia and Hong Kong. He has also recorded and performed with pop artist Natalie Imbruglia and in the late 90's as a member of the Mexican rock band, Botellita de Jerez, with whom he toured and did live TV performances. In late 2009 he completed the score of a documentary entitled 5000 Metros.
Event Details
6 - 7:45 p.m.
9 Justice Drive, Admiralty, Hong Kong
Buy Tickets
HK$200 Asia Society members/ full-time students; HK$300 non-members

Add to Calendar
20121209T100000
20121209T114500
UTC
Asia Society: The Song of Tabla, with Samir Chatterjee
9 Justice Drive, Admiralty, Hong Kong
---