Rainforest Fringe Festival 2019: Kuching, Sarawak, East Malaysia
VIEW EVENT DETAILS
Members' Benefits: Tour Discounts
July 4 - 9, 2019 (6 Days 5 Nights)
Glimpse into the rich culture of Sarawak through the Rainforest Fringe Festival 2019 organized by Mr. Joe Sidek, the same person who brought us the George Town Festival. On top of that we will visit the cultural village, orangutan sanctuary, local market, etc.

To register, please click here.
---
In partnership with Joe Sidek Production Sdn Bhd, Asia Society Hong Kong Center is proud to bring you to Kuching, Sarawak, East Malaysia to visit the Rainforest Fringe Festival to experience their rich cultures from the locals and the various indigenous groups. This festival sees collaboration with Sarawakians as an integral part of the festival's distinctiveness and growth. Working together with the Sarawak's homegrown creatives and local champions from different areas and sectors of creativity, it will bring about an experience you cannot get elsewhere.
Joining this tour with Asia Society Hong Kong Center will provide you with access to the Festival opening ceremony, gala dinner, and specially arranged talks, tours and exhibitions.
---

About Rainforest Fringe Festival
The Rainforest Fringe Festival (RFF) began in 2017 and is an annual 10-day spectacle for all to celebrate the spirit and energy of Sarawak. Hosted in the heart of Kuching, the festival honours Sarawak's eclectic culture and vibrancy of the land and the people through music, art, craft, film, photography, and design, giving festival attendees a holistic view and true sense of its splendour.
It is hosted by The Ministry of Tourism, Arts, Culture, Youth and Sports Sarawak. RFF 2019 will be held on July 5 – 12, 2019.
Learn more at www.rainforestfringe.com
---

About Joe Sidek
With 30 years of experience in the arts industry, Joe Sidek is the Managing Director of Joe Sidek Productions Sdn Bhd (JSPSB). Joe is the Festival Director of George Town Festival (GTF), Butterworth Fringe Festival (BFF), and the inaugural Rainforest Fringe Festival (RFF).
One of Malaysia's best-known festivals, the annual George Town Festival was launched in 2010, and now attracts over 250,000 visitors. Following the international success of GTF, Joe has been invited to speak on a number of panels on the subject of arts development.
---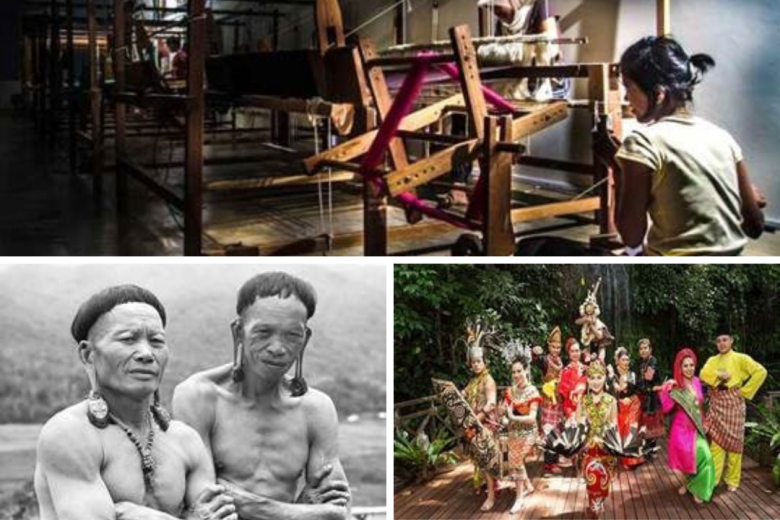 Date

Brief Program Rundown

July 4

Arrive Kuching from Hong Kong
Welcome Dinner

July 5

Sanctuary for Orangutan (apes native to Indonesia and Malaysia)
Botanical Research Centre
Kampong Taee – An Indigenous Groups Village
Official Launch of Rainforest Fringe Festival 2019
Fashion Show: Songket and Keringkam

July 6

Talks / exhibitions of Rainforest Fringe Festival 2019
Visit to Tanoti Craft – Handweaves Masterpieces
Afternoon Tea with Edible Colors of Sarawak
Rainforest Fringe Festival 2019 – "Plating the Wild" Gala Dinner

July 7

Sarawak Cultural Village
Brooke Gallery at Fort Margherita – Know more about the "White Rajahs"
Talks / exhibition of Rainforest Fringe Festival 2019

July 8

Free and Easy
Optional activities at additional costs:
a. Local market tour – Stutong Community Fresh Food Market
b. Baking of three different local cakes
c. Dinner at traditional Malay Village and food demonstration

July 9

Depart Kuching for Hong Kong
---
COST:
Cost per person, for Asia Society Hong Kong Center's members
EARLY BIRD SPECIAL: REGISTER BEFORE MAY 25, 2019
HKD7,500 (single occupancy), HKD6,500 (double occupancy)
AFTER MAY 25, 2019
HKD10,000 (single occupancy), HKD9,000 (double occupancy)
In addition to the cost of the trip, we kindly ask for a donation of at least HK$2,500 per participants (tax deductible in Hong Kong) to support the Annual Fund that ensures the continued success of our programs and the maintenance of our heritage campus. 
To register, please click here.
Enquiries: membershiphk@asiasociety.org or call 2103 9505. 
RATES INCLUDE:
Return economy flights including taxes by Royal Brunei Airline (Package without flight or upgrade to business class is available, please enquire with membershiphk@asiasociety.org)
All standard accommodation at a local boutique hotel closest to the festival site in the city center
Airport transfers
All meals during the tour apart from July 8 which is a free and easy day
Up to 2 soft drinks, local beer or house wine during meals
All sightseeing as stated in set itineraries, including entrance tickets, guided tours, workshops
Air-conditioned transportation for all sightseeing tours
Wi-Fi available in hotel on complimentary basis
RATES EXCLUDE:
Optional activity on July 8 to have hands on session to bake three traditional cakes of Kuching, dinner at the traditional malay village with food demonstration or a visit to the local community market
Any items of a personal nature such as laundry, telephone calls and gift purchases
Extra optional activities
Medical services, travel insurance of all kinds or visas fees
Cancellation by Asia Society Hong Kong Center
In the event that we do not have ten paying clients signed up with payment for the itinerary by June 18 2019, the trip will be cancelled and the total amount paid (including donation) will be refunded.
Event Details
Thu 04 Jul 2019 - Tue 09 Jul 2019
2:55 - 1:35 p.m.
Early Bird Special (before May 18, 2019): HKD7,500 (single), HKD6,500 (double); Regular: HKD10,000 (single), HKD9,000 (double)

Add to Calendar
20190704T065500
20190709T053500
UTC
Asia Society: Rainforest Fringe Festival 2019: Kuching, Sarawak, East Malaysia
---