Primavera - Spring Dinner
VIEW EVENT DETAILS
Spring Dinner Celebration at Asia Society Hong Kong Center
Drinks reception: 6:30 pm
Dinner and performance: 7:30 – 9:30pm
Asia Society Hong Kong Center invites you to a special dinner program that celebrates spring with an Italian twist.
Salute to 500 years of Italian presence in this part of the world over an exquisite menu of Italian culinary delights, and a cultural presentation featuring special appearances of world renowned tenor Warren Mok and soprano Joyce Wah-Sheung Wong, that takes a contemporary Asian look at the splendors of Italian art.
---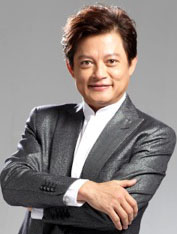 A Hong Kong Chinese tenor with a distinguished international career, Warren Mok holds a Master of Music degree from Manhattan School of Music in New York City and is one of the China's Three Tenors.
Warren Mok was presented with the Medal of Honour from the Hong Kong Government in 2011 and World Outstanding Chinese Award in 2010. And in 2008, he was also awarded Cavaliere dell'Ordine della Stella della Solidarietà Italiana (Knight of the Star of Solidarity of Italy) from the Government of Italy, Chevalier dans l'Ordre des Arts et des Lettres (Knight of the Order of Arts and Letters) from the French Government. All awards honour his contribution to bring the cultural exchanges between Hong Kong, Italy, France and China.
Since his European début in 1987 at the Deutsche Oper Berlin, Mok has been making frequent guest appearances throughout the world, including Deutsche Oper Berlin, Paris Opera, Teatro dell'Opera di Roma, Opera Australia in Sydney Opera House, Teatro di Bologna Comunale, Teatro Carlo Felice Genova, Teatro Maggio Musicale Fiorentino, Opera de Nice, Opera de Lyon, Teatro Colon in Buenos Aires, The Netherlands Opera, Leipzig Opera, Royal Danish Opera, Teatro di San Carlos Lisbon, Seattle Opera, Bolshoi Theatre, Warsaw Opera, Teatro Lirico di Cagliari in Italy, ABAO Bilbao, Opera Ireland, Teatro di Palma di Mallorca, Nancy Opera France, Bergen Opera Norway, Latvian National Opera, Lithuanian National Opera, Orlando Opera Florida, Hawaii Opera Theater, concert halls in New York's Carnegie Hall, London's Royal Albert Hall, Berlin Philharmonie, Vienna Musik Verein, Tokyo Suntori Hall, Seoul, Prague and Zurich.
He has performed in many festivals including Vienna, Wiesbaden, Athens, Martina Franca (Italy), Arles (France), Track (Lithuania), Poland, New Zealand, Seoul Arts Centre, Beijing Music Festival, Shanghai International Arts Festival, Singapore Arts Festival, Hong Kong, Macau International Music Festival, and Taiwan. His operatic repertoire exceeds 60 roles including Calaf (Turandot), Cavaradossi (Tosca), Rodolfo (La Bohème), Don Jose (Carmen), Riccardo (Masked Ball), Radames (Aïda), Duke (Rigoletto), Alfredo (La Traviata), Don Carlos, Romeo, Faust, Werther, and many others.
In recent years, Mok has been very active in Asia, not only as a singer, but also as a producer. He has been the Artistic Director for Macau International Music Festival from 2000 and has brought the festival to a world-class high standard. He is the Founder and Artistic Director of Opera Hong Kong. He has produced many great performances of operas and concerts in Macau and Hong Kong and won praise from the public and critics alike. He is an advisor for the Shanghai Opera House, Shanghai Symphony, China National Opera House, Beijing Music Festival. He produced and sang in Roméo et Juliette, Carmen, La Bohème, Otello, The Magic Flute, La Traviata, Madame Butterfly, and in Shanghai International Arts Festival and Beijing Music Festival. Most recently he has appeared frequently in the National Centre for Performing Arts in Beijing. He is also an active promoter of Western operas and music in China and Asia.
The Guardian, a London newspaper, observed that "His technique is rock solid, with beautiful even timbre, and an engaging enthusiasm on stage; ringing top notes were attacked and held in rock-like Pavarotti vein." And George Loomis, a commentator from Opera magazine, described his performance as follows: "Warren Mok seems to have modeled his performance on that of La Scala's Raoul, Franco Corelli, and comes amazingly close to the ideal. Suffice it to say that Mok has a ringing, rather baritonal timbre and pours forth tone generously. His Raoul is a visceral experience not least for its secure, expansive high notes…"
In 2011, he produced and sang in a world premiere opera, Dr. Sun Yat-sen, by Opera Hong Kong, Tosca in West Palm Beach Opera and Guangzhou Opera House, Francesca da Rimini in Teatro Verdi Triete, Die Fledermaus and The Chinese Orphan at National Centre for Performing Arts of China, and Turandot in Seoul Arts Centre.
In 2012, Mok joined the China's Three Tenors world tour together with Dai Yuqiang and Wei Song with cities and events including New York, London Olympics 2012, Edinburgh, Cologne, Hong Kong, Macau, and cities in China. It aimed to promote Chinese culture to the world. In November 2012, in celebration of the 100th anniversary of The Royal Variety Performance, China's Three Tenors were invited to sing for the Queen and were highly praised. In March, he introduced The Chinese Orphan, an original production of National Centre for Performing Arts of China (NCPA), to Hong Kong audiences.
In 2013, he has sung Carmen and The Flying Dutchman in NCPA Beijing, Tosca in TianJin Opera House, and made numerous concert and TV appearances in China.
In 2014, He will make his debut as Dr. Sun Yat-sen in Santa Fe Opera USA and sing Norma, Carmen, and La Traviata in NCPA Beijing. He will sing Mahler's Song of the Earth with the Shanghai Symphony under Yu Long and will produce Faust and Salome with Opera Hong Kong. 
---
Hailed by the South Florida Classical Review for her "sweetly sung portrayal of Suor Genevieffa," opera signer Joyce Wah-Sheung Wong made her professional debut as Barbarina in Opera Hong Kong's production of Le Nozze di Figaro. This performance was followed by Harry in Albert Herring at Intermezzo Young Artist Program, and as Yvette (Gigi u/s) in her equity debut in Miss Saigon at The Media Theater, Philadelphia.
During Le French May Arts Festival 2008 in Hong Kong, she performed alongside world-renowned mezzo-soprano Denyce Graves in Werther as Sophie, confirming her versatility as an artist of the stage. Most recently she has appeared in Don Carlo as "Voice from Heaven"; as Suor Genevieffa in Suor Angelica with Miami Lyric Opera; and as Belle in Disney's Beauty and the Beast, a portrayal in which the South China Morning Post succinctly described as "brave with a confident voice to match."
Enthusiastic to expand creatively, Wong performed Pamina in Die Zauberflöte in Seoul in 2009. Followed by singing Papagena in Opera Hong Kong and Norwegian Opera's joint production, Die Zauberflöte, scheduled to begin first in Hong Kong and then in Beijing's National Centre for the Performing Arts. In 2010, Wong sang Pousette in Manon with Opera Hong Kong in Le French May. She was also a featured soloist in Shanghai Expo's Hong Kong Week.
In Dr. Sun Yat-Sen, a new opera commissioned by Opera Hong Kong, Wong played Lu MuZhen to rave reviews: "Her emotions and intents… was the most touching and dramatically potent moment in the opera and superbly performed." She continued her season in HK Arts Festival's June Lovers by Angel Lam, and Frasquita in Carmen.
She has won third place in Yokohama International Music Competition. Wong is a graduate of Westminster Choir College and Boston University.
*Please click here to download the registration form.
Cultural Partner     
With the support of     
Project Partner
Carey Ramos and
Coco Bentley
Event Details
9 Justice Drive, Admiralty, Hong Kong
HK$50,000 Corporate Table(s) of 10; HK$40,000 Individual Table(s) of 10; HK$4,000 One Seat (member); HK$5,000 One Seat (non-member); HK$4,500 Purchase of two or more seats (non-member)

Add to Calendar
20140321T103000
20140321T133000
UTC
Asia Society: Primavera - Spring Dinner
9 Justice Drive, Admiralty, Hong Kong
---