Mongolia and the Silk Road
VIEW EVENT DETAILS
Evening presentation by Carl Robinson, author
Musical performance by Khusugtun, Mongolian ethnic musicians and Tsogtsaikhan Sosorburam, "Long Song" singer
Drinks reception: 6:30 pm
Performance and Presentation: 7:00 pm
Close: 8:30 pm
The vast Mongol Empire created by Genghis Khan in the 13th century is certainly well-known. But Mongolia's much longer links with the famous Silk Road are often overlooked or ignored by historians. Despite its seeming remoteness and cultural differences, Mongolia has links with the 6500 kilometer-long trading route linking East and West dating back to the first millennium BC. Mongolian expert Carl Robinson, author of Mongolia: Nomad Empire of Eternal Blue Sky, will discuss the origin and history of those connections in the many centuries before the Mongol Empire inaugurated the golden age of trade known as Pax Mongolica when, as a Turkic historian describes, "a young virgin with a tray of gold on her head" could travel unmolested from the Pacific to the Mediterranean and the first Europeans, including Marco Polo, made their way eastwards. The lecture will be complemented by musical performances by Khusugtun, a group of Mongolian musicians who will introduce traditional music passed down from their nomadic ancestors, and renowned "long song" singer Tsogtsaikhan Sosorburam.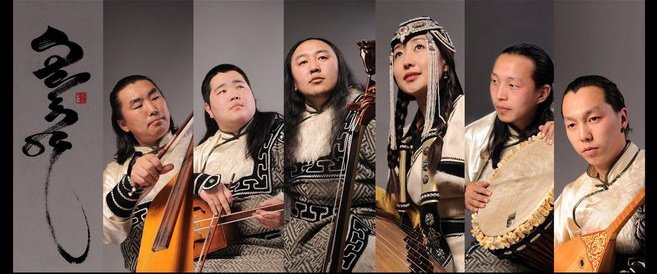 Khusugtun or "nomads," is a distinctive group of Mongolian musicians whose goal is to share with the world its heritage and culture from thousands of years. They will introduce the nation's unique throat singing and traditional music which have been passed down from their nomadic herder ancestors from the beautiful Mongolian Steppes. The group has received numerous accolades including the Grand Prix at the "Mongolian Hoomii" International Symposium and Festival in Ulaanbaatar, Mongolia and the Gold Medal for A capella, Delphic III International Cultural Olympics, Jeju, Korea. They were also voted BBC radio "World Routes'" favorite group and performance in 2010, and performed at the Royal Albert Hall, London in 2011.
Tsogtsaikhan Sosorburam is a renowned "long song" singer. A central element of the traditional music of Mongolia, the "long song" genre is so called because each syllable of text is extended for a long duration. A four-minute song may only consist of ten words. UNESCO declared the Mongolian Long Song one of the Masterpieces of the Oral and Intangible Heritage of Humanity in 2005. Born in Dund Gobi province, she studied long song singing at the Culture and Art University and received her masters degree in folk art from there. She has had numerous solo and joint performances including her "Harmony of Hearts" country tour and "Under the Sun of Graceful Universe" solo concert.
Carl Robinson has lived an extremely nomadic life. He grew up in the Belgian Congo and then, starting with a year as an exchange student at the Chinese University of Hong Kong in 1963, spent a dozen years in Asia, mostly in war-time South Vietnam as an aid worker and then correspondent with the wire service The Associated Press, escaping Saigon just before its fall in April 1975. After a couple years in New York, Robinson moved permanently to Australia, where he was Newsweek correspondent through the 1980s, wrote a much-acclaimed guide to Australia, operated a highly-successful Vietnamese restaurant, worked as media manager for the 2000 Sydney Olympics and was a consultant on the film The Quiet American.
Event Details
9 Justice Drive, Admiralty, Hong Kong
Buy Tickets
$200 Asia Society members; $250 non-members

Add to Calendar
20140318T103000
20140318T123000
UTC
Asia Society: Mongolia and the Silk Road
9 Justice Drive, Admiralty, Hong Kong
---