Islamic Art and Calligraphy:Master Class with Golnaz Fathi
VIEW EVENT DETAILS
Roaring Guardians: The Mari-Cha Lion and Other Traditional and Contemporary Asian Art Educational Offerings
Saturday, February 11, 2017: 2:00 - 6:00pm and
Sunday, February 12, 2017: 2:00 - 6:00pm
Registration: 15 min before workshop
Age: 16 or above
Language: English
The art of calligraphy is one of the reputable and famous art in the Islamic region including Iran. Most of the handwritten books of Iran, such as the Holy Qoran and poems, have been recognized as precious artistic works because of their graceful and delicate calligraphy. No other country like Iran have various calligraphy to enrich and beautify earthen-ware, vessels and their historic buildings. Without the decorative calligraphy, the Iranian arts is not completed nor perfect.
The calligraphy works of virtuous Iranian calligraphers are preserved as precious artworks in museums and private collections. The art of calligraphy in Iran has a long history, which includes the opposition of writing in Iran and its process of evolution from the ancient times till the Islamic period, and present time.
In this master class, Iranian artist Golnaz Fathi will give a brief knowledge and the history of Islamic calligraphy from Kufic till today, and the artistic use in contemporary art.
Fathi will demonstrate the usage of brush in Iranian calligraphy. Participants will learn the alphabets of the new language and write their name with brush in this new language.
Under the artist's instruction, they will learn to write their names as tradition Iranian calligraphy, and make it abstract by using the brush freely to make different compositions with their names.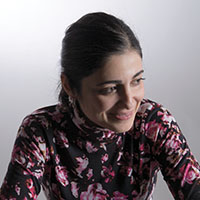 Golnaz Fathi is a trained calligrapher. She has the ability to skillfully transform known language into form and composition. Having discovered calligraphy while studying graphic design at Tehran's Azad University, she later left to train at the Calligraphy Association of Iran for six years. Fathi was the first woman to win an award for Ketabat, a distinct genre of calligraphy. She soon tired of the discipline's rules and regulations and thus created a new form of expression in her paintings: an imaginary language deeply rooted in Persian tradition while simultaneously hinting at a social renaissance. Her paintings carry traces of meaning that have no known coded alphabet. The strength of her work stems from the drive to express emotions that cannot be pinned down into words; Fathi's works succeed where language fails. She has been the subject of solo shows in New York, Shanghai, London, Beirut, Hong Kong, Paris and Dubai amongst others. Some of these include Dance Me to the End of Night, October Gallery, London (2014); Marked: Contemporary Takes on Mark-Making, Sundaram Tagore Gallery, New York and Hong Kong (2014); The Living Road, Pearl Lam Gallery, Shanghai, China (2013); Falling Leaves, The Third Line, Dubai, UAE (2013). Fathi has been exhibited in a number of group shows, including Frontier reimagined, Museo di Grimani, Venice biennale 2015, Writing non writing, Museum of Contemporary Art, CAA, Hangzhou, China 2015, The Other Half of Iran, Islamic Arts Museum, Malaysia (2013); World Stories: Young Voices, Brighton Museum, UK (2012); The Art of Writing, Art Forum of Wiesbaden, Germany (2011); Iran Inside Out, Chelsea Museum, New York (2009) and participated in the International Woman Artists' Biennial, South Korea (2009). She was also part of Word Into Art exhibition at the British Museum (2006). Fathi received the Young Global Leader Award in 2011.
Her works are housed in the collections of the Metropolitan Museum, New York; Asian Civilization's Museum, Singapore; Brighton & Hove Museum, England; The British Museum, London; Carnegie Mellon University, Doha, Qatar; Museum of Islamic Art, Malaysia; Devi Art Foundation, New Delhi, India and The Farjam Foundation Dubai.
Sponsor

Event Details
Sat 11 Feb 2017 - Sun 12 Feb 2017
2 - 6 p.m.
Asia Society Hong Kong Center, 9 Justice Drive, Admiralty
Register Now
Free admission. Online registration is required.
20170211T140000 20170212T180000 America/New_York Asia Society: Islamic Art and Calligraphy:Master Class with Golnaz Fathi

For event details visit https://asiasociety.org/hong-kong/events/islamic-art-and-calligraphymaster-class-golnaz-fathi Asia Society Hong Kong Center, 9 Justice Drive, Admiralty