The Eye of the Beholder: French and British Literary Views of Hong Kong and Macau
VIEW EVENT DETAILS
Evening Discussion with authors Lawrence Osborne and Olivier Lebé, moderated by Perter Gordon, Editor
Drink reception at 6:30 pm
Discussion at 7:00 pm
Close at 8:00 pm
Does our part of the world look different when viewed through different national, cultural and linguistic spectacles? Join us for a literary "entente cordiale" with two acclaimed writers. Lawrence Osborne, author of newly-released and critically-acclaimed novel, "The Ballad of a Small Player", will talk with French author Olivier Lebé, whose novel "Repulse Bay" won the 2013 Prix du Premier Roman.
Osborne's novel tells of a British lawyer known as "Lord" Doyle who is gambling away an embezzled fortune at the baccarat tables in Macau. He is saved by Dao-Ming, who as a result loses herself. Lebé's is a story of glamour and high-society, it tells of a French expat who meets, and falls in love with, a Hong Kong movie star on Repulse Bay beach. The session is moderated by Peter Gordon, editor of The Asian Review of Books.
Lawrence Osborne was born in England, and currently lives in Bangkok. He is the author, most recently, of the novels "The Forgiven" and "The Ballad of a Small Player", and of a travelogue "The Wet and the Dry", which was hailed by Dwight Garner of the New York Times as one of the Best Ten Books of 2013. His short story, "Volcano", was included in Best American Short Stories of 2012. "The Forgiven, meanwhile", is currently being adapted for the big screen and was called one of the Best Books of the Year in 2012 by both Lionel Shriver in The Guardian and by the Economist - it was critically acclaimed on both sides of the Atlantic. "The Ballad of a Small Player" appeared in 2014 and was immediately hailed by the London Sunday Times as the work of "someone remarkable and unexpected - lingering between the shadowy, post-colonial penumbra of Graham Greene and the brave new horizons of a globalised world - (Osborne) has emerged fully armed with a formidable, masterly grip on the British novel...Combining his sensitivity to old, vanished Britain with his brilliant, nomadic eye for the glittering tarnish of the modern world, Osborne has arrived late, but as a thrilling, exceptional talent in British fiction's landscape."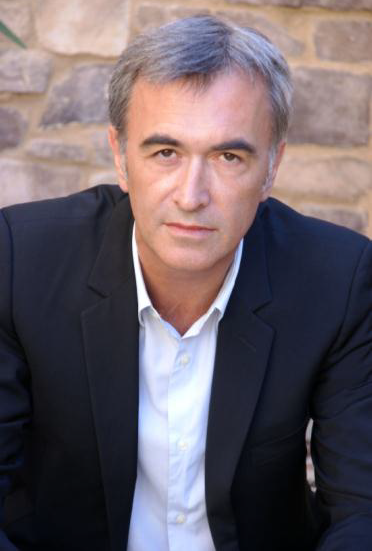 Olivier Lebé was born in Paris in 1963. With a PhD in Art History from the Sorbonne, he teaches art history and is curator of a Parisian contemporary art gallery. Returning to his former passion for music, he wrote music for several feature films, composed and produced music for various TV productions, commercials and performing artists. His fascination for Hong Kong led him to write his first novel, "Repulse Bay", winner of the First Novel Award, 2013. He lives in Los Angeles.
An excerpt of "Repulse Bay" in translation from French is available at http://www.asianreviewofbooks.com/?ID=1897 .
Special thanks to
Event Details
9 Justice Drive Admiralty, Hong Kong
Buy Tickets
$200 Asia Society members; $250 Non-members; $200 Harvard Club of Hong Kong

Add to Calendar
20140721T103000
20140721T120000
UTC
Asia Society: The Eye of the Beholder: French and British Literary Views of Hong Kong and Macau
9 Justice Drive Admiralty, Hong Kong
---