Eliminating Poverty in Rural China: Wishful Thinking or Achievable Goal?
VIEW EVENT DETAILS
Jack Tang Memorial Lecture Series
Evening Panel Discussion
Drinks Reception 5:30pm,
Dialogue 6:00pm,
Close 7:00pm
China plans to lift all of its poor out of poverty by 2020. With 70 million people in rural areas living below the poverty line of less than 2,300 yuan annual income, President Xi Jinping has pledged that with concrete and effective government action, China can lift 10 million people out of poverty annually between 2016 and 2020. Yet he cautioned that eliminating rural poverty was the toughest challenge in building a "moderately prosperous society". While the government plans to improve rural infrastructure including roads, access to water, power and the Internet, it has also committed to better education, healthcare and public services along with a social services system for "left-behind" children, women and the elderly. Is the target to eliminate rural poverty by 2020 realistic? What are the key factors in eradicating rural poverty? How important is education in lifting people out of poverty? How can reform of the "hukou" household registration system improve conditions for the rural population? For those left behind, what assistance can they receive?
---
The Jack Tang Memorial Lecture Series pays tribute to Dr. Jack Tang, a founder of the Asia Society Hong Kong Center, and honors his legacy as a prominent business leader, educator and philanthropist. Dr. Tang believed strongly in providing opportunities for the next generation and was an ardent supporter of numerous education initiatives in the US and China.
---
PANELISTS
Shareen Ahmed Farhad is Chief Representative of the Badi Foundation's Beijing Representative Office, where she oversees the Institutional Capacity Building Program, which assists individuals from rural and semi-rural communities to establish grassroots, community-based organizations and carry out programs to empower and build capacity in rural women and youth. The Badi Foundation works with 30 grassroots agencies empowering 8000 women and youths each year, and collaborates with national-level agencies in government and civil society. Ms. Farhad previously worked as an associate in the New York and Hong Kong law offices of Debevoise and Plimpton LLP and is a graduate of Harvard Law School.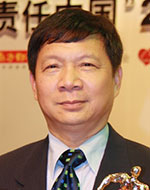 Howard Liu has been China Program Director at Oxfam Hong Kong since 2005. He has more than 20 years' experience in poverty alleviation and environmental protection at international NGO organizations and government agencies. Before joining Oxfam, Dr. Liu was Greenpeace China's Executive Director from 2003 to 2005 and Campaign Director between 1999 and 2002. He once was a governmental official in Guangdong Provincial Bureau of Environmental Protection between 1990 and 1994. Dr. Liu received his PhD degree in Geography from the University of Hong Kong in 1998.
Lanying Zhang is Executive Deputy Dean of the Institute of Rural Reconstruction of China at Southwest University in Chongqing, which researches and provides policy recommendations on rural development in China as well as train students in rural reconstruction. Dr. Zhang began her career in the field of social development work at the International Institute of Rural Reconstruction, where she developed, managed and implemented project, training/workshops and study programs in the area of sustainable agriculture, environmental education, health education and participatory development approach promotion for poverty reduction. Dr. Zhang received her bachelor's degree at Peking University and completed her master's study of the Filipino language at the University of the Philippines.
 
Yuen Chan is Senior Lecturer at the Chinese University of Hong Kong's School of Journalism and Communication and Assistant Dean (Communication) at the Faculty of Social Science. She teaches English journalism to undergraduates and oversees the school's English language journalism practicum. Prior to teaching, she worked for more than a decade as a journalist, columnist, anchor and presenter for English print, television and radio news in Hong Kong. Ms. Chan left Hong Kong in 2003 to become a correspondent, based first in Shanghai and then Beijing. She has produced work for the BBC World Service, CBC, Radio National Australia, KQED and CNN International among others. (Moderator)
 
Event Details
5:30 - 7 p.m.

Asia Society Hong Kong Center, 9 Justice Drive, Admiralty
Buy Tickets
Asia Society members/ Friends of A Drop of Life HK$200; Non-members HK$250
20160312T173000 20160312T190000 America/New_York Asia Society: Eliminating Poverty in Rural China: Wishful Thinking or Achievable Goal?

For event details visit https://asiasociety.org/hong-kong/events/eliminating-poverty-rural-china-wishful-thinking-or-achievable-goal Asia Society Hong Kong Center, 9 Justice Drive, Admiralty