Economic Challenges Facing Asia and the World: Looking Ahead
VIEW EVENT DETAILS
Evening Discussion
Drinks Reception at 6:30 pm
Discussion at 7:00 pm
Close at 8:00 pm
Global economic growth of 3.75 percent is expected this year, rising to 4 percent the following year, largely due to positive developments among the advanced countries. Yet the emerging markets that kept the global economy afloat during the crisis are weakening, with their economic cycles turning and growth slowing. What are the principal economic challenges facing Asia and the world in the decades ahead? What will growth look like? Will emerging economies continue to lead global expansion or will they fall into the 'middle income trap'? Will income inequality continue to widen? Will poverty be substantially reduced by the end of the century? Is capitalism still the best system? Are the ideas of the Chicago School of Economics still relevant? In this inauguration event of the Chicago Economics Society in Asia, Chicago Booth School of Business professor Kevin Murphy and University of Hong Kong professor Richard Wong will discuss with Ronnie C. Chan, Co-Chair of the Asia Society the economic challenges facing the region and the rest of the world.
Kevin M. Murphy is the George J. Stigler Distinguished Service Professor of Economics at the University of Chicago Booth School of Business. He is also the first professor at a business school to be chosen as a MacArthur Fellow. Prof Murphy is also a faculty research associate for the National Bureau of Economic Research. He primarily studies the empirical analysis of inequality, unemployment and relative wages as well as the economics of growth and development and the economic value of improvements in health and longevity. Prof Murphy is also the author of two books and many academic articles. He received his PhD from the University of Chicago.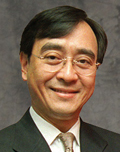 Richard Wong is Professor of Economics and the Philip Wong Kennedy Wong Professor in Political Economy at the University of Hong Kong, and Director of the Institute for China and Global Development. He was Founding Director of the School of Business, Founding Dean of the Faculty of Business and Economics, and Deputy Vice-Chancellor and Provost. His research focuses on the political economy of public policy (property, housing, labor and population) and regional economic development in China. Prof Wong was awarded the Silver Bauhinia Star by the Hong Kong Government for his contributions to education, housing, and industry and technology. He received his PhD in economics from the University of Chicago.
Ronnie C. Chan is Chairman of Hang Lung Properties. He is also Co-Chair of the Asia Society and Chairman of the Asia Society Hong Kong Center. In addition, he serves as Chairman of the One Country Two Systems Research Institute and the Better Hong Kong Foundation, Convenor of the Hong Kong Development Forum, Governing Board member of the China-United States Exchange Foundation, Advisor and former Vice President of the China Development Research Foundation in Beijing. Mr Chan is Director of the Board of the Peterson Institute for International Economics, member of the Council on Foreign Relations. He holds an MBA from the University of Southern California.
 
Event Details
9 Justice Drive, Admiralty, Hong Kong
Buy Tickets
$200 Asia Society members/University of Chicago alumni/ GOGU members; $250 Non-members

Add to Calendar
20140901T103000
20140901T120000
UTC
Asia Society: Economic Challenges Facing Asia and the World: Looking Ahead
9 Justice Drive, Admiralty, Hong Kong
---