Dreaming Against the World
VIEW EVENT DETAILS
Evening Screening and Discussion
Drink Reception: 6:30pm
Screening: 7:00pm
Discussion: 7:35pm
Close: 8:30pm
While imprisoned during China's Cultural Revolution, the artist Mu Xin risked his life writing and painting in solitary confinement. It was through his daily artistic meditations that he survived, while so many others did not. After immigrating to New York in the early 1980s, Mu Xin continued his ink painting and calligraphy practice in obscurity for close to 20 years before being discovered at the age of 74 to great critical acclaim. Filmed on location in China and New York, Dreaming Against the World is the story of Mu Xin, one of the most original and under-recognized contemporary Chinese artists of the past century, and his incredible commitment to his artistic vision and integrity. A Ropa Vieja Films and Half Mile Hill Production. Post-screening discussion with film producer Frederick L. Gordon, PhD candidate Ouyang Kaibin, HKU professor Aihe Wang and moderated by Orientations magazine's publisher, Yifawn Lee.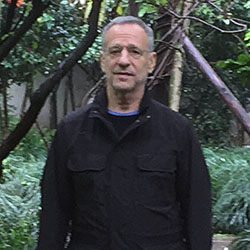 Frederick L. Gordon is a collector of Chinese modern and contemporary ink painting. When living in Shanghai in 2010, he collaborated with the filmmakers and Chen Danqing to produce this documentary about Mu Xin, one year before the artist passed away. Gordon worked in Wall Street in both New York and San Francisco from 1969-2002 prior to moving to China.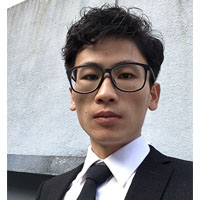 Ouyang Kaibin (歐陽開斌) is currently a PhD candidate in the School of Chinese, The University of Hong Kong. He received his bachelor's degree in English studies from Tsinghua University in 2009, and his MPhil degree from the School of Chinese, The University of Hong Kong in 2011. Working in the field of modern Chinese literature, Ouyang's dissertation is devoted to the poet, writer and artist Mu Xin, with a particular interest in the dialoguing between Mu's late style and Chinese literary modernity, from the perspective of aestheticism.
Aihe Wang received her PhD in history and anthropology from Harvard University and has taught at Purdue University and the University of Hong Kong. Her publications include Cosmology and Political Culture in Early China (Cambridge University Press, 2000, 2006) and the Wuming Painting Catalogue (Hong Kong University Press, 2009). She was a member of the Wuming (No Name) painting group, active in Beijing 1973-81, and is currently writing a book on clandestine art and artist societies during China's Cultural Revolution.
Yifawn Lee is the publisher of Orientations, a magazine for collectors and connoisseurs of Asian art, and founder of Asian Art Hong Kong - an annual week-long festival that provides unique access to Asian art from the antiquities to the contemporary through seminars, gallery tours and special exhibitions. In 2014, she launched a Chinese-language edition of Orientations, Meichengzaijiu Orientations. Lee serves on the board of Liang Yi Museum. (moderator)
 
About the filmmakers:
Timothy Sternberg is the OSCAR®- and Emmy-nominated co-director, co-producer, and editor on Dreaming Against the World. He started his career working in the editing rooms of Francis Ford Coppola's American Zoetrope Studios in San Francisco while still in high school. After moving to New York, Sternberg has worked in positions as diverse as sound effects recorder on Nora Ephron's Sleepless in Seattle and Robert Benton's The Human Stain, re-editing the 1992 OSCAR®-winning Meditteraneo for U.S. release, script consultant for IFP and American Zoetrope, and music editing for Milos Forman's Goyas Ghosts and the OSCAR®-winning The Blood of Yingzhou District directed by Ruby Yang. In 2008, his directorial debut Salim Baba was nominated for an OSCAR® for Best Short Documentary. After airing on HBO, Canal+ and EBS (Korea), it received an Emmy Nomination for Outstanding Culture Programming. He co-directed HBO's El Espiritu de la Salsa, which premiered at the 2010 Tribeca Film Festival. He recently adapted Hanif Kureishi's novella Gabriel's Gift into a feature script as well as editing director Brendan Toller's feature doc Danny Says, which recently premiered to great acclaim at the 2015 SXSW Film Festival.
 
Francisco Bello is an OSCAR® and three-time Emmy Nominee. He studied at the Cooper Union School of Art, and has worked in the post-production of films by Kevin Smith, Michael Moore, and George Butler, among others. Bello launched Ropa Vieja Films with the 2008 OSCAR® nominated Salim Baba, which he shot and produced in Kolkata, India in four days. He later produced and edited War Don Don, which won the Special Jury Prize at the 2010 SXSW Film Festival, and for which he was awarded the first Karen Schmeer Award for Excellence in Documentary Editing. War Don Don was nominated for two 2011 Emmys in the categories: Outstanding Coverage of a News Story (Long Form) and Outstanding Editing. In 2012, Francisco completed his work as writer, producer, editor of Code of the West, which premiered at the 2012 SXSW Film Festival. He spent most of 2012 editing Best Kept Secret (POV broadcast, 2013 Gotham Audience Award Nomination, 2014 Peabody Award winner) and Our Nixon (2013 Rotterdam, SXSW, New Directors New Films + CNN broadcast), for which he won his second Karen Schmeer Award for Excellence in Documentary Editing. 
Co-presented with:
Event Details
6:30 - 8:30 p.m.
Asia Society Hong Kong Center, 9 Justice Drive, Admiralty
Buy Tickets
$200 Asia Society members / Orientations magazine subscribers; $350 Non-members
20170118T183000 20170118T203000 Asia/Hong_Kong Asia Society: Dreaming Against the World A gripping film about Mu Xin, one of the most under-recognized contemporary Chinese artists of the past century.

For event details visit https://asiasociety.org/hong-kong/events/dreaming-against-world Asia Society Hong Kong Center, 9 Justice Drive, Admiralty
---