Devotion And Patronage: Why And How Were Buddhist Monasteries Built?
VIEW EVENT DETAILS
Buddhism in Contemporary Society Lecture Series
Free admission; registration required.
Talk by:
Professor Puay-Peng Ho, Director, School of Architecture, The Chinese University of Hong Kong
The majority of people appreciate Buddhist sculptures for their beauty of form and serenity of spirit. However, there are several underlying questions to be asked about the sculptures presented in the Transforming Minds: Buddhism in Art exhibition, of which The Robert H.N. Ho Family Foundation is the presenting sponsor — Where were they originally housed? How were they commissioned? And What was the motive behind the commissioning of these sculptures?
Similar questions can also be asked of Buddhist monasteries. Professor Puay-Peng Ho will examine China in the 6th-10th centuries and present a broad overview of the patronage of monasteries and sculptures by different levels of society. He will highlight the link between various forms of Buddhist architecture, images, the drivers for commissioning them, and delineate the intersection between faith, devotion, patronage and art.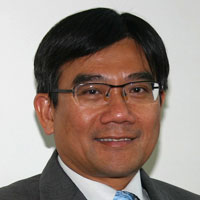 Professor Puay-Peng Ho is Director of the School of Architecture at the Chinese University of Hong Kong (CUHK), and has been Chairman of the Department since 2007. He is also involved with the Centre for Architectural Heritage Research (CAHR). A locally and internationally renowned researcher in the area of Chinese architectural history, Buddhist art and architecture, the study of Dunhuang and vernacular Chinese architecture, Professor Ho has published widely on the topic. Professor Ho was also a director of the China Heritage Foundation, an organization involved with the preservation and conservation of vernacular buildings in southern Anhui province; and Consultant to the Tibet Heritage Fund projects, which organizes field trips for students to conduct urban research in the Lhasa city center. At CUHK, Professor Ho has also served in numerous capacities, including University Dean of Students (2005-2009), Dean of Students in New Asia College (2000- 2004) and is Honorary Professor in the Department of Fine Arts (since 2002).
Presenting Sponsor


Corporate Sponsor



Co-presented with

Event Details
6:15 - 8 p.m.
9 Justice Drive, Admiralty, Hong Kong
Buy Tickets
Free admission; click below in order to register.

Add to Calendar
20120222T101500
20120222T120000
UTC
Asia Society: Devotion And Patronage: Why And How Were Buddhist Monasteries Built?
9 Justice Drive, Admiralty, Hong Kong
---