Dance: The Nrityagram
VIEW EVENT DETAILS
India by the Bay 2016 Program
Registration 6:45pm,
Performance 7:00pm
The Nrityagram Dance Ensemble is regarded as one of the foremost dance companies of India. Although steeped in and dedicated to ancient practice, Nrityagram dancers are also involved in carrying Indian dance into the twenty-first century. Their first full-length production, Sri – In Search of the Goddess, was made possible by the Doris Duke Fund for Dance of the National Dance Project, as was Sacred Space.
The newest production, Pratima: Reflection has been commissioned by the Joyce Theater's Stephen and Cathy Weinroth Fund for New Work.
ODISSI is characterized by sensuousness and lyricism. With movements that reflect the motifs of Orissa temple sculpture, it captures drum rhythms, melodies, as well as the poetic meaning of songs taken from the vast canon of Oriya music. It speaks of love and union between human and divine, transporting viewers to enchanted worlds of magic and spirituality.
---
February 24 – March 1, 2016
The Festival co-presented by Asia Society Hong Kong Center and Teamwork, is a collaboration and celebration, focusing on India's performing arts, cultural dynamism and contemporary offerings of literature, music and theater. After the success in 2015, the second edition of the Festival will offer a wider range of programming that brings India's cultural dynamism to Hong Kong that reflects India's artistic depth and diversity. The Festival is dedicated to promoting mutual understanding and strengthening partnerships between the two countries.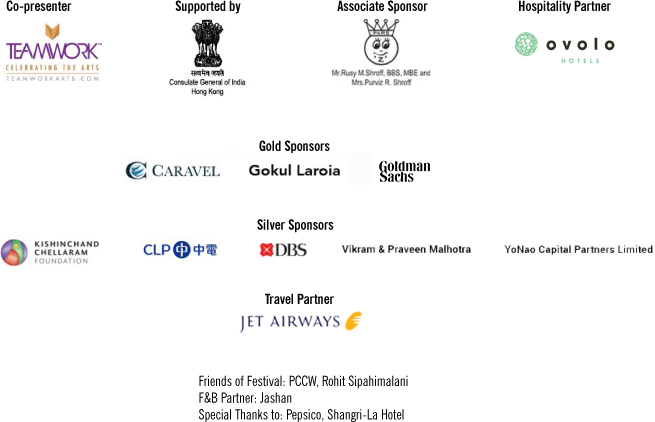 Event Details
6:45 - 9 p.m.

Asia Society Hong Kong Center, 9 Justice Drive, Admiralty
Buy Tickets
Asia Society members HK$200; Non-members HK$250
20160228T184500 20160228T210000 Asia/Hong_Kong Asia Society: Dance: The Nrityagram

For event details visit https://asiasociety.org/hong-kong/events/dance-nrityagram Asia Society Hong Kong Center, 9 Justice Drive, Admiralty