Service Learning: Activating Afterschool Hours and Summertime
Afterschool programs are an ideal forum for building youth leadership and active citizenship on critical global issues. For decades, major youth organizations have focused on the elements of leadership: empathy towards others, a sense of responsibility, a clear understanding of the issues, careful research, public speaking and organizing skills. These programs provide the time, space, and community partnerships to help students successfully apply their global knowledge and skills in order to address the issues they care about most.
At OneWorld Now!, an afterschool program based in Seattle, high school youth study critical languages, such as Arabic and Chinese, and come together for regular leadership workshops on how to apply their language and cultural knowledge to take action locally on global issues.
OneWorld Now! has created a learning cycle to help youth achieve their global potential--throughout each activity and throughout the program. The elements--discovery, vision, action, reflection--are not a linear process but rather a cycle for contiuous learning. The framework aims to help youth connect their personal concerns with the actions that can make a difference: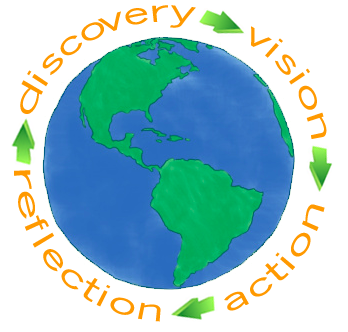 This process helps youth identify the issues they care about, develop a vision for what they want to change, and create an action plan to acquire and apply the skills they need to be successful in achieving their vision. In the OWN! program, this process takes the form of several leadership modules or workshops:
Personal leadership: Cultivating individual awareness of judgments and emotions
Social identity development: Balancing power differences and engaging in more equitable dialogue
Intercultural sensitivity: Being able to let go of what makes sense to you in order to understand what makes sense to others
Global citizenship: Understanding global interconnectedness between the local and global in the past, present, and future
Social entrepreneurship: Taking action to make change in our world
OneWorld Now! introduces new content on global issues to students through guest speakers and media. Next, youth participate in an experiential activity to help them gain firsthand knowledge of the issue and connect it to personal and community assets and resources. After the activity, youth reflect on two essential questions: Why is this important to me, to my communtiy, and to the world? And, how do we take action?
For OneWorld Now! youth, taking action takes many forms. Advocacy, fundraising, action planning, mobilizing, problem analysis, strategy mapping, constituency building, and coalition building are just some of the ways students are addressing local issues in ways that create global change.
For younger students, consider the series of learning experiences created by the staff from Good Shepherd Services at the The After-School Corporation (TASC) site in New York City's Public School 79 to help their 8-year-olds understand water conservation. First, the students learned that water is a finite and shared resource by comparing how much water a person uses in the United States compared to someone in a developing country. Then they joined the World Water Day March and walked a mile to experience firsthand how people in the world must adapt without access to clean running water. Finally, they translated this learning to their own practices about water conservation, and created projects to raise awareness and educate parents, teachers, and peers through posters and performances, including a rap about water.
Discussion question:
How has your afterschool program incorporated service learning? Please offer practical advice for others on the comment board below.