Opinions on Global Learning Reveal an Interesting Gap
The MetLife Foundation released its annual teacher survey, which reveals a surprising new gap.
A full 98% of educators and 99% of school principals believe that global competence is important for students' futures. Moreover, in an earlier MetLife study, teachers and principals believed that global competence is a very important factor that can improve student achievement.
Yet most of them also rate their students' knowledge of the world and communication skills rather dismally. In the same survey, students rate their teachers' ability to teach international affairs near the bottom of the list of what teachers know and can do.
The survey results underscore that there is a great demand for global learning, but little in ways of supplying students with the knowledge and skills they need for an interconnected future.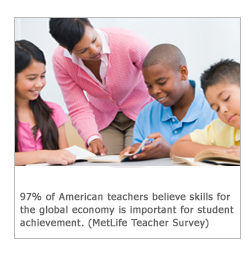 Tony Jackson of the Asia Society Partnership for Global Learning commented, "These findings challenge us to consider how every new opportunity to upgrade educators' knowledge and skills, such as the pending reauthorization of ESEA, can support their ability to develop  students' global competence."
Indeed, demand for greater international knowledge and skills go beyond corporate boardrooms and school campuses; they are echoed at the highest levels of government. President Barack Obama said, "In a 21st-century world where jobs can be shipped wherever there's an Internet connection, where a child born in Dallas is now competing with a child in New Delhi, where your best job qualification is not what you do, but what you know." The federal government and, increasingly, private industry are investing in upgrading the American education system.
"Teachers and school leaders know its critical, their students are hungry for the knowledge, we know how to support educators' learning, so the time to act is now," Jackson concludes.