2017 Conference Highlights
Read highlights from the 2017 National Chinese Language Conference, which took place in Houston, Texas, on April 6-8, 2017.
Saturday, April 8
(L to R) Marty Abbott, Ryan Wertz, Maquita Alexander, Kevin Shimota, Claudia Ross, Matt Coss, and Lucy Lee. (David Keith)
The final day of the 2017 NCLC saw students and teachers reflect on the evolution of Chinese language study and what keeps learners motivated.
Claudia Ross, former president of the Chinese Language Teachers Association, recalled when she first started studying Chinese more than 40 years ago. Back then, teaching was done with the assumption that learners would only use the language to read and do research. "There was no expectation that we would actually speak to Chinese people," she said.
Today, things have changed radically, and getting students to thrive in Mandarin requires looking beyond just the words on the page. Kevin Shimota, a U.S.-China Strong student ambassador, said that when he was studying in Beijing, he was determined to spend the bulk of his time with Chinese friends and not languish in the "comfort zone" of English-speaking expat circles. "You have to make promises to yourself and make goals," he said. "One of the best times you learn is when you're uncomfortable."
Marty Abbot, executive director of the American Council on the Teaching of Foreign Languages, added that this mindset is critical for both teachers and learners. "You have to be very comfortable being uncomfortable," she said.
Matt Coss, a former STARTALK student, remembered that when he was studying Chinese, he was often afraid to speak up when he didn't understand what was going on — something very common for language learners. But that fear dissipated when he started to realize that the teacher was often uncomfortable too. "You teachers do so many things," he said. "You're artists, cheerleaders, parents, singers, dancers, and babysitters, and you don't know if your lesson will get through. When students understand that you struggle with things and that you're just like them — not some inaccessible person behind a podium — they relax a bit more."
Coss added that he was able to stay motivated in his study because his teacher really tried to go beyond vocabulary and grammar and dig deep into the stories behind the language and how they affect the way people communicate in China. "I was so lucky to have a teacher who taught me not just words, but how to interact with people," he said. "At that time, I understood that language and culture are inseparable."
After reflecting on the ten years that NCLC has now been in force, the conference closed with a look ahead to the coming decade and next year's meeting in Salt Lake City, Utah. 
---
Friday, April 7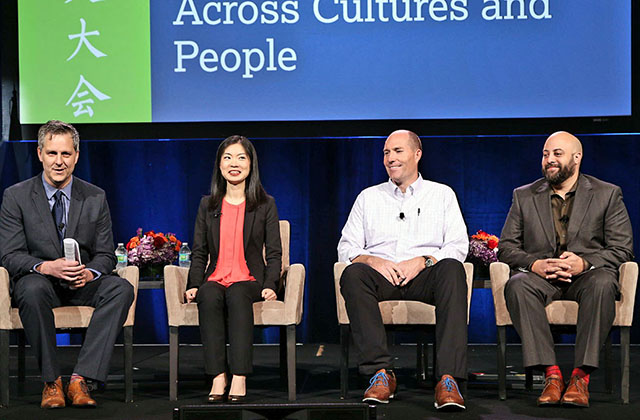 (L to R) Dan Washburn, Carrie Xu, Chad Lewis, and Rafael Stone speak at the 2017 National Chinese Language Conference. (David Keith)
From sports to politics, day two of the 2017 National Chinese Language Conference (NCLC) looked at different forms of engagement between China and the United States—spanning from the White House to the basketball court.
The first plenary of the day—"Sports as Ambassador Across Cultures and People"—featured individuals who have served as bridges between the United States and China through athletics. Chad Lewis, a former National Football League tight end, recalled learning Chinese as 19-year-old Mormon missionary in Taiwan, and how it ultimately shaped his athletic career. "The ability to speak Chinese opened a window in my brain that allowed me to learn football better," he said as he gestured to the teachers in the audience. "I look at all these people helping kids learn Chinese and it's really changing their lives. It's opening this gift, this power, that they don't even know they can have in their lives."
Pac-12 Conference Senior Manager Carrie Xu noted that China is broadening its view of the value of sports and learning a lot from the United States as it does so. China is realizing the economic potential, as well as noting how American universities combine academics and athletics to make students more well-rounded individuals. "In the past, sports in China was all about winning gold medals," she said. "But we now see that sports can be an important part of GDP and a part of people's everyday lives."
Americans have also started learning from Chinese sports figures—perhaps most notably basketball sensation and former Houston Rocket Yao Ming. Rafael Stone, general counsel of the Rockets, pointed to how likeable Yao is and how much he endeared many Americans to China. "There's obviously a danger in using one person as a representative of an entire country," Stone said. "But I think any country would be thrilled to have someone like Yao Ming represent them."
The second plenary session of the day featured speakers who've been witness to high level ties between the United States and China. Neil Bush, the son of former President George H.W. Bush and brother of former President George W. Bush, recalled first visiting China in 1975 as a 20-year-old college student. He said he was struck by how poor and uniform the society was, and how alien he was considered by the Chinese he met. But over the following four decades, as he's made more than 140 more trips to the country, he's been "amazed" at the progress—particularly as it is embodied by the educators at the NCLC.
"[In 1975], I could have never imagined coming into a ballroom in my hometown [of Houston] to see hundreds of faces born in China now providing education in our country and improving ties between our two nations," Bush said. "That would have been unimaginable 40 years ago."
The day was also filled with numerous, engaging workshops and sessions, and attendees met in the evening for a networking reception offered courtesy of WeChat.
---
Thursday, April 6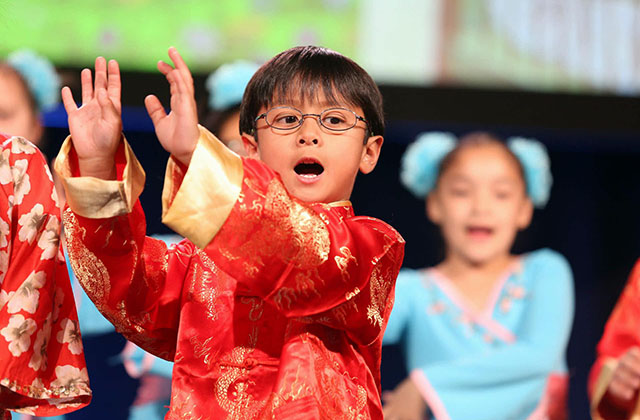 A local student sings at the opening of the 2017 National Chinese Language Conference in Houston. (David Keith)
As the presidents of the United States and China met in Florida on Thursday to begin working out some of the two nations' most contentious issues, a convening in Houston of 1,200 educators was helping to do the same in a more fundamental way.
"The most important meeting in the country today may still be this meeting," said Asia Society Co-Chair Ronnie Chan at the 2017 National Chinese Language Conference (NCLC). "Because we're dealing with issues in the longer term."
Celebrating its 10th year, the conference opened with bilingual songs from local Houston elementary school students and the New Silk Road Explorers under the theme "a decade of progress: how far we've come and where we can go."
Chan continued, saying that China and the U.S. being able to work together is becoming more critical by the day. "Never has there been such a time in human memory when the East and the West have had to co-exist as strong nations, as strong people," he said. "There's a need for mutual understanding, and the first place to start is obvious: learn each other's languages."
David Leebron, the president of Rice University, added that if the language teachers at NCLC could sit in on the meeting between Presidents Xi Jinping and Donald Trump, they might ask that they build bridges, not walls. "The world's problems will be solved by the ability of people from different backgrounds to be able to communicate and collaborate with each other," he said.
One of America's former presidents appeared to agree. In a letter to the NCLC, native Houstonian George H.W. Bush told attendees, "Your mission of educating the next generation of global citizens as to the importance of speaking Mandarin in order to enhance our U.S. bilateral relations abroad is more important today than ever before."