Documentary Film Series: Visions of a New China
September 25-October 29, 2011
Asia Society and Museum
725 Park Avenue
New York, NY 10021
China is undergoing the fastest economic growth and social transformation known in human history. In urban centers, a booming economy, an unfolding physical landscape and shifting demographics have created new and evolving realities. This documentary film series, focusing on urban life, explores how millions navigate this changing China and the cost behind China's dream of becoming an economic power. While some Chinese mourn the loss of the past, others try to find ways to survive and ride the wave. Opportunities are abundant for the lucky ones. And yet there are ample stories of struggle and heartbreak.
The nine documentaries in the series were made between 2005 and 2011, eight of them by Chinese filmmakers. The series sheds light on an unparalleled spectrum of experiences across social and economic classes. It also takes critical looks at the repercussions of China's unstoppable development. These are stories of success, disillusionment, and caution.
"A fascinating series… All of the films very nicely portray the intersection in modern China between democracy and communism, the growing economy and its effects on all strata of society."
— Cassady Dixon, Cinespect (Read complete Cinespect review here)
Tickets: $7 members; $9 students/seniors; $11 nonmembers
Series discount (in-person only):
Buy 4-7 tickets for 4-7 "unique" programs in one transaction to get $1.00 off each ticket.
This series is supported in part by a grant from the Open Society Foundations. Additional support is provided by the Center on U.S.-China Relations and New York State Council on the Arts.
All films with English subtitles. Click on individual programs for trailers and more information.
---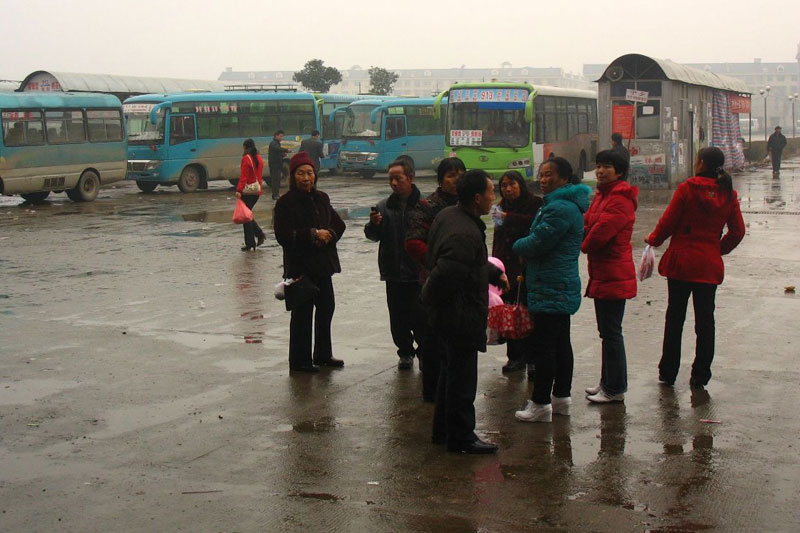 Program 1:
Once Upon A Time Proletarian 曾经的无产者
GUO Xiaolu 郭小橹 
2009. China/Germany/UK. 76 min. Digibeta.
Sunday, September 25, 2011, 3:00 pm
Thirteen chapters provide poignant snapshots of individuals navigating the modern China. An old peasant calls his country "shit" and yearns for the old days when greed and corruption were less rampant; a young car washer from the countryside calls Beijing huge and unfriendly; a young woman at a hair salon wants to find a rich husband; businessmen sit around and chat about the prices of Russian prostitutes… This meditative film offers an existentialist take on the common experience of disillusionment and disorientation in an evolving social and economic landscape that is far removed from the bygone days of Mao. Filmmaker Guo Xiaolu is also a prolific writer. Among her works are A Concise Chinese-English Dictionary for Lovers and 20 Fragments of a Ravenous Youth.
"A wonderful spontaneity that captures a fleeting moment in China's history." — Daniel Trilling, New Statesman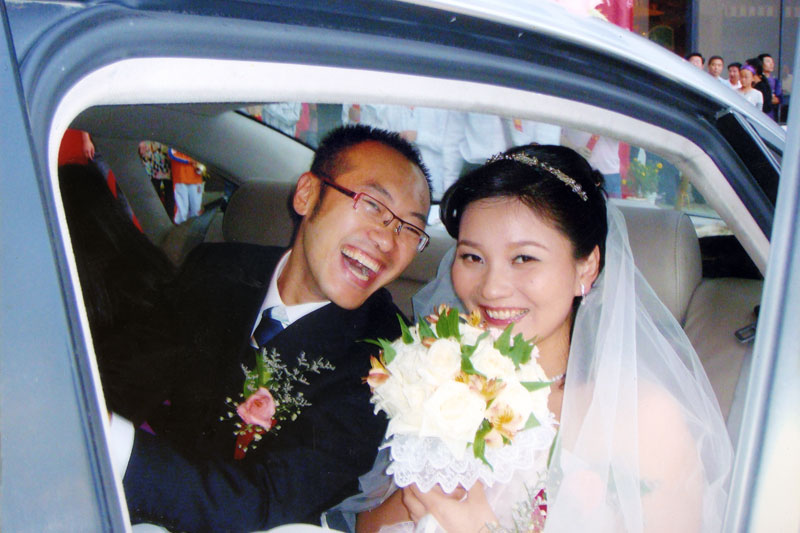 Program 2:
When My Child is Born 当我的孩子出生
GUO Jing, KE Dingding 郭静, 柯丁丁  
2010.  China/UK/Denmark/Japan. 75 min. HDCAM.
Friday, September 30, 2011, 6:45 pm
Take a rare glimpse into the life of a young academic couple in Beijing. Jun is finishing her Ph.D. in Australia and is a Virginia Woolf specialist. Long, who has just returned from a research study in Germany, is struggling to finish his dissertation on Marx and Kant. An unexpected pregnancy propels the couple to marry quickly and navigate the world of parenthood. An overbearing mother-in-law enters their private world and expects to be in every part of child rearing. The film offers a candid and intimate portrait of two people caught between freedom and responsibility, career and family, and the new and old.
"Amazingly candid and personal." — Giovanna Fulvi, Toronto International Film Festival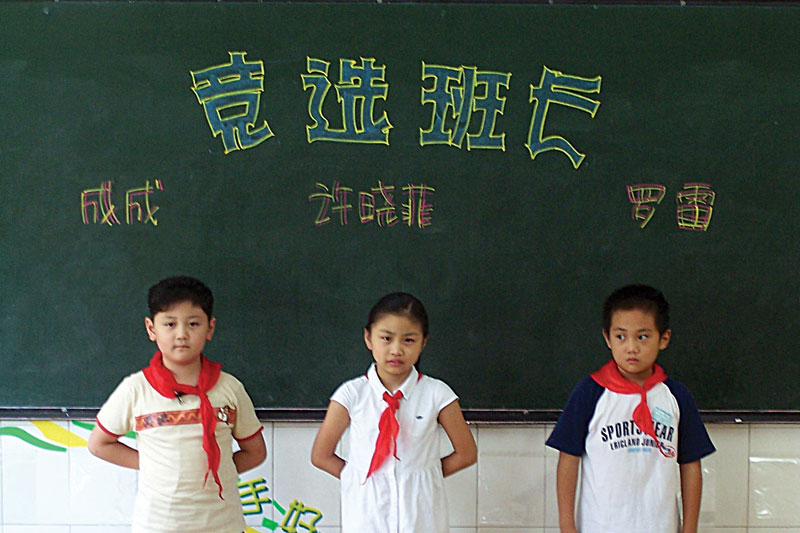 Program 3: (Double bill with New Beijing: Reinventing a City)
Please Vote For Me 竞选班长
CHEN Weijun 陈为军
2007. China/South Africa/Denmark. 58 min. HDCAM.
Sunday, October 2, 2011, 3:00 pm
What would democracy look like in China? In Wuhan, a city in central China about the size of London, a third grade class experiments for the first time in selecting a Class Monitor through an election. As if nobody needs to be coached how to run an election campaign, candidates quickly go all-out to solicit votes from their fellow classmates. Backstabbing, bribing, bullying, fancy speeches… all sorts of aggressive tactics are employed to win votes. Tears are shed, feelings are hurt, and friendships are tested. What have these children learned from this experiment? Is democracy destined for exploitation?
"Thought-provoking and achingly hilarious." — Ronnie Scheib, Variety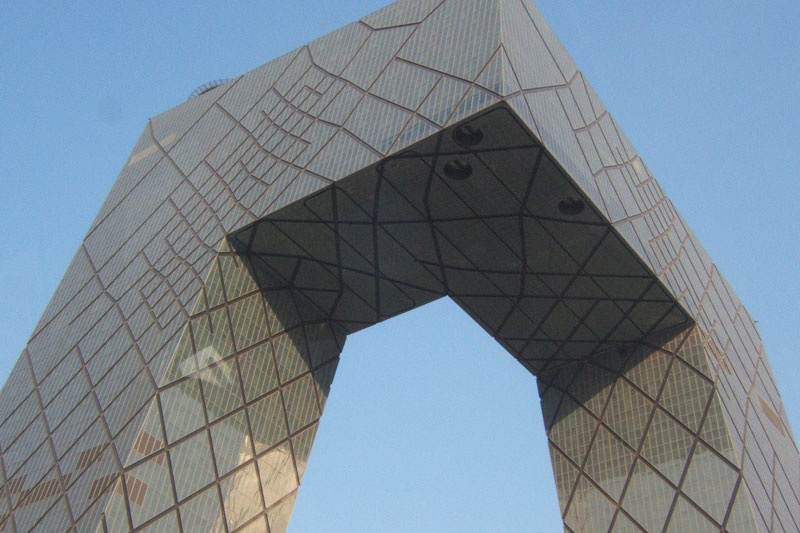 Program 3: (Double bill with Please Vote For Me)
New Beijing: Reinventing a City 新北京: 重塑一个城市
Georgia WALLACE-CRABBE
2010. Australia. 52 min. HDCAM.
Sunday, October 2, 2011, 4:10 pm
Beijing has enthralled the world with major architectural wonders such as the National Stadium (Herzog & de Meuron), National Aquatics Center (PTW Architects), CCTV building (Rem Koolhaas), and National Theater (Paul Andreu). Behind the futuristic face of Beijing are old neighborhoods and hutongs (traditional narrow alleys) that have to be sacrificed for new developments. Heritage activist Zhang Jinqi and other volunteers scramble to document the fleeting old Beijing in a photography project. While Zhang mourns the past, major international architects express their visions for the renewed city. Working with a Chinese crew, Australian filmmaker Georgia Wallace-Crabbe captures the dilemma between development and preservation.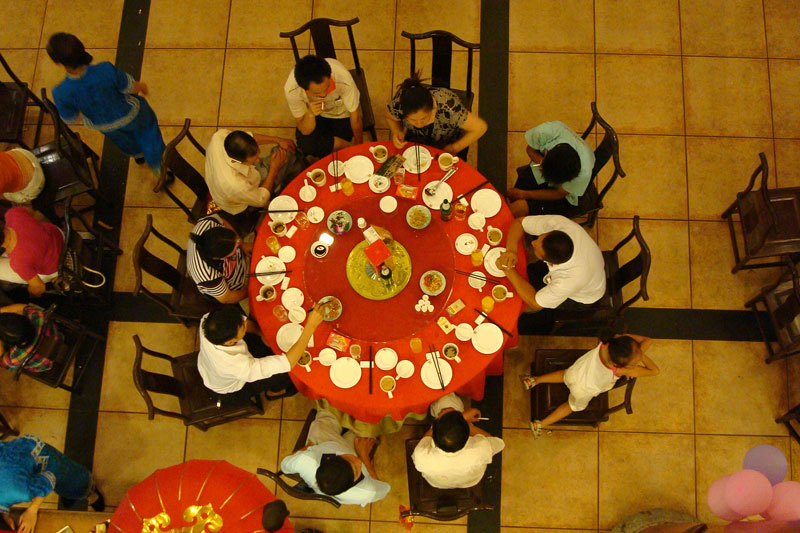 Program 4:
The Biggest Chinese Restaurant in the World 世界最大的中国餐馆
CHEN Weijun 陈为军
2008. China/UK/Netherlands/Denmark. 80 min. Digibeta.
Saturday, October 8, 2011, 3:00 pm
Situated in Changsha, Hunan is the world's biggest Chinese restaurant, which seats up to 5,000 diners and employs 1,000 staff. A sprawling complex containing pavilions in the style of traditional Chinese architecture, the restaurant is owned by Qin Linzi, a middle-aged female self-starter who used to earn 30 RMB a month. Documenting the restaurant's day-to-day operation, the film shows routine slogan-chanting sessions intended to boost morale among the staff. A perceptive portrait of Chinese society, this engaging documentary provides a window into traditional Chinese customs that often revolve around banquets.
"A fine example of what documentary film can be. It is fascinating, deeply entertaining." — Todd Brown, Twitch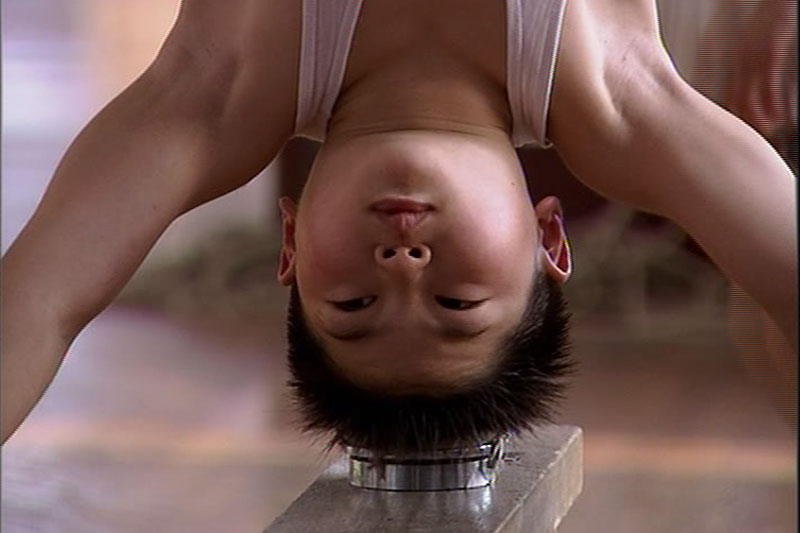 Program 5: (Double bill with Brave Father)
Children of the Chinese Circus 马戏学校
GUO Jing, KE Dingding 郭静, 柯丁丁
2007. China/UK. 58 min. Digibeta.
Sunday, October 16, 2011, 3:00 pm
Take a behind-the-scenes look at the training of some of the world's best acrobats and circus performers. In this Shanghai circus school, a highly disciplined environment, small children endure excruciating and dangerous training regimes. Mostly from poor families, these children are sent to the school by their parents in the hope that the specialty training will secure them a future. While small children sustain agonizing daily practice, the teachers are also under tremendous pressure to produce award-winning stunts. A faculty meeting turns into a Cultural Revolution-styled criticizing session. This film is set to change your perception of acrobatic performances forever.
"Recalling the finest nonfiction achievements of Frederick Wiseman…. Fiercely intelligent." — Robert Koehler, Variety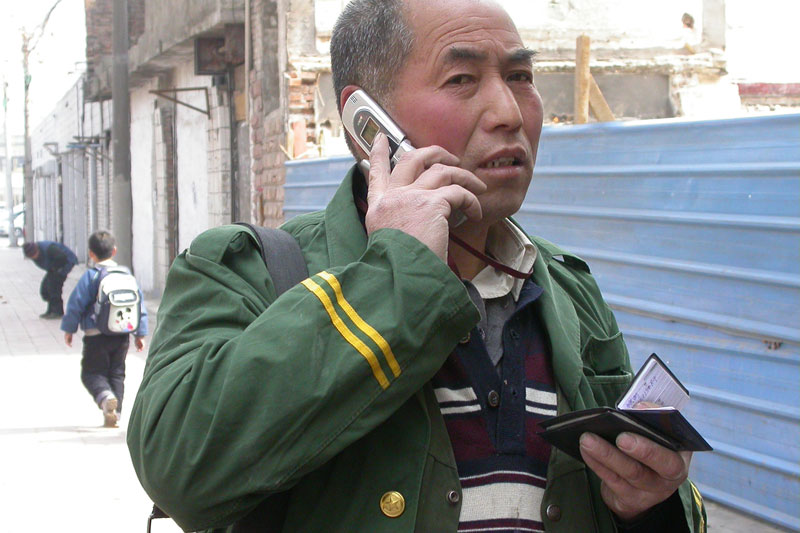 Program 5: (Double bill with Children of the Chinese Circus)
Brave Father 父亲
LI Junhu 李军虎
2007. China. 55 min. Digibeta.
Sunday, October 16, 2011, 4:10 pm
Han Shengli has been admitted to a university in Xi'an. For his peasant family, this presents an incredible opportunity to move up the economic ladder. To pay for his education, the family sells off most of its valuable belongings. Shengli's father also comes to Xi'an to find work in construction, while the son quietly collects plastic bottles on campus to make small change. The extremely shy son, who struggles to find a job upon graduation that pays better than his father's construction work, is a sharp contrast to his old man, who is expressive and resourceful, and reads from a small notebook about his dreams for his son. While a brighter future is not yet in sight, he still believes all the sacrifices will eventually pay off.
"An incredibly moving affair, with the determination of its characters offset and cruelly undermined by the harsh economic reality of the modern Chinese employment sector." — James Mudge, Hollywood.com
Program 6:
Floating 飘
HUANG Weikai 黄伟凯
2005. China. 93 min. DVCAM.
Friday, October 21, 2011, 6:45 pm
A 30-year-old rural-born singer brings his guitar to Guangzhou to eke out a living by performing in public spaces. Like many migrant workers who don't possess residence permits to stay in this southern metropolis, he is constantly dodging the authorities. The camera closely follows the singer's daily life as he performs in pedestrian underpasses and lives out his tumultuous romantic life, which involves suicide, abortion and a bad break-up. As the film progresses, we find the filmmaker, who also made the much praised Disorder (2009), getting intimately involved with his subject's precarious existence. Floating offers a humanist portrayal of those who drift on the fringes of society.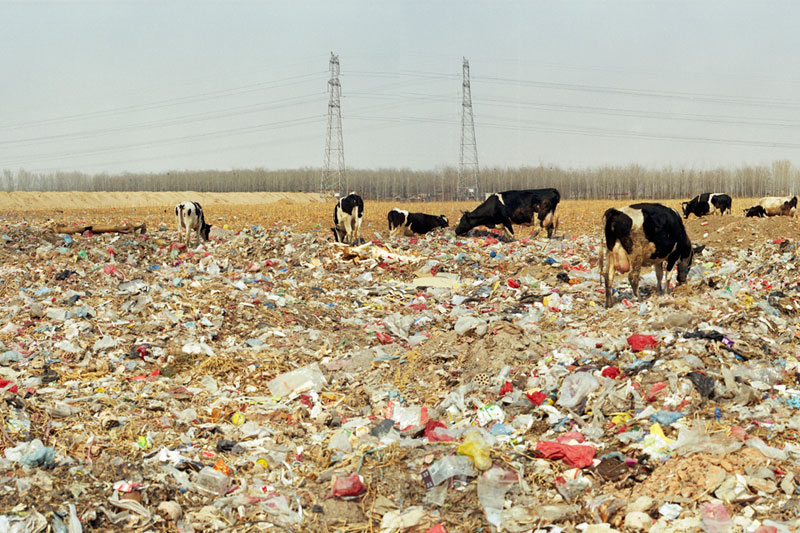 Program 7:
Beijing Besieged by Waste 垃圾围城
WANG Jiuliang 王久良
2011. China. 72 min. Digibeta.
Saturday, October 29, 2011, 3:00 pm
With a population of about 20 million, the growing city of Beijing produces 30,000 tons of waste each day. Photographer/filmmaker Wang Jiuliang traveled around the city and visited 460 legal and illegal landfills from 2008 to 2010 to document the collection of garbage and excrement, the environmental calamity and the life cycles around these landfills, which include scavengers building a precarious livelihood, green spaces forming on top of waste, and livestock being fed trash. An informative and alarming portrait of urban ecology, the film has earned keen Chinese media coverage and the attention of government officials.
---
This film series is curated by La Frances Hui.
Special Thanks: Amber Entertainment/DriveThruPictures (Brandon Wong), dGenerate Films (Karin Chien, Dan Chen), CNEX (Fan Lixin, Amie Liu, Ben Tsiang), Huang Weikai, Memento Films (Marion Klotz, Constance Malpel), Off The Fence (Adam Block), Open Society Institute (Stephen Hubbell, Thomas Kellogg, Shirley Ku), Augusta Palmer, Steps International (Linda Titus), Georgia Wallace-Crabbe, Zhang Zhen.
Intern: Nancy Wang.