Seattle Mandarin Immersion Programs
The photographs here were taken and are copyrighted by Stefanie Felix from her series documenting CIWA programs and Chinese Language Immersion classrooms, http://www.stefaniefelix.com
Seattle Mandarin Immersion Programs include programs at Beacon Hill International School, Dearborn Park International School, Mercer International Middle School Seattle, Washington. These programs are serving students in grades K-7 (and expanding),

In 1995, a visionary leader, General John Stanford, took the helm of Seattle Public Schools. As he became familiar with the diversity and multicultural "challenges" in the district, he viewed them as assets and envisioned a school where all students would learn languages and discover how to work together and understand the world. He asked Karen Kodama to be the principal of this yet-to-be-invented "international" school. Karen organized a group of parents and educators to work with local businesses, large and small—the future employers of Seattle Public Schools graduates—to understand the knowledge and skills needed to serve the local and global market. They identified the need to create pipelines of international K-12 schools and develop students with strong language skills beyond English.
Seattle opened its first language immersion program in Spanish in 2000, at John Stanford International School. The next year, Japanese was added as a second language option in the school. The business community had also identified Mandarin as a future high-need language to be developed, and the district added that to the plan for future expansion.
In 2006, Seattle was awarded a federal Foreign Language Assistance Program (FLAP) grant to plan and launch a new Mandarin Immersion program in the city, but finding a school that was ready to embrace Mandarin Immersion was going to take some time. To start the process, Seattle piloted a content-based elementary language program in three elementary schools for the first year in the diverse Southeast section of the city. Based on the positive responses from parents, in 2008, Beacon Hill International School launched its half-day Mandarin Immersion program in Kindergarten (along with a two-way Spanish Dual Immersion program).
Beacon Hill shares the vision for international schools in Seattle: to prepare students, in partnership with families and community, for global citizenship in an increasingly interdependent world. Seattle School Board Policy No 2177 outlines the unique characteristics of Seattle's international schools model—World Languages, Global Perspective, and Cultural/Global Competency—and commits the schools "to teaching world languages in an immersion setting for grades K-5 in addition to world language classes and immersion language classes offered at District middle and high schools" with the goal of students reaching "advanced-level proficiency at the end of high school in two languages."
To achieve this goal, Beacon Hill recognized early on that it would be necessary to connect students to opportunities to use their Mandarin language skills beyond their classroom in Seattle. The school was proud to be selected as one of the first 20 schools in Asia Society's Network of Confucius Classrooms. Just a few months later, Beacon Hill first graders were featured speakers at the opening ceremony of the Confucius Institute of the State of Washington at Denny International Middle School and the groundbreaking of the garden of the Confucius Institute Education Center at Chief Sealth International High School. Beacon Hill even hosted a visit by Hanban Director-General, Madame Xu Lin. The photo below Beacon Hill 1st graders Delaney and Nat speak at the opening ceremony for the Confucius Institute of the State of Washington on April 26, 2010, as Hanban Director-General Mme. Xu Lin and State Superintendent of Public Instruction Randy Dorn look on.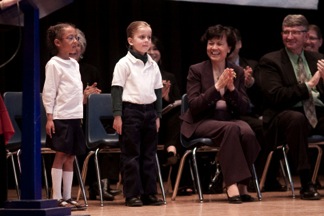 Over the past five years, Beacon Hill has hosted a number of visiting teachers from their sister school in Chongqing, China, Renmin Primary, and a student delegation in 2014. Beacon Hill students have traveled to China to visit Renmin, and one of the original kindergarteners got to spend part of her 6th grade year attending school in Chongqing.
In the fall of 2014, Chinese experienced a major expansion as the 5th graders left Beacon Hill to become the first 6th grade Mandarin Immersion class at Mercer International Middle School. At Mercer, they are continuing their development of Mandarin language and literacy through thematic units in Social Studies taught completely in Mandarin. Meanwhile, a new crop of kindergarteners began learning Mandarin at Dearborn Park International School, just south of Mercer. Dearborn Park's principal, Angela Bogan, who was featured in Principal Magazine Spring 2015, traveled to China and said that when she saw the children at her school's partner school in Chongqing running up to practice their English with her, she really "got" why it was so important for her students in South Seattle to learn Mandarin. At the National Chinese Language Conference (NCLC) in Atlanta in April 2015, Dearborn Park became a member of the Asia Society's Confucius Classroms Network. This photo below shows Beacon Hill students traveled to Chongqing, China in 2014.
Some of the factors that have made Seattle's Mandarin Immersion programs successful include:
Partnerships with Asia Society and the Confucius Institute of the State of Washington, hosted by the University of Washington and Seattle Public Schools
Opportunities for school leaders to travel to China through the College Board Chinese Bridge Delegation
A source of Mandarin teachers and ongoing professional development through Seattle's STARTALK grant (in partnership with Pacific Lutheran University) and the vibrant Chinese Language Teachers Association of Washington State (CLTA-WA)
A wonderful community of families representing many languages and nationalities, ready to embrace the opportunity for their children to learn Chinese
Outstanding leadership through principals and International Schools teacher leaders
Being part of Seattle's network of 10 International Schools, learning from their colleagues who teach Spanish, Japanese, Mandarin, and other languages
Setting their sights beyond teaching language to preparing their students to be global citizens
Come to Seattle and visit us!
Additional Resources
Read about specific initiatives in progress at these links: