Move Over Double-O Seven
Make Way for Double Eleven
By Kiril Bolotnikov
In a Western context, there is a fairly common perception of Valentine's Day being over-commercialized; if we were to address the intersection of love and money in the United States, Valentine's Day would typically be the first example raised. In China, however, those dual aspects of romance and commercialization come to a head on a completely different holiday, and interestingly, almost completely separately from each other.
Valentine's Day in the West is also sometimes refer to as "Singles Awareness Day," due to the fact that the holiday, to some people at least, serves only as a reminder of just how single they are. Chinese youth took this to another level in the early 1990s, designating November 11 as "Singles' Day" (光棍节, Guānggùn jié, literally "bare sticks day") because the number one, repeated four times in the numerical abbreviation "11/11" was deemed representative of their lack of a relationship. While this was initially seen simply as an amusing product of Nanjing university culture, the "holiday" started spreading to other universities throughout China, and eventually, into other aspects of society. By the early 2000s, it was fairly well known, at least to China's youth population.
The Singles
Valentine's Day has become more popular in China over the years; nowadays, at least in the big cities, flower shops fill up with pre-made arrangements, chocolate shops are full of people, and set meals for two are offered at many restaurants. My freshman year, some Shanghai pranksters booked every odd-numbered seat in a movie theatre set to play the romantic film Beijing Love Story, so that no couples could sit together—and this is just one humorous example of how seriously some single Chinese take their singleness.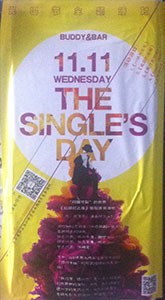 Singles' Day, however, is meant to be celebrated in the completely opposite way. In the United States, few people actually celebrate "Singles Awareness Day" on Valentine's Day. The Chinese Singles' Day is more along these lines of celebration of singleness. However, it is meant to be celebrated with friends; the one-child policy and a cultural history of valuing male children over females has left a country-wide gender imbalance. Thus, the holiday was originally celebrated by single men, who would go out with a group of other male friends, though women have also began to celebrate the holiday.
There are also people who take Singles' Day more as a reminder of their solitude than as a day of celebration, but this is only to be expected in a culture where older generations' more conservative attitudes about marriage pressures members of the younger generations to find good matches.
As such, Singles' Day can also be celebrated in other ways: some people even get married on this day, taking the ones in 11/11 to represent to each other the idea that they are the only ones for each other. Others go out looking for love. I discovered this on my first Singles' Day—unaware that it was, in fact, Singles' Day. Pressed to finish an essay on a Monday night, I agreed to go with some friends to a bar close to campus that served free coffee on Mondays.
On any other Monday night we would have had the place to ourselves, but it was not the case that night. The bar had been taken over by singles ready to mingle, and by midnight, caffeinated though my friends and I were, we realized that the celebrations showed no signs of abating, and chose to go home.
Biggest online shopping day in the world
That alone as a descriptor, however, does not do justice to the enormous social impact of Singles' Day in China, and in order to understand that fully, one needs to understand how it has evolved and become commercialized.
The Chinese company Alibaba, looking for a way to bolster consumption in the sales lull between the Chinese National Day in the fall and the Chinese New Year the winter, hosted their first Singles' Day sale on their Tmall.com marketplace in 2009.
Singles' Day 2010 already started to show a greater cultural effect. Alibaba's Tmall.com offered more brands, as did other e-commerce sites. Since then, sales every year have exploded, going from 3 billion USD in 2012, to 6 billion in 2013, to 9 billion in 2014.
Alibaba now claims that they chose 11/11 not for the connection with Singles' Day but because it is an easy date to remember from year to year; however, they used the term in their marketing as late as 2012. Though "Singles' Day" no longer appears in Alibaba's advertising, walking around Shanghai, I would not have known it, as this has not stopped other businesses from using it. "Singles' Day" is still used colloquially to refer to the shopping aspect of the day as much as, or more than a celebration of being single.
Singles' Day is often compared to Black Friday in the United States, but a more apt comparison might be Cyber Monday, when online sales are offered. Singles' Day sales, however, have far outstripped Cyber Monday's sales.
This year, Singles' Day sales went through the roof. All records were completely smashed as Alibaba alone took in 14.3 billion USD, 5 billion of which came in during the first 90 minutes of the sale. This makes Singles' Day, by far, the single biggest online shopping day in the world.
All this was aided by extensive advertising; Alibaba aired a three-hour television special and distributed ads featuring celebrities such as Kevin Spacey (in his House of Cards character), as well as inviting Daniel Craig to their Alibaba Singles' Day Shopping Festival.
For me, the most telling example of the volume of packages sold is from my own university. I work once a week in the package center at the NYU Shanghai residence hall, which houses about 700 people. The day before Singles' Day, I checked in the 7,000th package of the semester; one week later, I checked in the 8,400th. That means that in just one week, 20 percent of the semester's packages arrived thanks to Singles' Day.
Criticisms and Conclusion
Like commercialized holidays in the United States, Singles' Day has received some backlash in China. E-retailers are accused of raising prices on November 10 so that they can show a greater percentage of savings on November 11. Alibaba has been accused of not reporting all the facts, leaving out the number of items returned when reporting their income from Singles' Day. My Chinese friends have complaints similar to what one might hear after ordering anything online in the US: I have one friend who was charged twice for everything she ordered, and another friend gave up on buying anything, recalling ruefully that she bought many items last year that she never ended up using.
However, no matter how increasingly commercialized Singles' Day has become, the day still retains the original spirit of celebrating being single. To me, this seems only right: though the shopping spirit of the day may continue to grow, it seems unlikely that it can take over the pure spirit of those original students just wanting to enjoy being single with their friends.