Leveled Objectives Lead to Literacy in Chinese
One of the biggest challenges in teaching the Chinese language to English speakers is that we do not have a system that allows us to better understand and more accurately assess the development of our students' literacy. The field of English language learning or even ESL has decades of research—from multiple countries and multiple linguistic backgrounds—on the development of English literacy. There are well-established systems such as Fountas & Pinnell and Developmental Reading Assessment (DRA) that help instructors assess students' reading level, accuracy, fluency, and comprehension.
For Chinese, we do not have these types of systems or research and data to support the way we work with our students. In order to make Chinese literacy more achievable for our students and enable them to become proficient readers, we need a system that allows teachers to better understand and accurately assess a student's development of literacy in Chinese. For students to read, write, speak, listen, and use the Chinese language effectively in variety of content areas, the system should stress the development of critical-thinking, problem-solving, and analytical skills.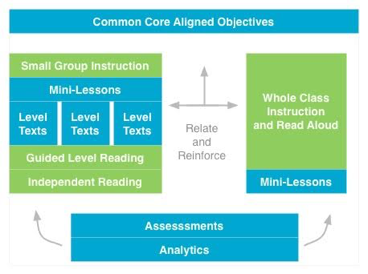 A curriculum that follows a standard framework such as Common Core, and is driven by specific leveled objectives and mastery-based assessment with detailed analytics, helps teachers accurately assess the literary competency of each student. Along with access to properly leveled books, teachers can develop targeted lessons and promote students to success.
Specific, leveled objectives give students a concrete path to follow to reach their goal. Having specific and achievable goals that they can track motivates students to reach and master the next level. In turn, these objectives provide teachers with a quick and easy way to implement their everyday instructions. Access to Readers' Workshop-style mini lessons for each objective gives teachers examples and ideas that they can use in small-group instruction, which help student build confidence.
See how a Washington Yu Ying PCS teacher delivers whole class instruction incorporating specific reading objectives.
Mastery-based assessment needs to include language function, reading comprehension for fiction and non-fiction, and fluency for each level. Questions used in assessment should be mapped to specific leveled objectives so that both teachers and students can clearly see the skills student has mastered and those that they need to spend more time on. The assessment results can objectively reflect students' level of Chinese language usage, comprehension, and fluency. Additional detailed analytics can identify trends for a specific objective in the classroom, subgroup, or for an individual. This information can assist teachers in developing appropriate instructions to help students master their objectives. Visibility to clear learning pathways helps students feel empowered and proud of their progress.
In order to support Chinese language instructions based on specific leveled objectives, teachers need access to accurately leveled books and passages. The assignment of text complexity level should be based on standards such as Fountas and Pinnell text characteristics. These books and passages need to span across all genres (picture books, cultural stories, chapter books, biographies, etc.) and formats (print, audio, online).
See how a Washington Yu Ying PCS teacher conducts small group instruction incorporating specific reading objectives.
Although Chinese literacy for second language learners in the United States may still be in its infancy, a lot can be learned from English language-learning programs that have been well established for many years. Having access to a system that help teachers understand and accurately assess a student's development of literacy in Chinese can help redefine what they do and the ways they support their students in schools, thus making Chinese literacy an achievable outcome.
Pauline Shuen is the founder of Level Chinese, a literacy-focused curriculum and assessment system for Chinese as second language learners. To learn more, visit Level Chinese.
SaveSaveSaveSave