On World Refugee Day, New Solution Needed for Asia's Uprooted Peoples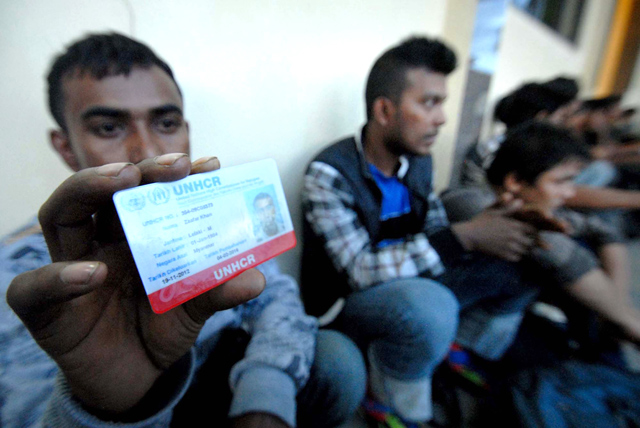 Zaafar Khan from Myanmar shows his UN High Commissioner for Refugees-issued ID on February 19, 2013, after being arrested on suspicion of trying to sail to Australia. (STR/AFP/Getty Images)
Asia, home to 30 percent of the world's vulnerable population of refugees, asylum seekers, and displaced persons, is also the region with the fewest countries ratifying the 1951 Refugee Convention. That means that 9.5 million people, forced from their land by fear of conflict and persecution, are without adequate international legal protection.
But, in practical terms, how effective is the Convention in guaranteeing the safety and security of people fleeing violence? Does the limited number of Asian signatories even matter?
Most multilateral processes are only as effective as their participants allow them to be. On any issue, active participation among a group will generally yield more effective outcomes, and lasting solutions in the long-term. But in Asia, where a broad swath of countries are non-participants, its effectiveness is hampered particularly owing to the necessarily transnational nature of population mobility.
Asia holds a complex mixture of migrant populations: those in legitimate need of protection frequently travel alongside economic migrants who have made the choice to try to better their lives in other countries. A boat bound for Australia, for example, might be comprised of Afghans fleeing war, as well as migrants from Sri Lanka and Pakistan hoping to improve their economic opportunities.
Determining false claims of persecution from legitimate ones is therefore a major challenge for governments. But countries like Indonesia and Malaysia — both major destination and transit countries for migrants of all types — do not offer any formal, legally-mandated protections.
While states in the Asia Pacific region have wide-ranging views on the issue, in no country does the question of what to do with refugees dominate politics more than in Australia. A major destination country, Australia has previously returned refugees to offshore processing centers in Nauru and Papua New Guinea, among other locales, in order to create an "orderly" system of arrivals.
But as a party to the 1951 Refugee Convention, the legality of its domestic procedure is frequently called into question by advocacy groups, and sometimes even other governments. For example, current Australian Prime Minister Julia Gillard proposed to conduct a refugee "swap" whereby asylum seekers arriving in the country by boat would be returned to Malaysia and exchanged for those determined to have refugee status prior to their departure.
Former Prime Minister John Howard, in the early 2000s, proposed and enacted the so-called "Pacific Solution" whereby thousands of islands were excised from Australia's migration zone, and Australian vessels were permitted to intercept asylum seekers on the high seas.
While getting tough, as both Gillard and Howard have tried to do, provides one type of "solution," it ignores both the legal and moral obligations to harbor people who could pay with their lives if sent back to their homelands. These policies have also never been fully effective in creating a more orderly process.
As an opinion piece in The Australian stated recently, "The refugee determination process in Australia is a sick and dysfunctional farce," and referenced recent reports from retired immigration officials that many of the so-called "asylum seekers" were actually from middle class families, arriving in neighboring Indonesia by plane and then boarding boats provided by people smugglers for the last leg of the journey.
Perhaps, then, on World Refugee Day, we might consider how this process is functioning in Asia. The U.S., far enough from the world's current conflict zones to be unreachable by boat, can effectively deal with the issue through its overseas processing centers situated near conflict zones.
But in Asia, countries are geographically near, and borders frequently porous. For a refugee, and even some economic migrants, their will to get to Australia and other wealthier countries is one driven by both economic, and sometimes physical, survival.
Rather than fighting the problem, efforts would be better centered upon improving the capacity of civil servants in Asia's migrant-receiving and transit countries, thereby providing legitimate channels for residency irrespective of the circumstances of a foreigner being there. Thailand, for one, has at times sought to register, and therefore regularize the legal status of, all migrants in the country irrespective of their legal or illegal entry. Doing so, in theory, affords them access to health care and other services.
But even Thailand's program hasn't eliminated a gamut of human rights abuses inflicted upon non-nationals, including legitimate refugees from neighboring Myanmar.
A new and de-politicized solution is needed, one that recognizes that migrants who are afforded opportunities to work in countries legally are also more likely to pay taxes and contribute to national development, rather than living on the margins of society and sending any savings home.
Unfortunately, while some Asian governments struggle to find domestic stability, the prospect of looking to fix a complex transnational issue is one challenge too far. But by improving domestic governance — as Singapore, for example, has done effectively in the last 50-plus years — then it may be possible to overcome the ubiquitous brand of Asian nationalism centered around ethnicity and religion.
Put another way, Asian governments need to create conditions whereby they are comfortable with the presence of foreign populations, whether persons are there as a result of violence in their own country, or whether they are simply trying to find work.
But while we await the development of a new solution, so too is it unlikely that Australia will figure out a way to live up to its legal commitments for refugee protection. More broadly, for the majority of Asian countries that are not party to the Refugee Convention, a solution that effectively separates legitimate refugees from those looking for economic opportunity is unlikely to ever be successfully devised.