Why Iran President's US Visit Brings Opportunity for Re-Engagement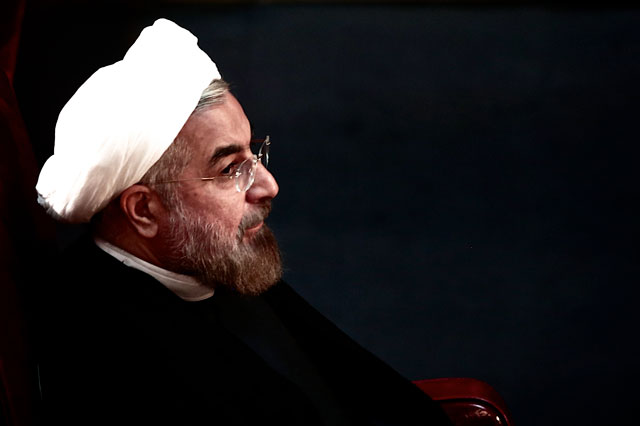 Iranian President Hassan Rouhani attends a session of the Assembly of Experts in Tehran on September 3, 2013. (Behrouz Mehri/AFP/Getty Images)
Asia Society will host a free live webcast with Iranian President Hassan Rouhani at AsiaSociety.org/Live on Thursday, September 26 at 5:15 pm New York time.
---
At the opening of the United Nations General Assembly in New York on September 24, the world's attention will focus on Hassan Rouhani as he makes his first visit to the United States as Iran's newly elected president. His highly anticipated address will be free from the bombastic rhetoric of his predecessor Mahmoud Ahmadinejad. Rouhani will likely go even a few steps further and use his appearance at the UN to strike a conciliatory tone toward the United States.
As a candidate for Iran's presidency, Rouhani's campaign focused on fixing the economy — which has been plagued by soaring inflation, high unemployment, declining oil revenues, and plummeting investment — as well as bettering relations with the West. Both messages resonated well with average Iranians who are grappling with economic hardship.
Since assuming office, Rouhani's statements have reflected a recognition that the surest way to improving Iran's economy is to avoid new sanctions and to secure sanctions relief through a nuclear deal with the West.
There have been a series of positive signals that indicate Tehran is readying itself to engage in diplomacy aimed at reducing tensions with Washington.
Rouhani has filled out his new team with seasoned ministers and skilled diplomats who are knowledgeable about the United States. He and his Foreign Minister Mohammad Javad Zarif served on Iran's nuclear negotiating team between 2003 and 2005, and both are well versed in the complexities of nuclear negotiations. Zarif, who negotiated directly with U.S. officials at the Bonn Conference in December 2001, has been credited with achieving the breakthrough that led to a new Afghan government following 9/11.

The shifting of Iran's nuclear file from the Supreme National Security Council to the Foreign Ministry, which gives Rouhani greater control over negotiations, also signals Tehran's intention to begin negotiations. This was followed by an August 2013 IAEA report, which said Iran was slowing its accumulation of uranium that could be quickly turned into fuel for an atomic bomb.
President Barack Obama's confirmation that he and Rouhani recently exchanged letters and the surprise release of prominent political prisoners in Iran on the eve of Rouhani's visit are the latest dramatic signs of change.
Politics is a cut-throat business in Iran. Rouhani will have a small window of opportunity to deliver before the political space to make a nuclear deal closes and powerful hardline opponents overwhelm him. President Obama faces a similarly small window to make progress with Iran, as pressure groups grow impatient and mid-term elections approach in 2014. Given the domestic constraints facing both leaders, their same-day appearance at the UN offers an opportunity to take a step toward direct talks. A thaw in relations could result in an opening to not only discuss Iran's nuclear program, but also other U.S. foreign policy priorities such as Syria, Afghanistan, and security in the Gulf.